If every bowl game on the college football slate for 2013 went as expected, it would be a lot less fun.
Fortunately for the fans, every season has its surprises, and this year will be no exception.
While some games are projected to be blowouts and will ring true to that prediction, others are poised to surprise bettors and football fans alike with upset victories over their opponent.
Here's a look at the most likely upset candidates for the bowl season.
Note: Odds listed courtesy of Bovada
Iowa Hawkeyes (+7.5) over LSU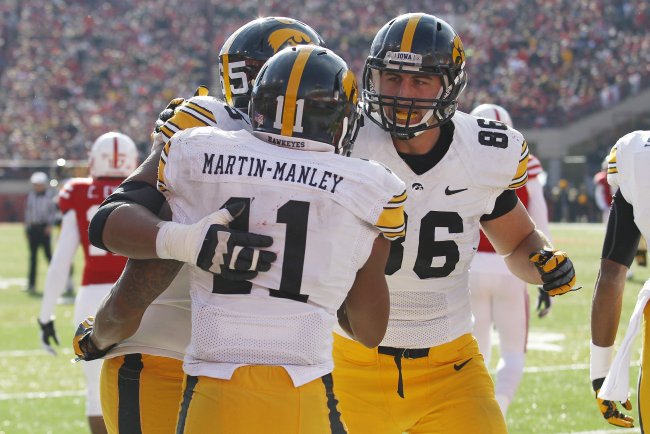 Bruce Thorson-USA TODAY Sports
In different circumstances, this would be a tough upset pick.
But given the trajectory of each team and how they finished their respective seasons, Iowa looks like a big-time candidate to notch a bowl-season upset over LSU.
The Big Ten/SEC matchup is slated for the Outback Bowl in Tampa, Fla., and it's safe to say Les Miles' Tigers had a bigger plan in place for this season.
On the other hand, it's not a shabby result for an Iowa team that lost its opener at home to Northern Illinois and sports an 8-4 record.
The Hawkeyes closed their season with wins over Michigan and Nebraska—not exactly the Big Ten's cellar—and their only losses other than that early-season disappointment were to Michigan State, Ohio State and Wisconsin. Mark Weisman is a formidable feature back that is capable of gashing an LSU defense that has allowed some big games in conference play.
Perhaps the best thing Iowa has got going for them is no Zach Mettenberger for LSU.
The gunslinger quarterback tore his ACL in the season finale against Arkansas, greatly putting into question a passing offense that already has the potential to struggle against a Hawkeye defense that gives up just 18.8 points per contest—11th in the FBS.
Backup quarterback Anthony Jennings did enough to rally LSU to a win against the Razorbacks, but it's tough to see him having success against one of the Big Ten's best defenses with a month to prepare.
Michigan State Spartans (+6) over Stanford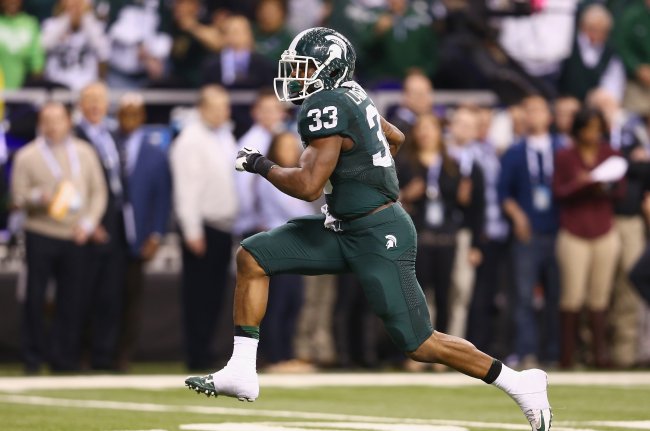 Andy Lyons/Getty Images
Stanford-Michigan State isn't the Rose Bowl matchup many anticipated at the start of the season, unless both Oregon and Ohio State were to make the BCS title game. But they're both in Pasadena as conference champions.
However, it hasn't resulted in low ticket sales. In fact, Steve Hunt of the San Gabriel Valley Tribune says it is surpassing BCS title game sales:
Rose Bowl official says demand for tickets is greater for the Michigan State vs. Stanford game than for the BCS title game.

— Steve Hunt (@SteveHuntsgvn) December 14, 2013
David Shaw's Cardinal have been pegged as the favorite, but Sparty will prove that to be a big mistake.
Michigan State hasn't lost a game all season other than a September defeat at Notre Dame.
Since then, they've disposed of ranked opponents Michigan and then-BCS-title-game-bound Ohio State by a combined 33 points.
Who will win the Rose Bowl?
Stanford is able to wear down opponents with a brutally strong running game and that burly offensive line, but that just so happens to match up with Michigan State's biggest strength—their run defense.
Quarterback Kevin Hogan has been tested to make plays downfield under pressure in games against USC and Utah, and we all saw how those worked out.
Plus, Michigan State's once troublesome offense has seen some resurgence of late. Connor Cook was spectacular against Ohio State in the Big Ten championship, and their offense has surpassed 30 points in three of its last four showings.
Auburn Tigers (+8.5) over Florida State
Auburn's luck doesn't have to continue for it to beat Florida State, but the running game has to keep improving at a ridiculous rate. Such feats are possible with Tre Mason and Nick Marshall.
Gus Malzahn's first season on The Plains came with quite possibly two of the best players possible to run his offense.
It has taken some time to reach its full potential, but the last month or so of the season was a firm indicator that nobody has the tools to stop this rushing attack.
The Tigers top the nation with 335 rushing yards per contest, but that doesn't do their recent success justice. Since the start of November, Auburn is averaging more than 426 yards on the ground.
They've passed the ball when needed—243 passing yards and a miraculous Hail Mary against Georgia—but the thing is, they haven't needed to in recent weeks.
In wins against Alabama and Missouri—two of the best defenses in the nation—they averaged a little over 100 yards passing and combined for more than 900 yards of rushing.
Auburn's rushing offense has gotten better and more reliable in recent weeks, and it has shown the ability to match points with great offensive performances from the opponent.
The Tiger defense doesn't have to stop Jameis Winston (that's impossible), but they can slow him down enough for Auburn's offensive outburst to get them the SEC's eighth straight championship.
Note: Stats, unless otherwise noted, courtesy of CFBstats.com