The NBA has done it again.
As arguably the most anticipated slate of games on the regular-season schedule, Christmas Day usually features at least one or two intriguing clashes, but this year, we've got five games packed full with both stars and reasons to care about each showdown.
Yeah, the games will go on without Kobe Bryant and Derrick Rose, and while that is a big disappointment, both the Lakers and Bulls will head into their holiday tilts with something to prove on a big stage.
At the same time, the Knicks and Nets are two teams that have been massive disappointments thus far, and if Mike Woodson and Jason Kidd aren't able to turn things around soon, it could be an ugly spring for NBA basketball in New York City.
Here's a look at what to watch for in each of the five games on Christmas.
Bulls at Nets
Despite losing Rose for what looks to be the rest of the 2013-14 campaign, the Bulls remain relevant and must-watch TV on the 25th, if only because of the recent history between these two teams.
Last season, the Nets were expected to get past Tom Thibodeau's group in Round 1 of the postseason, but even without Rose on the floor, Deron Williams and Joe Johnson couldn't put the Bulls away and lost in Game 7.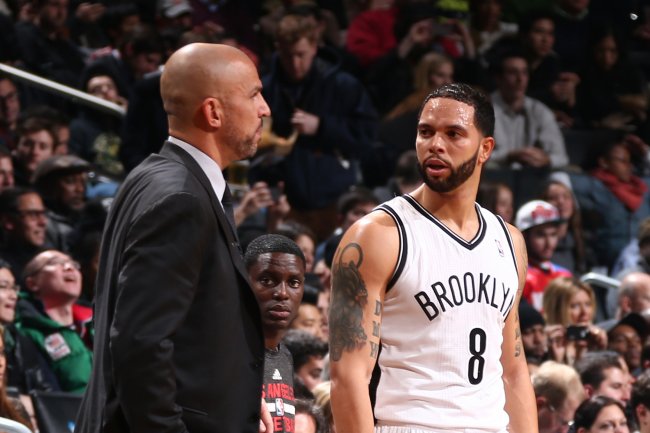 Nathaniel S. Butler/Getty Images
Now, after having revamped its roster with proven veterans such as Paul Pierce, Kevin Garnett and Jason Terry, Brooklyn was supposed to be an immediate contender in the East, but for whatever reason, the Nets have limped to a very disappointing 9-16 start.
This isn't the playoffs, but a win with the basketball world watching would be a start for Kidd, who has authored one of the most bizarre starts to a coaching career we've ever seen.
And for Chicago, another victory over a talented roster would further prove that this team can still make some noise this spring, even without its former MVP in the mix.
Thunder at Knicks
Like the Nets, Woodson's Knicks have looked nothing like the juggernaut they were supposed to be, especially after acquiring former No. 1 overall pick Andre Bargnani from Toronto this summer.
Aside from Carmelo Anthony, the rest of New York's expensive offensive weapons have failed to turn up, and that will have to change against a legitimate title contender in the Thunder.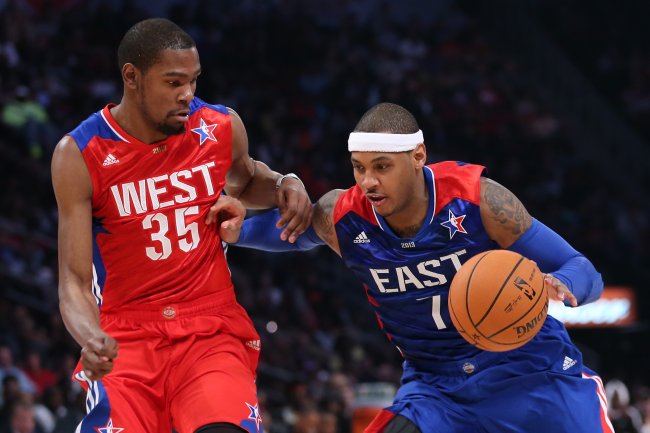 Ronald Martinez/Getty Images
As of now, OKC has half as many losses as the Knicks do wins, and one has to assume that Kevin Durant, Russell Westbrook and Serge Ibaka will do enough to get the win over a stunningly mediocre Knicks team.
That being said, one cannot discount the potential impact of playing on a national stage, against one of the league's best for the Knicks.
This game will mean a lot for the Knicks, because despite Anthony's recent support of his coach, Woodson has to know he's skating on thin ice.
Anthony and Durant are easily two of the most dangerous scorers in basketball, and if they both get into a groove, this will be the day's most exciting game.
Heat at Lakers
The NBA's dreams of having Kobe and LeBron James going at it on Christmas afternoon were dashed after Bryant's very disappointing knee injury, and it certainly takes away a lot of the allure from what would have been one of the year's most exciting tilts.
That being said, the Heat are just 7-4 on the road this season (versus 12-2 in South Beach), and anytime Dwyane Wade, Chris Bosh, Ray Allen and James get a chance to beat up on a signature opponent like the Lakers, they aren't going to be complaining.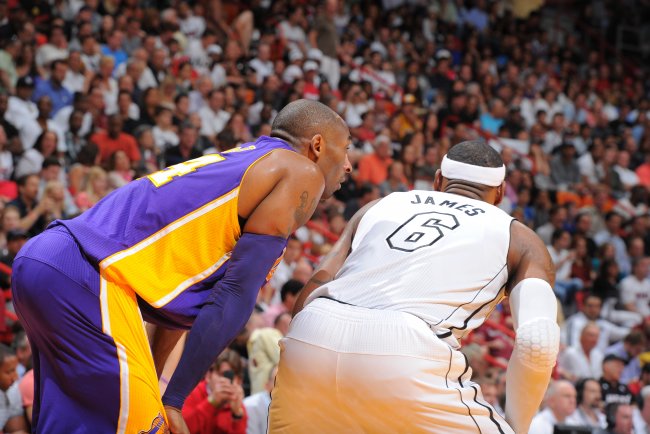 Andrew D. Bernstein/Getty Images
L.A. has managed to stay somewhat afloat in the absurdly difficult Western Conference, hovering around .500 through 25 games, but without Bryant and Steve Nash, there's going to be a lot of pressure on Nick Young, Pau Gasol and Steve Blake to produce offensively.
This one should be a blowout, unless of course the Heat somehow take this game for granted and mail it in on the road.
Otherwise, expect a lot of highlight-reel clips from Miami, and not much to cheer about from the Staples Center faithful.
Rockets at Spurs
This has the potential to be the game's most entertaining offering, as the revamped Houston Rockets will travel to take on their cross-state rivals in San Antonio.
Heading into the season, the Rockets were arguably the league's most improved team, because that's a distinction one usually gets after acquiring a future Hall of Fame big like Dwight Howard.
And things have worked out for the most part in the early going, as Houston has posted a respectable 17-9 record thus far, but against the game's most consistently elite team, James Harden and Company will have to be at their best.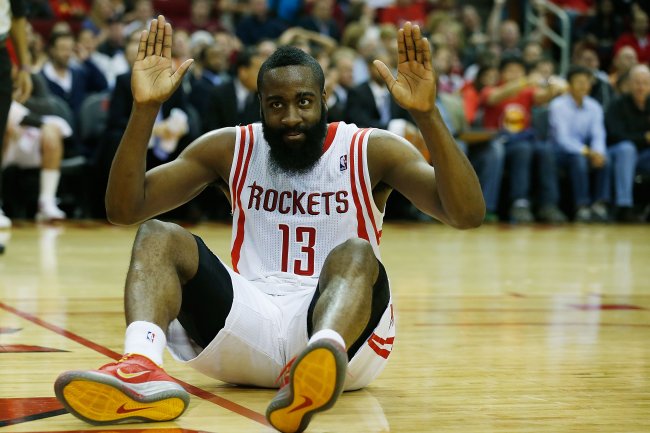 Scott Halleran/Getty Images
For their part, the Rockets did hand Tim Duncan and Tony Parker their first loss of the season on November 30th, and Gregg Popovich will have his team gunning for redemption.
These two teams are built to contend now, and though the Spurs are coming off a run to the NBA Finals, this game will be a great opportunity for the Rockets to announce their arrival as a contender in the West.
Clippers at Warriors
Last season, Golden State was one of the NBA's true feel-good stories, as the unheralded Warriors emerged as one of the elite teams in the West, despite not having a true superstar on the roster.
Yes, Stephen Curry (24.5 points per game) is arguably the game's best shooter, but beyond Curry, Klay Thompson and David Lee, the Warriors have not received ample production from their offensive weapons. That's why Golden State is currently eighth in the West in points per game, after finishing fifth in this regard last season.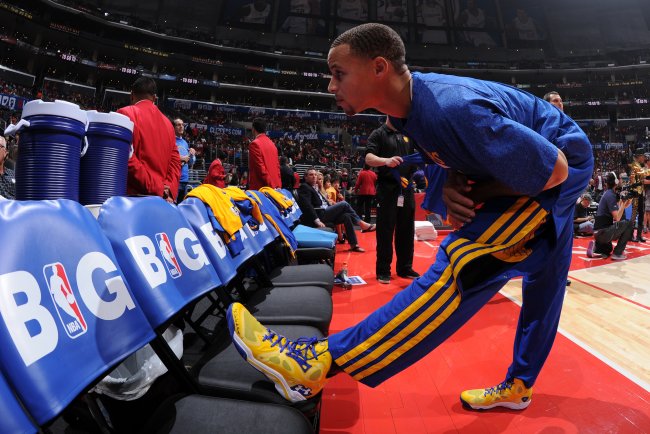 Andrew D. Bernstein/Getty Images
At the other end of the floor, the Clippers are right where most expected them to be: in the mix, but not yet a legitimate contender.
Chris Paul would tell you otherwise, especially now that Doc Rivers is running the show, but the Clippers can't be considered a viable threat to the Thunder or Spurs until he and Blake Griffin make noise in the postseason.
This will be a good opportunity to open some eyes around the league, because while the Warriors have been inconsistent this year, this is a quality team that was impressive last season.