Barcelona reach the halfway point in the season still at the top of the La Liga tree.
Apart from a few hours last Saturday night/Sunday morning, when Atletico Madrid placed their flag at the summit, Barca have owned the promised land for the last 54 weeks—a league record.
It says much about Tata Martino that, not only has he continued the good work of his predecessors, but he has done so whilst bringing a new outlook to Camp Nou. Only the best managers are able to take a team of such stature and still leave their own stamp on the squad.
Martino has managed that, and the team have responded well to his methodology.
Tata Martino has used 13 different back-four lines in the 26 games Barcelona have so far played this season. #fcblive [via md]

— barcastuff (@barcastuff) December 22, 2013
Injuries to key players have perhaps cast a shadow over proceedings thus far, none more so than the prolonged absences of Lionel Messi.
Before his most recent and longest lay off, Messi was, as usual, in brilliant form. No matter the questions being asked by opposition defences, the Argentine always had the answers.
With a projected return date of early January 2014, a fit and able Messi will feel like a new signing for Martino; and one that will spell danger for the rest of the league. The fixture against Atleti is a monumental early New Year highlight and one that Messi simply has to be involved in.
That Barca have still managed to flourish in their talisman's absence puts paid to the notion that the Blaugrana are a "one man team."
Only the two performances against Ajax and Athletic Bilbao, and the first half hour at Getafe have fallen well below the standards we have come to expect from the Catalans.
Perhaps Martino's biggest win is the confidence he has engendered and fostered within the squad, and the licence he has given the team as a whole to play their expansive brand of football.
Alexis Sanchez especially looks a completely different player from last season. If he can continue with the level of performance he has displayed over the first half of this season, then he will surely cement his place on the right side of the attacking trident that the manager favours.
Whilst this forces a conundrum for Martino in the shape of an unhappy Cristian Tello and Pedro Rodriguez, he shouldn't risk the equilibrium of the side for fear of distancing other staff. Martino's penchant for rotation could, ultimately, prove his undoing.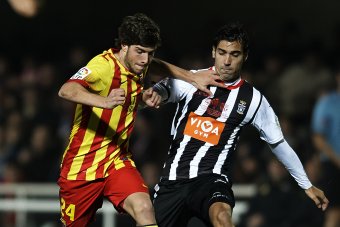 Manuel Queimadelos Alonso/Getty Images
A nod to the talent in Barca's youth ranks has been another plus point for Tata.
Marc Bartra has become a stalwart in central defence, and Martin Montoya a reasonably able deputy for Dani Alves when required. Fleeting dalliances from Sergi Roberto, Adama Traore and Jean Marie Dongou have provided us with a glimpse into the future.
Neymar has continued to delight and confound the critics.
The young Brazilian has won the hearts and minds of everyone with his mixture of humility, hard work and on-pitch prowess. When it's mattered, he has delivered, and his form of late has been the chief reason why the absence of Messi has gone largely unnoticed.
Andres Iniesta has begun to show the flashes of his genius that were missing for the early part of the season, and a burgeoning partnership with Neymar down the left channel is a nice little side note to this campaign.
No longer able to play every game at full tilt, Xavi Hernandez is becoming the world's best impact player. Witness the remarkable effect that he had on the side when entering the fray against Villarreal just after the hour mark.
Xavi Finds The Lost Way Against Villarreal http://t.co/YAebYKEKsJ via @soccerly_com

— Crisa Negrilă (@Crisa_Negrila) December 16, 2013
At the back end of last season, to be privy to just how laboured Xavi had become felt almost intrusive and awkward. Once again dominating the games he is involved in, Hernandez has restored a sense of dependability and comfort to the midfield.
As a result of studious management, we should expect to see a far more lively and refreshed player towards the business end of this season than the one from 12 months ago.
An injury or ban for Sergio Busquets might spell trouble for Tata. Alex Song hasn't set the world alight in Busquets' absence, never really getting to grips with the Barca style, despite some impressive passing stats.
A rumoured move in the January window may be best for both player and club.
Javier Mascherano can then be pushed forward into his more natural defensive midfield role, one that he plays with aplomb for Argentina. It's a move that will benefit Martino because the player has been nowhere near his best in the centre of defence this season.
A sad day upon us perhaps, but Carles Puyol's appearances are likely to be few and far between from this juncture.
The mind is willing but the body is not and the old warhorse will have to be content with a more peripheral role. However, as one door shuts, another opens, because Bartra will be a fixture in the position for years to come.
As Victor Valdes gets ready to return, it's worth tipping our hats to his replacement Jose Manuel Pinto. A hugely well liked member of the squad and the "daddy" of the team, Pinto has only enhanced his goalkeeping credentials despite his advancing years.
There will be few eyebrows raised at Camp Nou if he were to secure himself another new contract.
Looking forward to the New Year, aside from setting the pace in the league, a free-scoring Manchester City provide a stern test in the Champions League during February.
Lessons learned over the first five months of his tenure should hold Tata in good stead for an assault on all fronts, and a successful end to his first season in charge.