The 2013-14 NBA season has already seen a handful of intriguing trades and other transactions, which should have fans excited ahead of the upcoming February trading deadline.
There's plenty of talk about potential swaps, and there should be a flurry of moves as teams realize where they stand and try to improve their position—whether that be by acquiring assets for a potential run or offloading salary and nabbing picks for the upcoming offseason.
Let's take a look at the latest buzz around the league in the rumor roundup for Dec. 21.
Bulls Not Looking to Deal Deng Right Now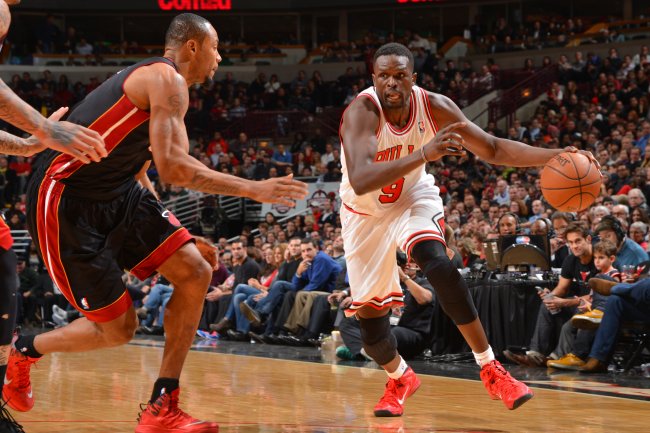 Jesse D. Garrabrant/Getty Images
Despite a rash of injuries, notably to superstar Derrick Rose, the Chicago Bulls aren't going to completely give up on the current campaign. According to ESPN's Brian Windhorst, the franchise is reportedly adamant about keeping Luol Deng on the roster for the remainder of the season.
It's an intriguing decision, especially considering the swingman hits unrestricted free agency this summer. Deng is a solid player, but he's certainly not great enough to keep Chicago in the running as a championship contender in the wake of Rose's season-ending knee injury.
That won't stop Deng from trying to keep the Bulls afloat, as he recently told K.C. Johnson of the Chicago Tribune that his effort level would remain the same as it's been all season:
"When things aren't going your way, you work harder and try to get things right. You can't just let it beat you up. When you get in the gym, watch film, try harder and harder until you get it right."
The Duke product is averaging 19.6 points, 7.0 rebounds and 4.1 assists this year, all well above his career numbers. He's been instrumental in leading Chicago to a respectable record, despite the injuries to Rose, Jimmy Butler, Joakim Noah, Kirk Hinrich and himself.
Deng is currently out of the lineup until at least Christmas, as Johnson noted that he is eyeing a Dec. 25 return against the Brooklyn Nets at the earliest.
With an extremely weak Eastern Conference and a smothering defense, the Bulls are still very much alive in the playoff race and should be able to get there with Deng as the top offensive option—if he can stay healthy. However, it's hard to see them being much more than a speed bump for a true championship contender. That is an unfortunate position that Chicago has been in for the last two postseasons without Rose.
Asik Also Off the Block?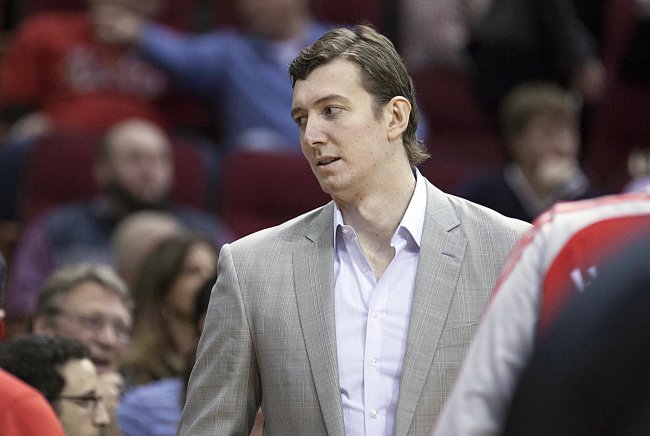 Andrew Richardson-USA TODAY Spor
It's no secret that Omer Asik strongly desires to be traded, but the Houston Rockets apparently aren't willing to facilitate that after a self-imposed deadline passed on Dec. 19.
According to ESPN's Marc Stein, the franchise ceased all trade discussions after it failed to find a suitable offer and will instead focus on finding a way to get the big man more involved in the rotation.
Head coach Kevin McHale echoed that sentiment, telling Jonathan Feigen of the Houston Chronicle:
We'll get him back in the rotation and play him. He's a big part of what we do and can be a big part of our success. There's a lot of nights that second big body playing with Dwight gives you an advantage. And we need that.
Feigen pointed out that this is the situation that the Rockets ultimately wanted when they signed Dwight Howard in the offseason. Having two elite big men on the roster is definitely a problem most teams in the NBA would desire to have.
However, the center was unhappy about his demotion to the bench and immediately requested a trade to a team that would find more use for him on a regular basis.
It's easy to see why Asik wants to move on now that his role is diminished. The seven-footer saw his averages drop from 10.1 points, 11.7 rebounds and 1.1 blocks in 30 minutes per game in 2012-13 down to 4.4 points, 6.8 rebounds and 0.4 blocks in 18.3 minutes per contest this season.
The four-year veteran has already proven that he's a more than capable starting pivot and is an elite rim protector in this league, but he only gets to flash it on a limited basis with Howard getting the starting nod at the 5.
Frank Isola of the New York Daily News noted that the Boston Celtics would be one team that could definitely benefit from Asik's presence and believes he would make them a playoff team in the East.
If the Celtics trade for Omer Asik and get Rajon Rondo back they'll probably win the Atlantic...while they're rebuilding.

— Frank Isola (@FisolaNYDN) December 16, 2013
Asik is still under contract for over $16 million combined for the next two seasons, making him one of the higher-paid backups at his position. It'll be interesting to see if the Rockets take a hard-line stance against moving him or just wait until the February deadline inches closer to begin exploring more opportunities to deal the Turkish center.