Ranking WWE's 7 Most Exciting Title Changes of 2013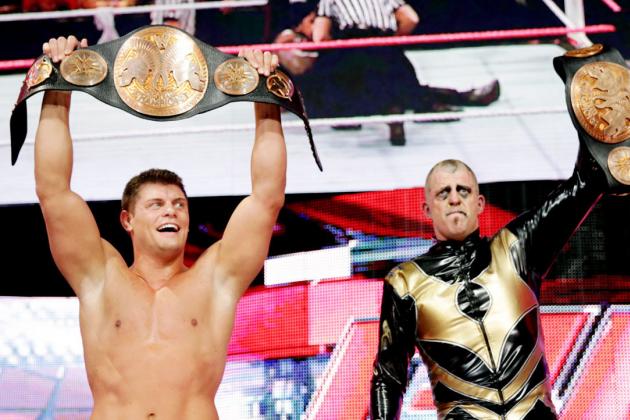 WWE.com

The most thrilling WWE title changes in 2013 inspired crowds to cry out and rewind video clips again and again.
Several times throughout the year, new champs hoisted gold above their head after an unforgettable journey. The Divas Championship, the World Heavyweight Championship and the tag team titles were among the belts that found new wearers, exhilarating fans along the way.
Those moments and more are ranked here based on the power of the story leading up to and climaxing with the championship win, how surprising the victory was and the excitement level of the way the championships changed hands. How hard fans rooted for the victor is a factor as well.
Where does Daniel Bryan taking the company's ultimate prize away from John Cena rank? Where does one put Cody Rhodes and Goldust ending Raw as champions on the list of the most exciting title changes in WWE this year?
Begin Slideshow

»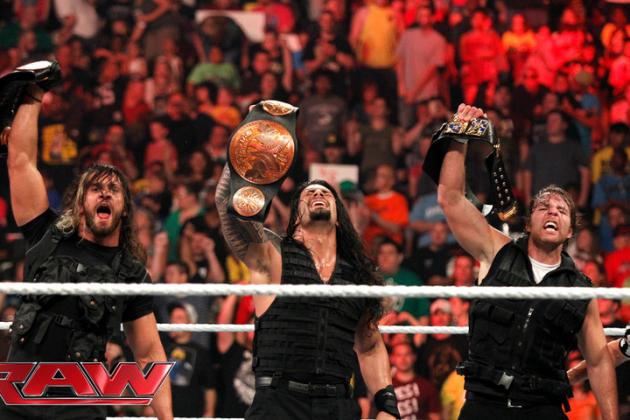 WWE.com
The Shield celebrate their championship wins.
Curtis Axel wins the Intercontinental Championship at Payback.
The Shield Win the Tag Team Championship at Extreme Rules.
Dean Ambrose Wins the United States Championship at Extreme Rules.
WWE did well to play up the story of Axel following his father's lead. On Father's Day, he pinned Wade Barrett to capture the title his late father once wore.
At Extreme Rules, the spotlight focused on The Shield.
All three members claimed gold that night, punctuating their dominant run. Those moments felt big and pointed toward a promising future.
The surprise factor for all three of those title changes was minimal, though.
Team Hell No was beginning to splinter. Kofi Kingston and Wade Barrett felt like champions WWE cared little about. The fact that fans could hear Axel and The Shield's rumbling coming only slightly takes away from how exciting those wins were.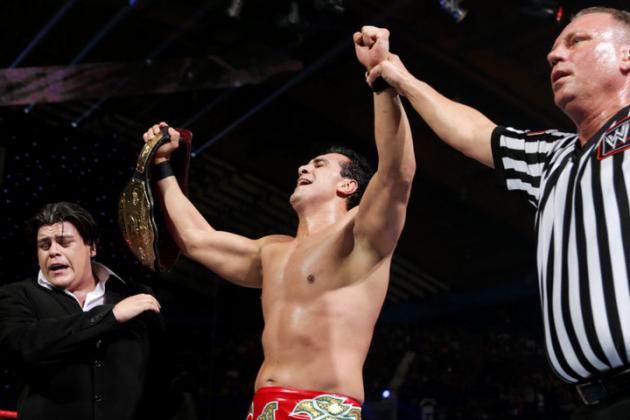 WWE.com
Alberto Del Rio reclaims the world title.
The power of the double turn made Alberto Del Rio's second World Heavyweight Championship win an electric moment.
Dolph Ziggler had just recovered from a concussion. The prevailing thought was that Ziggler would knock off Del Rio and begin his reign in earnest. Instead, WWE told a story that tightened throats.
Del Rio zeroed in on Ziggler's head. Even in a world where folks use steel chairs as weapons, there was something especially disturbing about the challenger attacked a recently concussed brain.
Ziggler was made to look like a resilient warrior while Del Rio morphed into a villain once more. The surprising nature of the win earns it a spot here, but Del Rio being champ for most of the year at that point took away from some of the fun.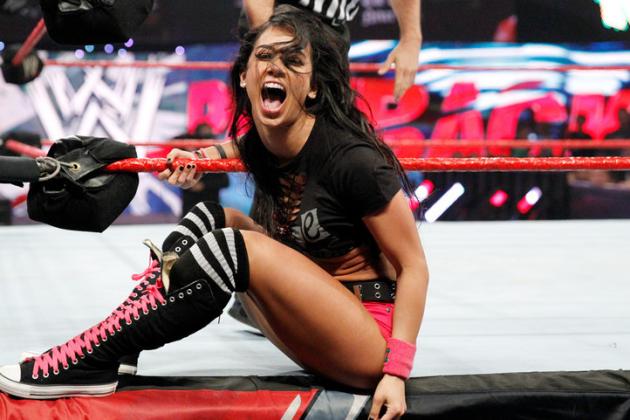 WWE.com
AJ Lee explodes with emotion after winning the title.
The best Divas rivalry in recent memory was AJ Lee and Kaitlyn.
It was a story that was told over a much longer period than WWE fans are used to seeing. Friends and tag partners back in their NXT days, AJ and Kaitlyn had since split up.
Before AJ took away Kaitlyn's gold, she wormed her way into her psyche.
Their rivalry became centered around Kaitlyn obsessing over how AJ had betrayed and humiliated her via a fake secret admirer. The champ had the match won, but her rage blinded her long enough for AJ to take advantage.
This title change scores high on story and was the climax of a very good bout, but other matches and moments surpass it in terms of explosiveness.
The buildup for Randy Orton and John Cena's battle to decide WWE's "Champion of Champions" propelled the match forward.
Even though the company tweaked and twisted the truth in terms of the World Heavyweight Championship's history, there was a big-match feel to this. WWE was promising that it would have only one world champ from this point on.
Orton survived being sent through a number of tables to grab both titles in their TLC clash.
The pre-match hype, the surprise of Orton besting Cena and the excellence of the match led to this title change in 2013's top five. Only bigger surprises surpass it.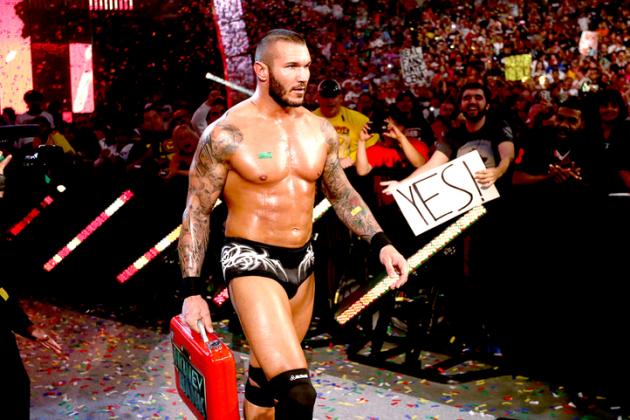 WWE.com
Randy Orton just before his cash-in
Daniel Bryan's first WWE title reign lasted only moments thanks to "The Viper."
Randy Orton had been lurking around John Cena and Bryan with his Money in the Bank briefcase in hand leading up to SummerSlam. WWE had hinted that he'd strike with it, but it was still a shock to see him set Bryan's victory celebration ablaze.
Triple H knocked out Bryan with a Pedigree, and Orton slid over the new champ to claim the title.
The fact that so many fans were rooting for Bryan made Orton's win, as surprising and momentous as it was, less of a thrill ride and more of a punch to the gut.
His fan support was so feverish that it almost didn't matter how Bryan arrived to the mountaintop.
Still, WWE delivered a fitting story. Bryan was portrayed as the underdog from the indy circuit taking on a man whom he claimed was more entertainer than wrestler.
It was surprising that he not only won, but he also did so in clean fashion.
There was no outside interference or shady ending; Bryan's knee simply knocked Cena out. Feeding into the Bryan hysteria and having him topple the top star led to an electric celebration before Orton cut it short.
Bryan's flying knee was a new finisher, though, and using that as the final blow took away from the climax some. Fans weren't expecting that move to be the last of the match.
New owners claimed the tag team championships on Oct. 14 in a moment that exemplified what WWE drama is all about.
Cody Rhodes and Goldust completed a journey that had seen Rhodes get fired, Goldust humiliated and the brothers fight for their livelihoods at Battleground. The tag titles represented the duo overcoming their many obstacles.
It was a memorable, exciting match, something The Shield have made a habit of producing, that ended with an unexpected moment.
Big Show had his own narrative to tell. Fed up with The Authority, he stormed down to the ring and knocked out the champions.
The emotion, the surprise and the story that preceded this title change push this way up the list. It took an instant classic of a moment to top it.
Dolph Ziggler cashing in his Money in the Bank contract had everything one could want in a title change.
Ziggler's journey was one lined with failures. He had tried to cash in several times before but found himself empty-handed each time. The night after WrestleMania, his luck changed.
Alberto Del Rio survived a match against Jack Swagger and Zeb Colter but was barely able to stand afterward.
Ziggler's music hit, and the arena erupted. Credit the post-WrestleMania crowd with elevating the moment with their energy.
WWE was wise to have Ziggler appear to be on the precipice of failure once more. He was caught in Del Rio's cross armbreaker, his dreams about to shatter at his feet. Ziggler twisted Del Rio's bad ankle and soon held the World Heavyweight Championship as a result.
If there is any doubt which title change was the year's most exciting, watch them all in a row. Ziggler's win is sure to be the moment that has one's neck hair stand up no matter how many times one has seen it.