2014 NFL Draft: Updated Running Back Rankings and Analysis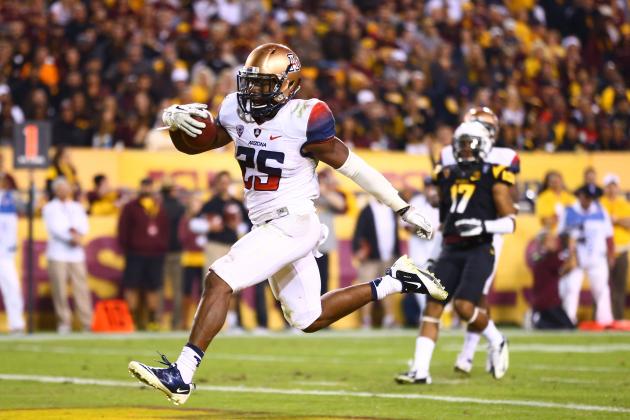 Mark J. Rebilas-USA TODAY Sports

There was a period in the NFL when finding a feature running back was a necessity. Every franchise demanded that workhorse type who could set the tone for the run game.
Today's NFL is something different. The emphasis has turned to the passing game, and with that, a paradigm shift in what an offensive backfield needs to look like.
Some teams take the stance that you need an old-school run game with a bruising back who can move the chains. Others have opted to make the running back simply an extension of the passing game with a nimble receiver who can line up wide if need be and run good routes.
Because there is so little consensus across the league what is the ideal running back, the position as a whole has been undervalued in the draft. Even the most talented and productive backs in the country struggle to find themselves in the first round for a couple of reasons.
First is, history has shown that productive running backs can be had later on in the draft, and so the position is no longer the draft commodity it once was. And second, the shelf life of an NFL running back is so short that it is hard to justify spending a high pick on one, if you, as a front office, believe that you can simply interchange them with younger players when these veterans hit the wall, so to speak.
The 2014 class of running backs is very talented. From the top back all the way to number 15, these are players who undeniably have the talent to start and be productive in the NFL. The problem is, they are all very distinctive in their running styles, the systems they come from and strengths of their game.
So it is never as simple as saying one back is better than another. Any of the top four on this list could be the first running back off the board, depending on which team chooses to pull the trigger.
Also, all of the top four could be considered first-round talents. However, it is hard to imagine any team in the current climate of the NFL using a first-round pick on any of these players. This means that from Rounds 2 through 4, there could be a significant run on running backs.
Let's take a closer look at some of these top running backs, and you decide who is your favorite.
All stats provided by NCAA.com.
Begin Slideshow

»
What's to like
Arizona's Ka'Deem Carey has been one of the most productive backs in all of college football over the past two seasons. Carey has amassed 3,645 yards rushing and a staggering 40 rushing touchdowns and has shown himself to be an excellent receiver, hauling in 62 catches for 476 yards over that same stretch.
Carey's game is all about producing. His size is good, however he plays like a back much heavier. His lower body strength is tremendous, which allows him to run through arm tackles and churn out tough yards. His lateral quickness and speed are very good, and he does a nice job of quickly seeing the hole and exploding through it.
What's not to like
To go with those gaudy stats, Carey has also racked up 625 carries in two seasons, which is a lot of tread on the tires for a 195-pound running back. Carey takes a lot of punishment when he runs, some of which he could avoid.
Carey also plays in a spread offense in college, which affords him running lanes and cutbacks he most likely won't have in the NFL. He will have to learn to be effective on more traditional run plays, where patience is needed to wait for his line set up his blocks, and then make his cut.
Bottom line
If there is a back in this draft who can do it all, it's really Carey. His ability to run the ball is unquestionable, but it is his ability to catch the football and pass block that is enticing to NFL teams. If you can keep a back on the field for three downs, it gives your offense a tremendous strategic advantage.
Carey should be available from the late-first to to the middle of the second round next May and be one of the top two or three backs off the board. A zone-blocking team could really take advantage of Carey's big-play ability.
What's to like
Wisconsin's Melvin Gordon's game is all about his speed. What you watch Gordon play, the thing that pops is his ability to run away from defenders. It never looks like he's at full speed, but suddenly he is to the second level and even players with an angle on him can't catch up.
This skill gives him such an edge over defenders. Gordon has great vision and finds the seams quickly, and with that acceleration can make even talented defenders look silly.
Gordon's balance is exceptional, able to make quick cuts past defenders. However, again, this comes down to his speed. A back like Gordon is a threat to take every carry to the house if teams don't guess exactly right. At 6'1" and around 205 pounds, Gordon has the build to handle the physical nature of the NFL, and even with his height, has nice pad level, especially getting to the second level.
What's not to like
Gordon is only a redshirt sophomore and with that, his game is far from complete. Gordon really hasn't shown that he has the trust of the Wisconsin coaches to stay on the field in passing situations, which will hurt his draft stock.
Should he declare, Gordon won't have the luxury of any all-star games to showcase these skills, so it will be individual workouts that would help franchises better understand where he is in being a dedicated feature back.
Bottom line
We all understand that speed kills. Even though Gordon might not be the most talented running back in this class, the fact he has such great field speed will boost his draft stock. Gordon is a fluid running back, in the style of former Minnesota Vikings back Robert Smith.
However, he has to improve a great deal in the physical side of his game, as well as in the passing game, if he wants the confidence of the NFL. A mid or late second-round pick seems like a nice value for a team that drafts Gordon.
What's to like
If one of the things a team looks for in a running back is confidence, then they will be more than pleased with Baylor's Lache Seastrunk. This is a young man who believes he can do anything. I'm not sure about that, but as a runner, Seastrunk is a fascinating prospect.
Seastrunk is a speed back, similar to Wisconsin's Melvin Gordon, with the key difference being Seastrunk is a more of a squatty back, who uses quick, choppy feet rather than long strides.
Seastrunk's ability to start and stop, along with his lateral agility makes him a real handful for defenses. In the open field Seastrunk has the ability to outrun defenders, and he displays enough power to finish hard runs.
What's not to like
While Seastrunk has occasionally shown nice hands when coming out of the backfield, pass-catching is not something he has a ton of experience with at the collegiate level. The Baylor passing game isn't really built to feature backs, so his lack of production in the passing game is something to keep an eye on.
Another negative to Seastrunk's game is his desire to make every run a big run. In the NFL, a running back has to know when it's ok to take the short gain, to not try and make every carry a long touchdown. The NFL does not want negative plays when positive ones can be made, just because a back is trying to do too much.
Bottom line
Seastrunk came into the season with Heisman aspirations and a boastful attitude. The season for his team has been awesome, even if he hasn't had the year he hoped. It's hard to see a player as dynamic and explosive as Seastrunk falling much further than the early third round.
But his lack of receiving production and some concerns about his inside running could cause him to slide to a team that runs a spread look on offense and is going to use him as part of a running back platoon.
What's to like
Ohio State's Carlos Hyde has been an ascending player for his entire career with the Buckeyes. In four seasons, Hyde has steadily improved, with this year being his best. Hyde's 1,408 yards and 14 touchdowns in 2013 has opened eyes.
Hyde is a massive power back (6'0", 240 pounds) who runs with a punishing style. On most runs, Hyde prefers to be the one delivering the blow rather than receiving it.
Hyde's agility and quickness for a big man are good, and he is not just relegated to being simply and north-south pounder. Hyde has shown all season that he can grind out tough yards against stacked fronts and defenses ready to stuff the run.
What's not to like
Hyde is big and strong, but that comes in exchange for quickness and long speed. He is also average at best as a receiver out of the backfield. His fit in the league will depend on finding a team that will utilize his strengths in certain situations, while he develops some of the other skills needed to stay on the field.
Bottom line
There is a tremendous amount of momentum around Hyde's draft stock. It won't shock me if Hyde is drafted in the middle of the second round, even if his overall skill set doesn't warrant it. Hyde is the kind of back who will be able to grind out yards, and that has value.
However, if he trots off the field on every third-down play, and if defenses don't have to respect his speed, his production is going to be limited.
What's to like
Boston College running back Andre Williams exploded onto the scene in 2013 with what was perhaps the best individual performance by a running back in the entire country. 2,102 yards and 17 rushing touchdowns showed that Williams is more than capable of being the workhorse for a team. Williams has ideal NFL size (6'0", 225 pounds) with thick, powerful legs.
A strength of Williams' game is well, his strength. Much like Ohio State's Carlos Hyde, Williams is a punishing back. The difference between them is that Williams rushed for almost 700 more yards on 200 more carries. Williams is a finisher, who gets his pad level down and will simply plow through arm tackles.
What's not to like
The compromise that must be made for Williams, like Hyde is that he's not a three-down back. He's not a great pass protector, and isn't much of a receiver. So his effectiveness will be limited. Again, while the top-three backs on this list can be featured players in a run game, Williams is going to have to be more of a complementary player on offense.
Bottom line
Some team is going to look at Williams' stat line for this season, realize he's pretty low mileage as running backs go and find a way to add him to their team somewhere in the third-round range.
A team who plays outdoors in adverse weather could really benefit from a power guy like Williams. He is always going forward, rarely looses yards and seems to get better as the game progresses. That's December football right there.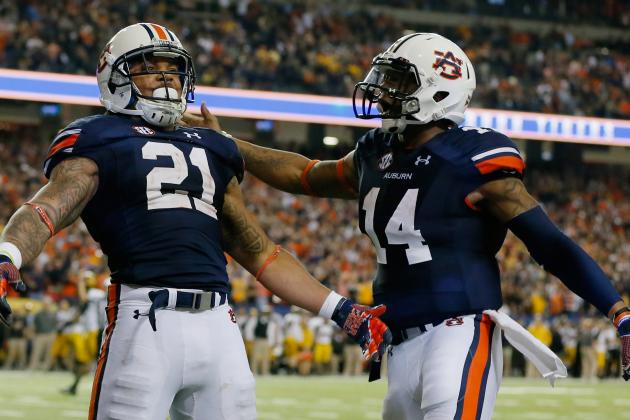 Kevin C. Cox/Getty Images

The difference between this group and the five in front of them is not huge. In the correct scheme, Auburn's Tre Mason could utilize his vision and speed to be a slashing zone-blocking back. Even a player like Oregon's De'Anthony Thomas, who has slipped this year, could be an effective change-of-pace for a team with an entrenched power back.
The sleeper of this group is Florida State's James Wilder Jr. Wilder has never been able to get any traction as part of the Seminoles' offense. That does not alter the fact that he firmly passes the eyeball test. His fresh legs, paired up with a late pick could make him a real steal.
6. Tre Mason, Auburn
7. Marion Grice, Arizona State
8. Bishop Sankey, Washington
9. Charles Sims, West Virginia
10. Jeremy Hill, LSU
11. Rajion Neal, Tennessee
12. De'Anthony Thomas, Oregon
13. James Wilder Jr., FSU
14. LaDarius Perkins, Miss. State
15. Tyler Gaffney, Stanford