Bowl season will officially kick off on Dec. 21 at 2 p.m. ET when the Washington State Cougars and Colorado State Rams meet in the Gildan New Mexico Bowl. Although the bowl hasn't received much hype, there are plenty of reasons for college football fans to be excited.
Both teams flew under the radar for much of the year, but they boast some impressive players who could potentially be playing on Sundays in the near future. Those players may be overshadowed by bigger-name players in bigger games, but that won't stop them from turning in big performances.
Here are the top stars that you should keep an eye on while watching the intriguing New Mexico Bowl between Washington State and Colorado State.
Connor Halliday
It's no secret that Mike Leach's Cougars are a pass-first team, and quarterback Connor Halliday has benefited from that greatly this season. The leading rusher in Leach's high-volume passing offense has just 424 yards, so essentially all of the burden falls on Halliday's shoulders. The junior gunslinger has put up some impressive numbers to the tune of 4,187 yards and 28 touchdowns, although he also has 21 interceptions, so he can be a feast-or-famine player.
When he feasts, though, it is truly a sight to see. Perhaps Halliday's most interesting performance came against Oregon on Oct. 19. The Cougars lost that game by 24 points, but Halliday threw for 557 yards, four touchdowns and four interceptions on an incredible 89 passing attempts. Due, in part, to that performance, Halliday is just 64 attempts away from breaking the single-season FBS record for passes thrown, according to ESPN College Football.
.@wsucougfb QB Connor Halliday is 64 attempts shy of breaking the FBS record for most passing attempts in a season. #WSUvsCSU #NewMexicoBowl

— ESPN CollegeFootball (@ESPNCFB) December 19, 2013
It may seem unlikely that he could break that record, but he has topped 64 attempts in a game three times this season, so it is far from an impossibility. Even though Leach's offense isn't always successful, it is always exciting to watch. Halliday hasn't thrown fewer than 36 passes in a game all season long, so he is going to be slinging it. Whether or not that leads to a victory is anyone's guess.
Kapri Bibbs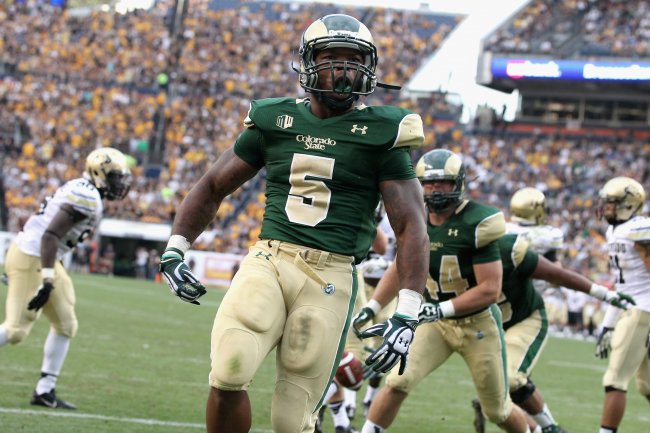 Doug Pensinger/Getty Images
Which player will have the best New Mexico Bowl performance?
Perhaps the best part of this matchup is the fact that Washington State and Colorado State feature such contrasting styles on offense. The Cougars could throw the ball 80 times in this game, but the Rams may opt to throw it 25 times or less. That is because they have one of the best running backs in the country. Sophomore Kapri Bibbs came from out of nowhere to put up one of the best statistical seasons in recent memory as he rushed for 1,572 yards and an incredible 28 touchdowns during the regular season.
Not only did Bibbs tote the rock 254 times, but he gained better than six yards per carry. While The Rams' offense may be somewhat conservative when compared to the Cougars', Bibbs makes them explosive. Bibbs' emergence was huge for Colorado State since there wasn't much expected of him heading into the season. In fact, he was third on the depth chart prior to the start of the campaign, according to Rich Ciriminiello of Campus Insiders.
Players like @KapriBibbs of #CSU remind us why we love CFB ..3rd-stringer to start yr, yet rushes for more than 1,500 yds, 28 TDs

— Rich Cirminiello (@RichCirminiello) December 16, 2013
Bibbs may not have been on the radar a few months ago, but he could potentially be in line to become one of the most prolific rushers in the history of college football. Colorado State will do everything in its power to slow down Washington State's offense, and there is no better way to do that than by having Bibbs control the clock. He has done that all season long, and there is no reason why he can't do it again against the Cougars.
Deone Bucannon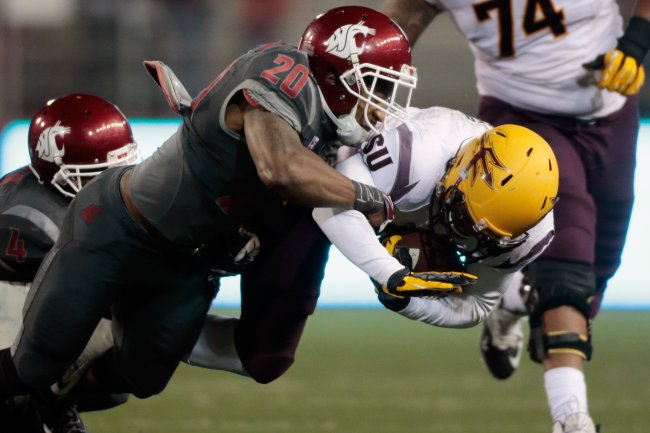 William Mancebo/Getty Images
With so much focus on the offensive side of the ball, it's easy to forget about a player like Washington State strong safety Deone Bucannon. There is no question that Bucannon is one of the most complete defensive backs in the nation. Not only does he have 109 total tackles, but he has also racked up five interceptions. Those fantastic numbers netted Bucannon a spot on the AP All-American First Team, according to Jacob Thorpe of the Spokesman Review.
Another All-American team for #WSU safety Deone Bucannon. This time it's First Team by the Associated Press.

— Jacob Thorpe (@JacobThorpeSR) December 17, 2013
Bucannon is the special type of defensive player who constantly has to be accounted for. He is equally good against the run and the pass, and Colorado State quarterback Garrett Grayson is well aware of that, per Tom Kensler of The Denver Post.
"We have to know where he is at all times because he's going to make plays," CSU quarterback Garrett Grayson said of Bucannon. "We have to try to keep the ball away from him as much as possible."

Bucannon has a penchant for making an impact no matter what, though, so it will be difficult for Colorado State to bypass him. This will also be Bucannon's final collegiate game, and there is no question that he would love to go out on top while also boosting his draft stock. It can be argued that Bucannon will have a bigger impact on this contest than anyone.
Follow @MikeChiari on Twitter