Saints vs. Panthers: Who Has the Edge at Every Position?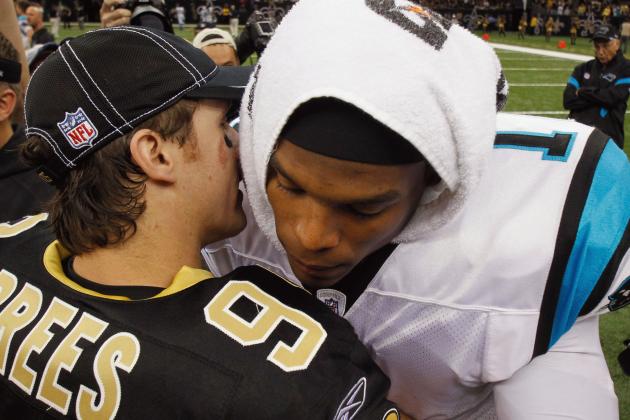 Derick E. Hingle-USA TODAY Sports

For the second time in three weeks, the New Orleans Saints and the Carolina Panthers are tied atop the NFC South and headed into a pivotal faceoff.
This time, the two teams are 10-4 and playing in Bank of America Stadium in Charlotte, N.C., at 1 p.m. ET on Sunday. In Week 14, Carolina traveled to the Superdome in New Orleans and lost 31-13, Carolina's worst loss of the season.
With just two weeks left in the regular season, neither team has locked up a playoff spot. That could change Sunday. If the Saints beat the Panthers, New Orleans will lock up the NFC South and the No. 2 playoff seed in the NFC. Carolina would still be alive for a playoff spot, but it would have work to do or need help.
If the Panthers beat the Saints, Carolina would be playoff bound but would still need to win its Week 17 matchup against the Atlanta Falcons to earn the NFC's No. 2 playoff seed. New Orleans would still be alive for a playoff spot, but it would have work to do or need help.
Neither team is going home eliminated from the playoffs with a loss on Sunday, which reduces some of the stress of the game. But the team that wins is definitely in the driver's seat in regard to playoff seeding.
So, who has the edge in each of the matchups we'll see on Sunday?
Begin Slideshow

»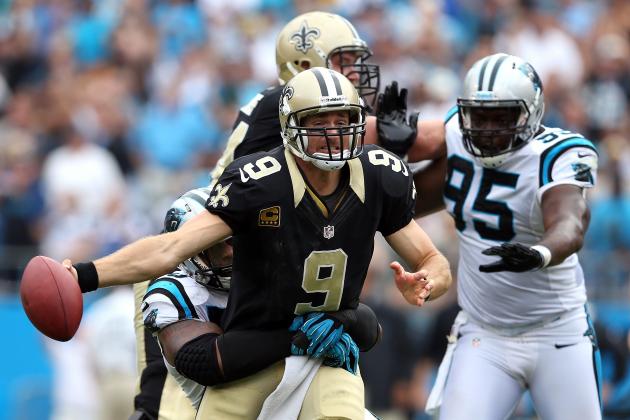 Streeter Lecka/Getty Images

Drew Brees has been sacked 21 times and hit or hurried as he threw 129 more times, according to Pro Football Focus (subscription required). While that's not among some of the worst pressure numbers on an NFL quarterback this season, it's incredibly high by Saints' standards.
Brees is being pressured an average of 10 times per game and is being tossed to the ground more frequently than anyone involved with the Saints would like to see.
He was sacked twice in Week 14, when the Saints faced the Panthers for the first time, and was hit or hurried eight times—an average day at work for New Orleans up front, it would seem. But actually, it was much better than average.
The Saints neutralized Carolina's two biggest pass-rush threats, defensive ends Greg Hardy and Charles Johnson. Hardy didn't make a play on Brees at all, and Johnson registered just one sack and two hurries. That's great news for the Saints, but don't expect the same results twice.
Carolina's front four is downright deadly, and rendering Hardy useless doesn't happen often. In fact, the only time this season Hardy has been held without a sack, hit or hurry was against New Orleans. He averages 4.4 such plays per game, according to Pro Football Focus (subscription required).
Since New Orleans is having some issues on its offensive line, Hardy could have a monstrous day Sunday.
Larry Holder, of the Times-Picayune, broke news this week that left tackle Charles Brown would be replaced in the starting lineup by rookie Terron Armstead. This is a matchup that Hardy should be able to exploit.
When it comes to running the football, the Saints rank 26th in the league and average only 89.2 yards per game. Carolina's run defense—anchored by defensive tackles Kawann Short and Star Lotulelei—ranks second in the league and only gives up 84.9 yards per game. It's unlikely that New Orleans will churn much yardage on the ground in Week 16.
Advantage: Panthers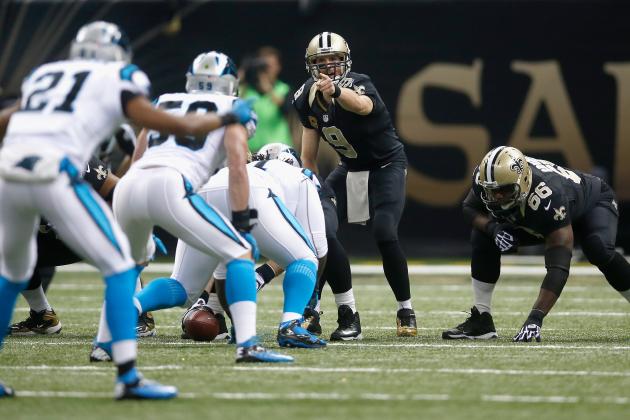 Chris Graythen/Getty Images

Brees has thrown for 4,500 yards this season and 34 touchdowns. He comes in at second in the NFL on both lists to Denver Broncos quarterback Peyton Manning. It's apparent that he's having a Pro Bowl, possibly even MVP-type, season.
The defensive backfield for the Panthers is also thriving. Carolina ranks fifth in pass defense and has held five quarterbacks this season to 200 yards or less.
Brees wasn't one of them.
He threw for 313 yards against the Panthers in Week 14 and connected on four touchdown passes. He threw five passes of 20 yards or more and hit nine different receivers, exposing the Carolina secondary not only deep but in the middle of the field too.
There are a few things Carolina can do to help—getting more pressure from their front four on Brees would be a nice start. But in the end, Brees and his powerful receiving corps will once again be too much for the Panthers.
Advantage: Saints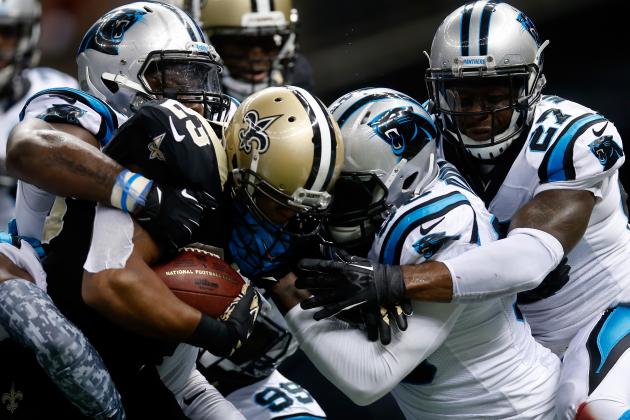 Chris Graythen/Getty Images

The last time New Orleans played Carolina, the Saints ran for 69 yards on 17 carries. They didn't need to focus on the run because Brees and the passing game were so effective.
That's a good thing too, because not too many teams run against the Panthers, and the Saints aren't really equipped to do so.
New Orleans averaged 4.1 yards per carry in Week 14, but much of that was inflated by a 38-yard run (his only carry of the day) by Darren Sproles. If you want a true idea of how New Orleans fared against Carolina's front seven, look at Pierre Thomas.
Thomas is New Orleans' most accomplished running back this season, and he carried the ball seven times for 14 yards. That two-yards-per-carry average just won't get it done. But that's typically how Carolina functions.
The Carolina run defense is ranked second in the league and gives up just 84.9 yards per game on average. Only four teams this season have gone over the 100-yard mark against the Panthers. To say they're pretty stout up front is an understatement.
New Orleans likely won't rely on its running game to get the job done on Sunday. That's not how the Saints roll (only four times have they rushed for over 100 yards as a team this season), and if they're forced to roll that way in Week 16, they'll lose in Carolina.
Advantage: Panthers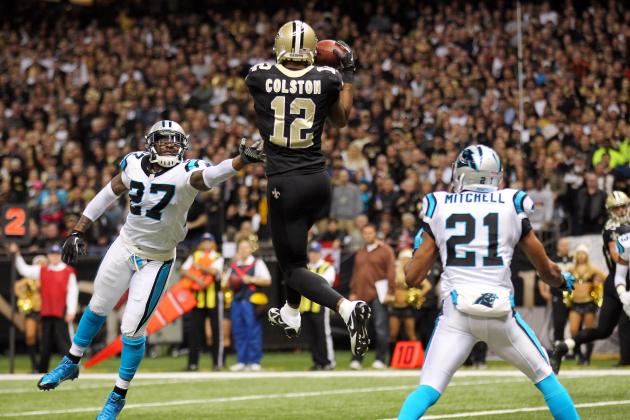 Crystal LoGiudice-USA TODAY Spor

No one on the Carolina defense wants to hear that the secondary is its weakest link, especially cornerback Captain Munnerlyn, who used similar recent comments from New York Jets wide receiver Santonio Holmes as igniter fluid-type inspiration, according to WFNZ 610 AM in Charlotte.
I took it very personal, me being the leader. I feel like he just called us out saying that we were the weakest link. I've never been called out like that, if you feel that way it's fine, but I've never heard of a person come out and say that. It kinda lit a fire under me.
In reality, however, it is.
Carolina's front four might be the best in the league, and linebacker Luke Kuechly leads a linebacker corps that's top notch. Of course, the defensive backfield is going to come away looking weaker. But overall, the unit has played well this season.
With no superstars on the roster, Carolina's secondary has helped defend the pass enough to push it toward the top of the league. Carolina gives up on average 211.4 yards per game, which is fifth in the league.
Carolina's secondary may be weaker than its other units, but it's not weak.
It did play that way against the Saints in Week 14, though.
Brees threw for 313 yards and four touchdowns as the Carolina secondary broke down on multiple occasions. The deep routes seemed open too frequently, and no one (not that many do) could figure out how to stop tight end Jimmy Graham.
Brees is still going to throw for a bunch of yards on Sunday unless the Panthers can get more pressure on him and close down some of the passing lanes. The first task should come much easier than the latter.
Advantage: Saints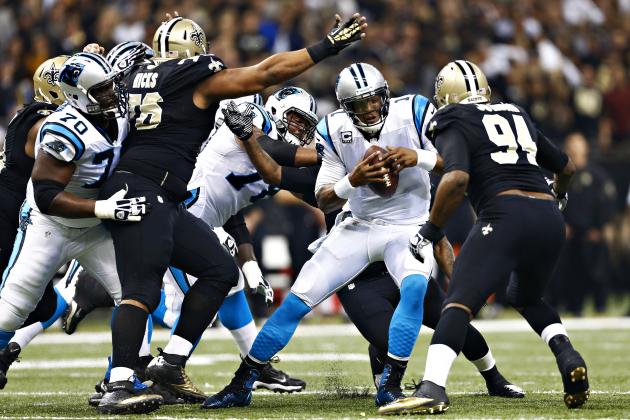 Wesley Hitt/Getty Images

The last time these two teams met, the Saints pulled down Cam Newton five times for sacks. Two of those were squarely on Newton, but two others were the result of right tackle Byron Bell.
According to Pro Football Focus (subscription required), Bell not only gave up two sacks but a hit and three quarterback hurries. But he was the only offensive lineman with a negative grade from PFF.
Not only did Bell improve the following week against the Jets, but the offensive line protected Newton soundly too. None of the big boys up front were responsible for Newton getting sacked in Week 15, according to Pro Football Focus (subscription required).
It's going to take more improvement to ensure Newton stays clean on Sunday. Even though his defense hasn't showed it of late, Rob Ryan can create pass-rush lanes with the best defensive coordinators in the league.
In the Saints' game against the St. Louis Rams last week, no one on the New Orleans defense registered a sack or even a quarterback hit. That offensive line for St. Louis is ranked 13th in the league in pass-blocking efficiency, according to Pro Football Focus (subscription required).
In Week 13 against the Seattle Seahawks, New Orleans only registered one sack and three quarterback hits. The Seahawks offensive line is ranked 18th, according to Pro Football Focus (subscription required).
Carolina's offensive line is ranked better than both at No. 11 and has shown improvement of late. If Ryan can't find a way to change some things up, it may be tough to get pressure on Newton.
Advantage: Panthers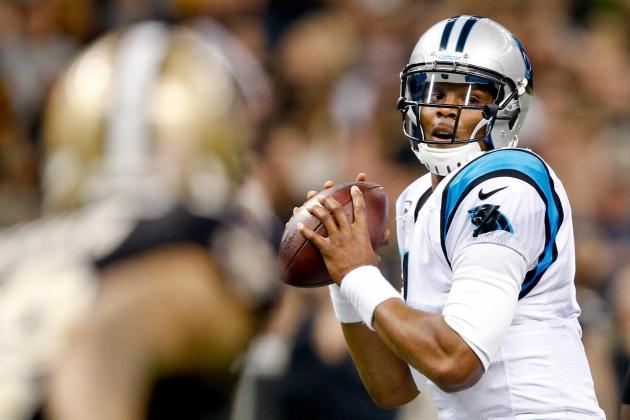 Derick E. Hingle-USA TODAY Sport

You don't typically think of Newton and imagine an NFL quarterback that can beat you through the air. Usually, it's his legs that put the most fear in defenses.
That was until this season.
Newton has done some growing up, both on and off the field. Gone is the seemingly selfish player who didn't always appear to have the team's best interests at heart. Now, he is a leader and has shown he can put this team on his back and throw touchdowns to win games.
Newton hit wide receiver Ted Ginn Jr. with 59 seconds left to play against the New England Patriots to help the Panthers beat them, 24-10. The very next week, he connected with tight end Greg Olsen on a one-yard pass with 43 seconds left to play to beat the Miami Dolphins, 20-16.
Pressure is something Newton can handle now, with his arm as well as his legs.
He has also mastered third-down situations, or at least he's much improved. The Panthers have converted 45.7 percent of their third downs this season, third-best in the NFL. A lot of that has to do with the way Newton takes what defenses give him through the air, especially on passes from 15 yards and shorter (another area he has excelled this season).
The Saints pass defense is pretty stellar, however. It ranks third in the league, allowing on average just 196.4 yards per game. The Saints held Newton in Week 14 to only 160 yards through the air.
New Orleans gets that done by playing a lot of nickel and dime sets to slow down opponents' passing games. If the Saints can do that against Carolina on Sunday, Newton could be in for a long day throwing the football.
Advantage: Saints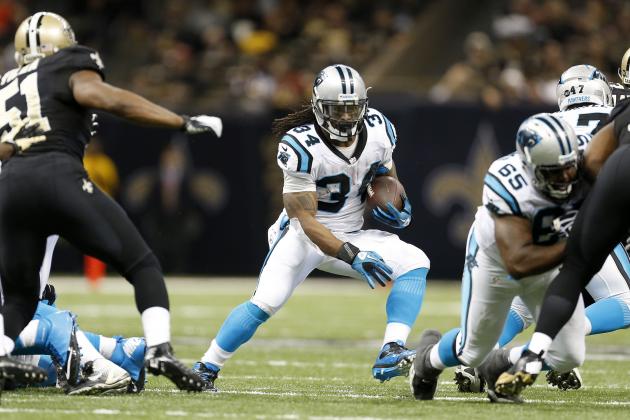 Wesley Hitt/Getty Images

If there's one area on offense where Carolina has the clear-cut advantage over the New Orleans defense, it's in the running game.
The Panthers average 129.4 yards per game on the ground, good for eighth in the league. The Saints allow 116.4 yards per game on the ground and rank 21st. This is where the Panthers can attack the Saints.
By running the ball effectively and frequently, Carolina can control the clock and dictate terms of the game while the Saints' greatest asset, Brees, is on the bench. Plus, if the Panthers can pound the rock with ease, New Orleans will have to adjust by pulling its defense up closer to the line of scrimmage and in the box.
That's when Newton can start throwing.
DeAngelo Williams averaged four yards per carry in Week 14, and Newton added 48 yards rushing on eight carries (yes, this is about the Carolina running back committee, but Newton has to be mentioned). Williams needs to have a great game on the ground for Carolina to have a chance at victory, and this matchup is primed for just that to happen.
Advantage: Panthers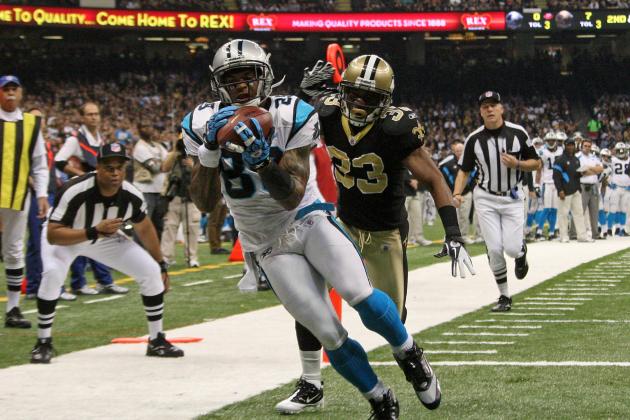 Scott Cunningham/Getty Images

The Panthers have one of the better NFC South receivers to ever play the game in Steve Smith.
Smith joked Thursday that he might miss Sunday's game with a dislocated finger, an injury suffered in practice Wednesday, according to Joe Person of the Charlotte Observer. He won't miss the game, and with his toughness, he should still be a force.
He caught six passes and Carolina's lone touchdown ball in Week 14 and will be relied upon to do more on Sunday in the rematch. But unlike in recent years, where Smith didn't have a lot of help, Carolina's secondary receivers have made more of an impact this season.
Tight end Greg Olsen and Smith are tied for the team lead with 63 catches, and wide receivers Brandon LaFell and Ted Ginn Jr. are third and fourth, respectively, on that list. LaFell and Ginn have combined for 80 catches and 1,098 yards with nine touchdown catches.
Newton has a number of options this season to go to, not only while driving but in the red zone.
Saints cornerback Keenan Lewis has been a great free-agent find for New Orleans. He ranks seventh in the league, according to Pro Football Focus (subscription required), in cover snaps per reception, a proprietary statistic that looks as the number of times a corner is the primary man in coverage versus how many receptions he allows.
But as good as Lewis has been this season, Corey White is more of a liability at corner opposite Lewis. White's 10.1 cover snaps per reception is 3.2 points lower than Lewis', and White has been picked on twice in recent weeks by the Falcons and the Rams. White had his best game of the season against Carolina in Week 14, but it still would be a surprise if the Panthers didn't attack his side of the field.
Advantage: Panthers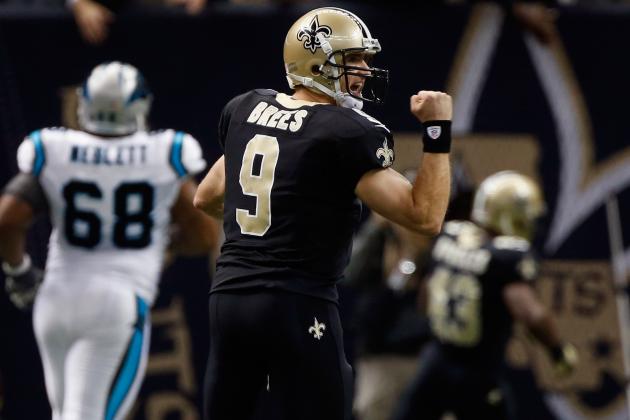 Chris Graythen/Getty Images

By my count here, the final tally has Carolina ahead 5-3.
| | | |
| --- | --- | --- |
| | New Orleans Saints | Carolina Panthers |
| NO OL vs. CAR DL | | X |
| Brees vs. Pass Defense | X | |
| NO RB's vs. CAR Front Seven | | X |
| NO WR's vs. CAR Secondary | X | |
| CAR OL vs. NO DL | | X |
| Newton vs. Pass Defense | X | |
| CAR RB's vs. NO Front Seven | | X |
| CAR WR's vs. NO Secondary | | X |
But games aren't played in a vacuum, and certain matchups here are much more important that others. Just as in their last meeting, the fact that Drew Brees can oftentimes impose his will is extremely valuable to the Saints and should be the X-factor on Sunday. Stopping Brees is the way Carolina can win this football game.
That's not going to happen.
Earlier this week, I picked the Saints in a close game, and I'm sticking with that pick.
This is the second matchup between these two NFC South behemoths in three weeks. But it won't be similar to the ugly beatdown New Orleans put on Carolina in Week 14. We're going to see a lot of defense, as the Panthers have only lost once this season at Bank of America Stadium, but in the end, Drew Brees and the Saints offense will get it done. For some reason, I'm feeling a last-minute touchdown and two-point conversion to win.
But I'm in the minority. Most of my Bleacher Report NFL brethren picked the Panthers.