8 Reasons We Love College Football Bowl Season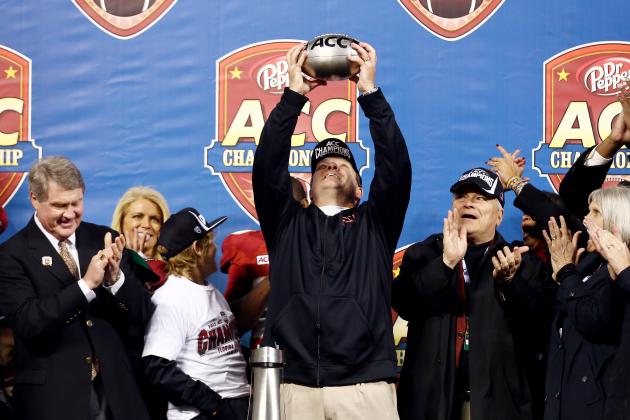 Streeter Lecka/Getty Images
Florida State coach Jimbo Fisher holds up the ACC championship trophy
Bowl season is most certainly the No. 1 holiday among college football fans, and it's a gift that keeps on giving over the course of three weeks.
Over the years, the bowls have become more commercialized and have lost meaning, but that doesn't mean we won't still gather around the television, fully stocked up on chips and drinks, to watch the action unfold.
What exactly do we love about bowl season? Some answers are obvious, such as the BCS bowls and exciting inter-conference matchups, but this time of year always has a few surprises in store.
Take a look at eight reasons why we love the college football bowl season so very much.
All stats via ESPN
Begin Slideshow

»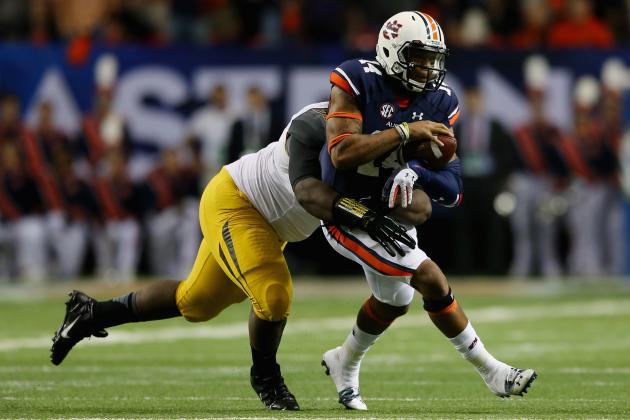 Mike Ehrmann/Getty Images
Auburn QB Nick Marshall
While much of the focus during bowl preparation revolves around the idea of finishing the year strong, it can also reveal the early trajectory of the 2014 season.
Of course, no one would have guessed that Auburn, a team that won three games in 2012, would bounce back to make it to the national championship, but preparing and playing well in a bowl game can often provide momentum in recruiting and build buzz for the next year.
Take a look at teams such as Oregon and Michigan State, who will square off next September in Autzen Stadium. Should the Ducks take care of business against Texas and the Spartans come away victorious in the Rose Bowl, we'll be looking at a big-time non-conference matchup in nine months.
How about Florida State? The Seminoles are one win away from a national championship, but with quarterback Jameis Winston returning alongside a talented young defense, a win over Auburn could vault the program into elite territory where fans might expect a repeat. With a loss, however, the narrative will change a bit.
Then there's the middle-tier games, where teams such as UCLA, Oklahoma State, Wisconsin and LSU reside. Big wins in their respective bowls could jump-start the offseason and give us a glimpse of programs ready to compete for a national title in the near future.
No matter what happens during this bowl season, we're given a conclusion to a 2013 campaign that was as wild as any in recent memory. With so many games on the schedule between quality opponents, though, this time of year often writes the first chapter of the following season.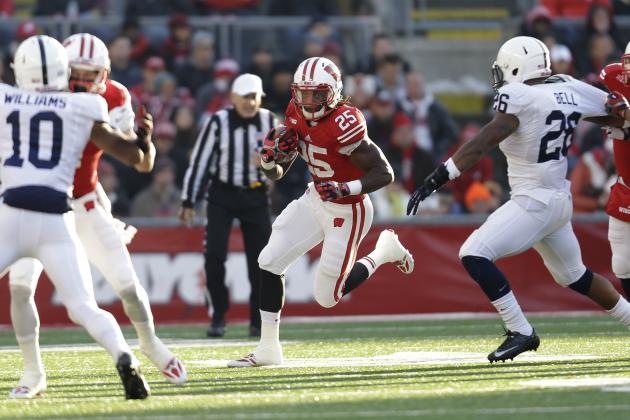 Mike McGinnis/Getty Images
Wisconsin RB Melvin Gordon
One of our favorite parts of offseason discussion is looking at the non-conference matchups. During the regular season, those games are the only time when we can compare conferences and get a glimpse of how teams look against unfamiliar foes.
Because every single game is a non-conference matchup, bowl season is so special. New Year's Day alone has more exciting contests than we saw during the entire 2013 season.
There's also the bonus of not having to wait four or five days between games. When the action commences on Saturday between Washington State and Colorado State, fans won't have to wait more than two days for football until the clock hits zero in the BCS title.
In fact, beginning on December 26, there is a game every day except Sunday, December 29, until the champion is crowned. If that's not every football fans ultimate dream, we're not sure what is.
Complain all you want about meaningless bowl games between 6-6 teams, but true fans of the sport can sit down and watch anyone play. With 35 games on the schedule, bowl season is truly the most wonderful time of the year.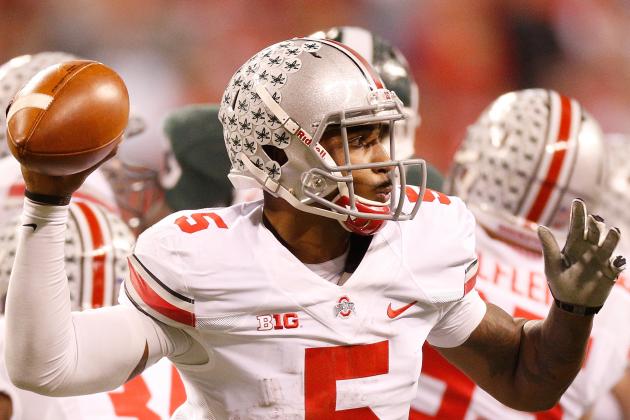 Gregory Shamus/Getty Images
Ohio State QB Braxton Miller
The first step in picking the winner of each bowl game is to look at which team is more motivated. In some cases, the talent gap is so enormous that motivation doesn't matter, but part of the fun is discovering which teams are amped up and ready to play and which are still disappointed at their bowl placement.
When you find these ingredients paired together, that's also where you'll find the biggest upsets.
Let's take the Orange Bowl, where we'll see Ohio State and Clemson do battle.
The Buckeyes were one win away from reaching the national championship, but instead they have to settle for less. Can Urban Meyer motivate his team to play its best game of the year, or will Clemson slice and dice a porous Ohio State defense?
How about the Alamo Bowl, where the Oregon Ducks will play the Texas Longhorns? For much of the season, Mark Helfrich's squad was in great position to reach Pasadena, Calif., either for the Rose Bowl or the national title. Now, they arrive at a non-BCS bowl for the first time since 2008; however, if they aren't prepared to play well, the Longhorns will make things even worse heading into the long offseason.
You can also learn a lot about players who show up and perform well despite bigger goals being taken off the table. Should Ohio State and Oregon each take of business, it will be a good sign for two schools hoping to be near the top once more in 2014.
Talent and regular season results are the best ways to predict what will happen during bowl season, but motivation is a huge factor. If teams aren't in the right mindset, they'll likely end the year with a loss.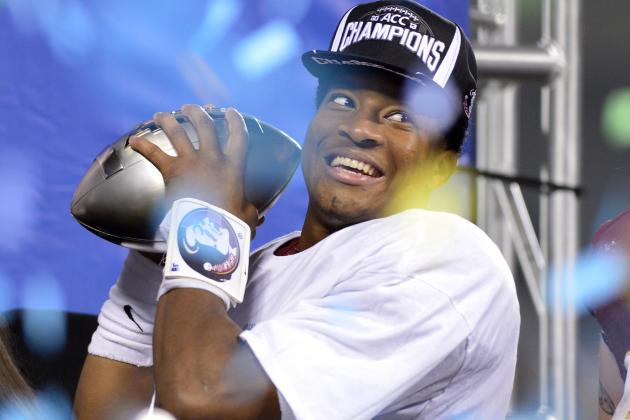 Bob Donnan-USA TODAY Sports
Heisman Trophy winner Jameis Winston
In some ways, it seems silly to award the Heisman Trophy prior to bowl season because the winner has yet to play the biggest game on his team's schedule.
In recent years, though, bowl season has only validated the selection of college football's most outstanding player.
A year ago, it was quarterback Johnny Manziel putting up more than 500 yards of offense in a win over Oklahoma in the Cotton Bowl. Before that, Robert Griffin III had 350 total yards of his own in a 67-56 win over Washington. In 2010, Cam Newton helped Auburn cap off a magical season with a close win over Oregon in the national championship, and running back Mark Ingram of Alabama did the same thing a year before that.
The pressure is on Florida State quarterback Jameis Winston to continue that trend. There should be little doubt about whether he deserved the award because the Seminoles were the only undefeated team at the end of the season and Winston led his team to a number of impressive wins.
It says something about the Heisman winner, though, when he can take a moment to breathe after claiming the award before churning out a signature performance in his team's bowl game.
Will Winston validate himself against Auburn, or will the Tigers' defense stonewall the best player in the game?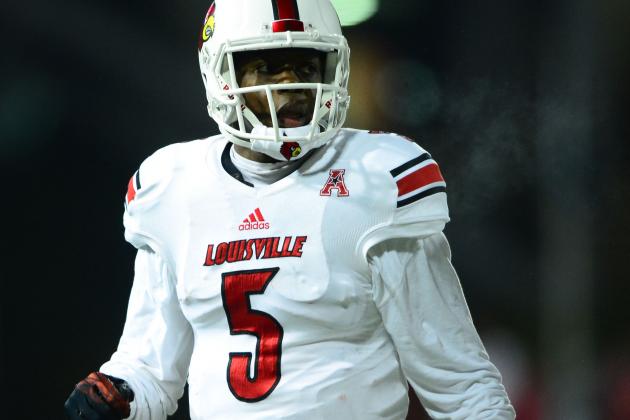 Andrew Weber-USA TODAY Sports
Louisville QB Teddy Bridgewater
Before the 2013 Sugar Bowl, two-loss Louisville wasn't really on anyone's radar. The Florida Gators from the mighty SEC were going to roll the team from the then-Big East conference, and that was that.
Then quarterback Teddy Bridgewater happened, as the Cardinals' signal-caller threw for 266 yards and two scores against one of the best defenses in the country in a 33-23 upset.
It was a memorable performance from a guy who had mostly been under the radar prior to the game, and it makes you wonder who might have a similar performance this time around.
Will Georgia's Hutson Mason step up and make a name for himself? Or will Michigan State's Connor Cook do what few have done in the past few seasons and shred Stanford's dominating defense?
Whoever it is, you can always count on unknown players having the game of their lives during bowl season, emerging from the shadows into the national spotlight. The best part is not knowing from where this type of performance is going to come. We know it's out there, though, and we can't wait to see who brings it.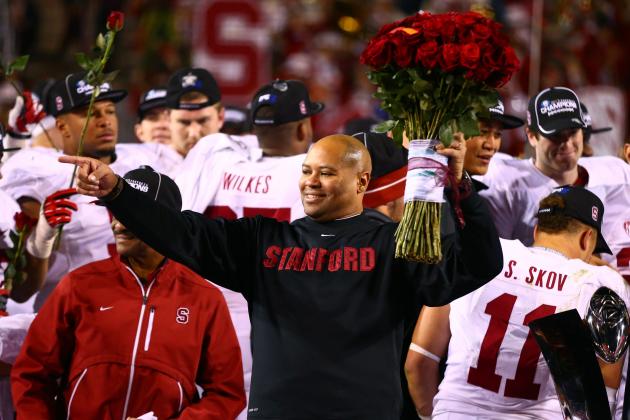 Mark J. Rebilas-USA TODAY Sports
Stanford coach David Shaw holds up roses.
Few days in all of sports can match the pageantry and tradition of New Year's Day in college football.
There will be six games in total, headlined by the Rose Bowl between Stanford and Michigan State. To sweeten the deal, it will be the 100th edition of the game.
Aside from the granddaddy, we'll get the Fiesta Bowl between Baylor and UCF, the Gator Bowl between Nebraska and Georgia, the Heart of Dallas Bowl between North Texas and UNLV, the Outback Bowl between LSU and Iowa and the Capital One Bowl featuring Wisconsin and South Carolina.
If the primary goal of every team is to reach the national championship, making it to a New Year's Day Bowl game is a close second. It's the one time when every college football fan can sit down and relax in front of an appealing slate of matchups all day long.
You can't always count on bowl season to deliver great games and close finishes, but you can pretty much guarantee January 1 as day to remember in college football, and it's perhaps the best aspect of the entire postseason.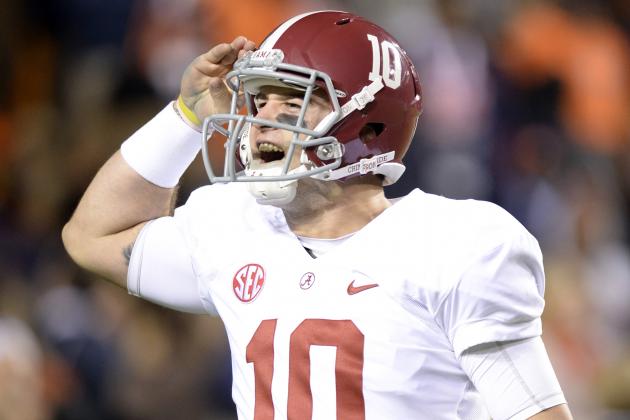 John David Mercer-USA TODAY Spor
Alabama QB AJ McCarron
Which conference was the very best in 2013? Which postseason awards got it right, and who truly deserved (or didn't) a trip to New York for the Heisman Trophy ceremony?
Those are just a couple of the questions that will be answered during bowl season. What makes it all so special is the number of games between teams who rarely face off on the gridiron.
Most at stake is conference bragging rights, as the perception of the strength (or weakness) of a particular conference can change drastically over the next few weeks.
If Iowa tops LSU and Alabama stumbles against Oklahoma, the perceived depth and dominance of the SEC would take a hit. In the Pac-12, teams such as USC and Washington State must capture bowl wins or risk the conference losing some credibility.
Also at stake, though, are the reputations of the best players in the game.
In a very winnable contest against Oklahoma, Alabama's AJ McCarron must produce to back up the postseason praise that was heaped on him. Arizona's Ka'Deem Carey and Boston College's Andre Williams will square off in a battle between two of the nation's top running backs, and Auburn's Tre Mason will have his own shot at producing a signature performance against the 'Noles.
Regardless of what happens during bowl season, fans will argue well into January, February and beyond. This will be our final glimpse of every bowl team, though, and what happens in the next three weeks will set the tone for most of the offseason discussion.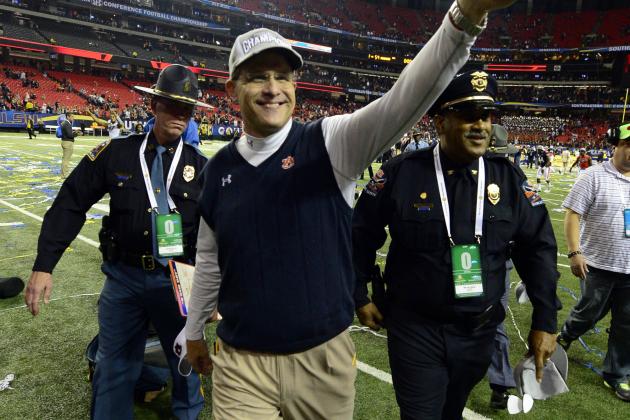 John David Mercer-USA TODAY Spor
Will Auburn head coach Gus Malzahn add a national title to his resume in January?
After all the incredible games, career-defining performances and pointless debates supported by a combination of stats and homer-fueled logic, bowl season will finally produce a national champion.
There may be 35 games in total, but only one will give us the best team in college football. This year, Florida State and Auburn are vying for the crystal ball.
Should the Seminoles emerge victorious, they'll have posted one of the most dominant seasons in recent memory by going undefeated.
If the Tigers win their second national title in four years, they will complete one of the most improbable campaigns in the history of the sport. Just last season, Auburn was on its way to three total wins. Now, after two last-minute miracles against Georgia and Alabama, first-year head coach Gus Malzahn has a chance to do something truly memorable.
From start to finish, bowl season is quite the spectacle, and we'll enjoy every second of it. It would be nothing without the final game, though, where the two best teams in college football will square off to determine this year's national champion.