There is still a rather lengthy wait before college football's BCS national title is contested on Jan. 6 in Pasadena, where the top-ranked Florida State Seminoles will take on the No. 2 Auburn Tigers.
However, there is still a quartet of BCS matchups to tide fans over in the meantime with a couple of the impending showdowns in particular standing out as the most captivating.
Here is a look at the complete listings for the most important bowl games of the season along with a breakdown of what should be the most entertaining games.
The good news is, with the way the schedule plays out, the best seems to be saved for last.
Note: Team statistics are courtesy of NCAA.com. Defensive player stats were obtained from CFBStats.com.

2013-14 BCS Bowl Game Schedule and Listings

| | | | | | |
| --- | --- | --- | --- | --- | --- |
| BCS Bowl | Matchup | Date | Time (ET) | TV | Live Stream |
| Rose Bowl Game presented by VIZIO | Michigan St. vs. Stanford | Jan. 1 | 5 p.m. | ESPN | WatchESPN |
| Tostitos Fiesta | Baylor vs. UCF | Jan. 1 | 8:30 p.m. | ESPN | WatchESPN |
| Allstate Sugar | Alabama vs. Oklahoma | Jan. 2 | 8:30 p.m. | ESPN | WatchESPN |
| Discover Orange | Clemson vs. Ohio St. | Jan. 3 | 8:30 p.m. | ESPN | WatchESPN |
| VIZIO BCS National Championship | Florida St. vs. Auburn | Jan. 6 | 8:30 p.m. | ESPN | WatchESPN |
Source: ESPN.com
Orange Bowl: No. 7 Ohio State vs. No. 12 Clemson
This should be a shootout of epic proportions.
The dynamic passing game combination of Tigers quarterback Tajh Boyd and wide receiver Sammy Watkins should have its way with the Buckeyes' suspect defensive backfield.
That's not even to mention Martavis Bryant, who stands at 6'5" and 200 pounds and averages 20.5 yards per catch.
Ohio State will look to shorten this game and keep it away from Boyd and Co. with a rushing attack led by powerful running back Carlos Hyde and dynamic signal-caller Braxton Miller.
Defensive end Michael Bennett emphasized the importance of applying pressure up front to aid the secondary's efforts in coverage as well as everyone needing to enhance their play, per Sports Illustrated via the AP:
Guys have to cover on the back end, but we can't let the quarterback sit back in the pocket for 5 or 6 seconds because someone's going to get open. When stuff like that falls apart, it's the whole team thing - it's not (just) on the back end. The front guys have to do more and the back guys have to do more. It's not a scheme issue; it's just guys need to do their jobs better
The X-factor will be Clemson defensive end Vic Beasley (12 sacks), who will lead the Tigers' charge up front and put Miller under duress.
Miller is not a good enough passer—as was evident in a 34-24 loss to Michigan State in the Big Ten title game—to keep up with Clemson's offense, nor can he improvise well enough to make big plays when he gets out of trouble.
Due to the one-dimensionality of Miller, Hyde won't be able to get going enough to drive the Buckeyes to a victory in Miami.
Prediction: Clemson 45, Ohio State 38
Sugar Bowl: No. 3 Alabama vs. No. 11 Oklahoma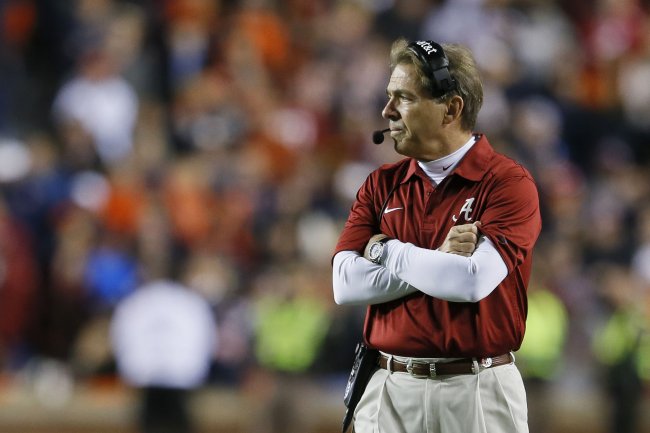 Kevin C. Cox/Getty Images
Some may argue that Baylor-UCF will be a bit more high-scoring, or that Michigan State-Stanford will be a tighter game, but there are too many intriguing storylines here to pass up.
First, AJ McCarron—he who possesses a 36-3 record as Alabama's starting QB—is playing his final collegiate game, and is relegated to this contest after winning the national title the previous two years.
Then there's the matter of the Sooners and head coach Bob Stoops will fare in another big time game. How he will fare against his prolific counterpart in Nick Saban may depend on who he inserts as the starter under center.
Blake Bell led a rousing game-winning drive to beat Oklahoma State in the season finale in Stillwater, but Stoops is not committing to a starter until just before kickoff at the Superdome, per NBC's CollegeFootballTalk.com:
Bob Stoops: OU starting QB against Alabama will be 'game time decision' http://t.co/E9u3fqGeUv

— CollegeFootballTalk (@CFTalk) December 18, 2013
It seems Stoops has wanted Trevor Knight to be the guy all year after he started him at the outset of 2013, but the freshman wasn't ready.
The 6'6", 252-pound Bell would likely give the Sooners the best chance to win against a physical, stout Tide defense with his physical running. But a front seven led by sensational C.J. Mosley may prove to be too much for Oklahoma to handle.
Look for McCarron to have another efficient game, for Alabama's defense to stand tall and for sophomore running back T.J. Yeldon to roll over the Sooners and boost the Tide to a win after a crushing Iron Bowl loss at Auburn.
Prediction: Alabama 34, Oklahoma 27
BCS National Championship: No. 1 Florida State vs. No. 2 Auburn
Which higher ranked team is in the most danger of losing?
The thought among B/R's experts is that this will be a high-scoring affair, but it is possible that the scoreboard won't be lit up as often as it may seem.
Auburn is led by an amazing running game with electric back Tre Mason and speedy QB Nick Marshall, who complement each other very well.
Marshall makes the proper decision on the read-option as much as anyone in the nation, and that helps offset his deficiencies as a pocket passer.
Meanwhile, Florida State freshman Jameis Winston won the Heisman Trophy and is far better than Marshall as a traditional drop-back thrower. But what the Tigers do best is hound the opposing QB with pressure, courtesy of a deep defensive front.
Winston's mobility and the plethora of weapons he has in the receiving corps—seniors Rashad Greene and Kenny Shaw, along with explosive 6'5" sophomore Kelvin Benjamin—should help combat that.
The Seminoles also have yielded only five rushing touchdowns all season and have the personnel to stymie the Tigers on the ground:
Physical cornerback play and a ton of talent in the front seven will help neutralize Mason and Marshall, forcing the limited QB to beat FSU's defense through the air—which won't happen.
With backs Devonta Freeman, Karlos Williams and James Wilder Jr., Florida State can maintain a strong time of possession, giving it all the pieces to derail Auburn's stunning turnaround and walk away with the Coaches' Trophy.
Prediction: Florida State 31, Auburn 24