Ranking the MLB Offseason's 12 Biggest Contracts from Best to Worst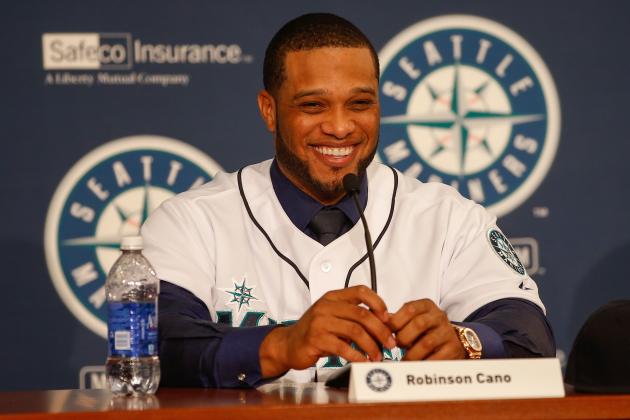 Otto Greule Jr/Getty Images

Raise your hand if you had Robinson Cano joining the Mariners and Jason Vargas getting a four-year deal this offseason. You might have a better chance of correctly filling out an NCAA tournament bracket.
Cano's and Vargas' contracts have little in common except that they're both longer than you probably would have expected. Cano will be 40 at the end of his deal, while Vargas, a No. 5 starter, got a deal befitting a No. 3 in terms of its length. And that seems to be a recurring theme among this offseason's signings: teams compromising on extra years, usually in exchange for less salary.
Several such contracts are on this list, my ranking of the 12 most lucrative contracts signed this offseason to date.
Note: Contract information pulled from MLBTR's Free Agent Tracker and Cot's Baseball Contracts.
Begin Slideshow

»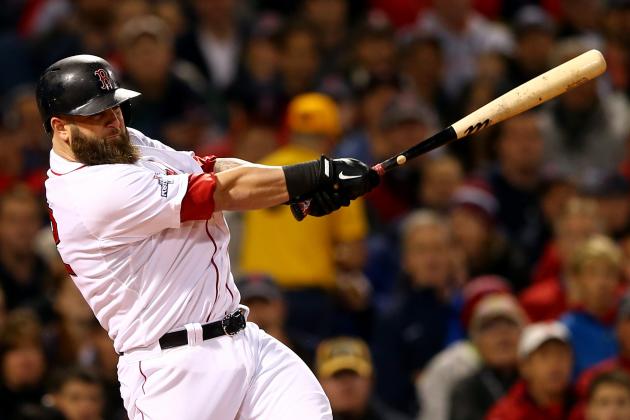 Elsa/Getty Images

Despite being perhaps the best pure power hitter on the market at the outset of the offseason, it seemed unlikely Mike Napoli would sign a deal of four or more years. In fact, the better question was whether he'd even get three years, as his age (32) and hip condition figured to keep bidders at bay.
Ultimately, the Red Sox signed Napoli for only two years and $32 million, which, to me, represents the best value signing of the offseason to date.
The Red Sox will pay Napoli an average annual salary of $16 million, which is pretty fair—maybe favoring the team slightly—for a guy who has averaged 3.7 fWAR over the past three seasons. The real value, though, is in the years. In an offseason in which the likes of Jason Vargas and Omar Infante signed four-year contracts, two years for a premier slugger just feels like a steal.
There's risk involved with Napoli. He's not young and his hip condition has to be worrisome for the Red Sox, but the modest length of the deal helps mitigate a lot of that risk. If Napoli can produce like he has the past few years—or perhaps even better if playing first base helps keep him healthier—the Sox will be very happy at the conclusion of this deal.
Thearon W. Henderson/Getty Images

Several of the Twins' offseason moves left me scratching my head, but signing Ricky Nolasco for four years and $49 million was not one of them. The deal also includes a club option for a fifth year at $13 million that vests if Nolasco pitches 400 innings in the last two years of the deal.
Nolasco is not an ace, but he's been a pretty consistent No. 3 starter since 2008, racking up 19 of his 20 career fWAR in that span while pitching fewer than 185 innings only once. A three-WAR pitcher is pretty valuable, worth considerably more than an average annual salary of $12 million. Nolasco, who turned 31 this month, might have left some money on the table. Then again, the team's commitment of four years (and perhaps a fifth) seems like a sensible concession in exchange for a break on the money.
Ervin Santana, Matt Garza and Ubaldo Jimenez are considered the cream of this class of free-agent pitchers and will probably end up with more lucrative deals than Nolasco accordingly. Comparing all their track records, though, I might prefer Nolo to the rest, especially on this deal.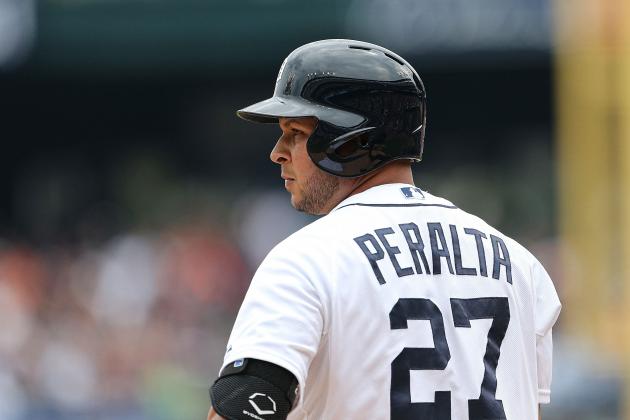 Leon Halip/Getty Images

The Cardinals' signing of Jhonny Peralta turned heads, but when you strip away the narrative surrounding the deal, it's hard not to like it for the Redbirds. One of the offseason's first moves, it was a quick strike by a really good team that was looking to address one of its few weaknesses. Clearly, they weren't messing around.
The Cards also caught some criticism for rewarding Peralta with a big contract after he served a 50-game suspension last season for PEDs. For some, it was a decidedly unsavory move by an organization that does things the "right way," whatever that is.
All that aside, the Cardinals nabbed one of the game's better offensive shortstops for four years at an average annual salary of $13 million. If we assume that one win is worth about $6 million, as Dave Cameron of Fangraphs suggests, then Peralta is being paid like a two-win player, a benchmark he cleared pretty easily in each of the past three years with the Tigers.
His career was pretty spotty prior to that three-year stretch, though. He'll also turn 32 in May, and he's not exactly the model of athleticism. Those risks were probably factored into the Cardinals' offer, and surely, Peralta and his camp were aware that other teams shared those same concerns.
Still, the Cards can recoup most of their investment with two good years out of Peralta. That's not a bad risk for a potential World Series contender to take.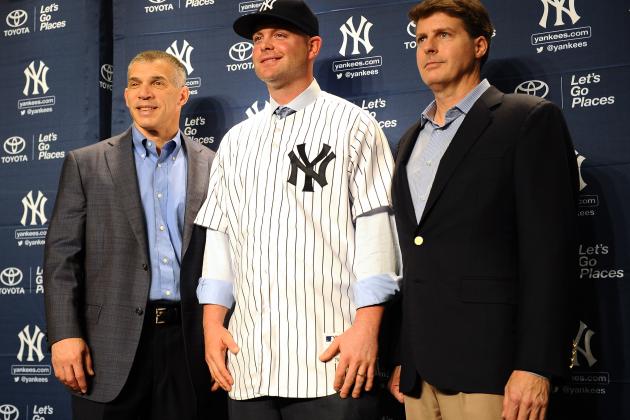 Maddie Meyer/Getty Images

The Yankees entered the offseason with a handful of holes, but they may have addressed their biggest by signing catcher Brian McCann to a five-year, $85 million contract. The deal also includes a club option for a sixth year at $15 million which could vest depending upon playing-time benchmarks.
The Yankees got little production from multiple positions last year, though catcher was perhaps the most glaring. Chris Stewart and several others simply did not hack it, and with the Yankees missing the postseason for only the second time since 1995, it's not surprising that they aggressively pursued the only elite free-agent backstop.
The deal itself looks pretty fair. McCann has averaged three-plus WAR per year in his career. He's a better player than that in terms of true talent, as evidenced by numerous four- and five-WAR seasons, but he's also had some clunkers because of injuries. Such is the life of an MLB catcher.
And that's about the only gripe you could have with this contract. Can McCann stay healthy, and if so, for how long? He played in only 102 games last season and 121 games in 2012, so staying on the field is a concern. If he does, though, the Yankees will get what they paid for and perhaps then some.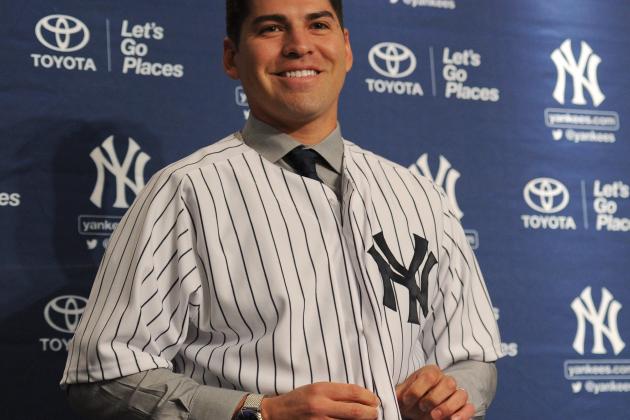 Maddie Meyer/Getty Images

As they did with Brian McCann, the Yankees doled out another big but fair contract for an elite player in Jacoby Ellsbury, who also plays a premium position in center field.
Despite the size of Ellsbury's seven-year, $153 million contract and the inherent risks that come with it, it's a pretty good move for the Yanks. They didn't need a center fielder per se, with Brett Gardner already on the roster. But adding Ellsbury allows them to move Gardner to left field, making them less reliant on their aging corner-outfield tandem of Alfonso Soriano and Ichiro Suzuki. Or, they could use Gardner as trade bait. In either case, the addition of Ellsbury gives them flexibility to improve the team.
That aside, Ellsbury's average annual salary of roughly $22 million isn't cheap, but it's not unseemly for a guy who was worth 5.8 WAR last season and a whopping 9.1 in 2011. Ellsbury may not have another of those seasons before his career is over. But even if he doesn't, the upside is there for him to actually outproduce the value of this contract. That's pretty incredible if you think about it.
The only obstacle preventing Ellsbury from being a perennial All-Star might be his health. He missed much of both 2010 and 2012 due to injuries, although both were due to freak outfield collisions. It seems improbable that will happen again, but the question is whether it speaks to something greater about Ellsbury's durability. Obviously, the Yankees are willing to find out.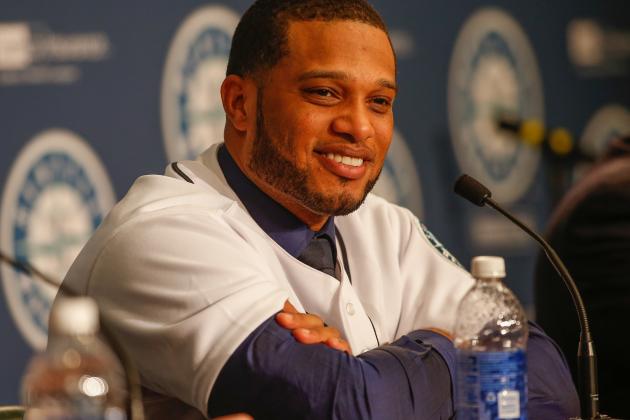 Otto Greule Jr/Getty Images

Not surprisingly, Robinson Cano secured what will almost certainly be the richest free-agent contract this offseason. What is surprising, though, is the team that signed him. Though the Yankees were considered the favorites to retain Cano, the Mariners pulled off something of a shocker in landing the star second baseman for 10 years and $240 million.
It's a colossal contract, but Cano is probably one of the few players in the game who warrants that sort of investment. He has consistently performed at a superstar level the past five years while playing almost every day. With that resume, Cano was going to get a massive deal no matter what; it was just a matter of how massive.
The M's overpaid in years, and you have to wonder whether Cano will even be deserving of a major-league roster spot in the last year or two of the contract when he'll be inching toward 40. They probably had to overpay in years, though, and there's a decent chance that Cano will produce enough value to warrant the deal in terms of salary. Again, that has been a common refrain this offseason.
If the Mariners' intent in signing Cano was to both improve their team and change people's perception, they succeeded. This deal would be even better if the Mariners had followed it up with another impact move or two, but it's hard to argue that adding a player of Cano's caliber is a bad one. And even though nothing seems imminent now, you have to assume that signing Cano signals a willingness to make similarly big moves moving forward. The M's likely aren't done yet.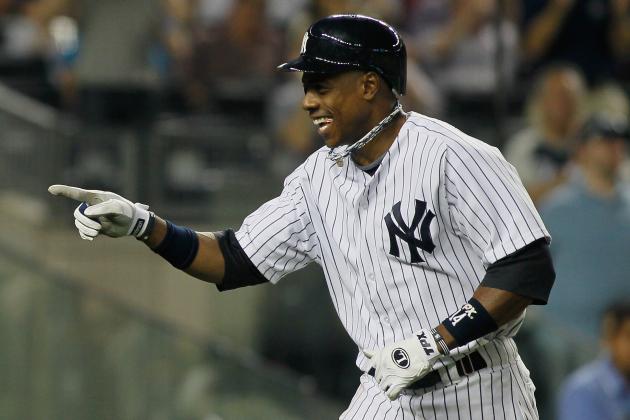 Mike Stobe/Getty Images

Like the Mariners' move to add Robinson Cano, the Mets signed Curtis Granderson both to improve their team and perhaps as a boon for public relations. The Mets have receded into the shadows of mediocrity in recent years, all the while lacking star power because they were unwilling or unable to spend on free agents while waiting for onerous contracts like Johan Santana's and Jason Bay's to come off the books.
Granderson's four-year, $60 million contract represents the Mets' first splashy signing in a while. As a baseball move, it's risky but not reckless. The Mets needed position players, especially corner outfielders, preferably power-hitting ones. Granderson, who hit 40-plus homers in both 2011 and 2012, fits that bill, although he'll be 33 on Opening Day and coming off an injury-marred 2013 campaign.
The Mets are obviously hoping that Granderson returns to form, but the good news for them is that they're not paying him like a 40-homer player. Instead, they're paying for about 10 WAR over the four years, or 2.5 per year. There's a good chance he ends up right around that total, with maybe one good year, two decent years and one being lost to injury or precipitous decline. That's just a guess, obviously, but I think the Mets would sign up for that.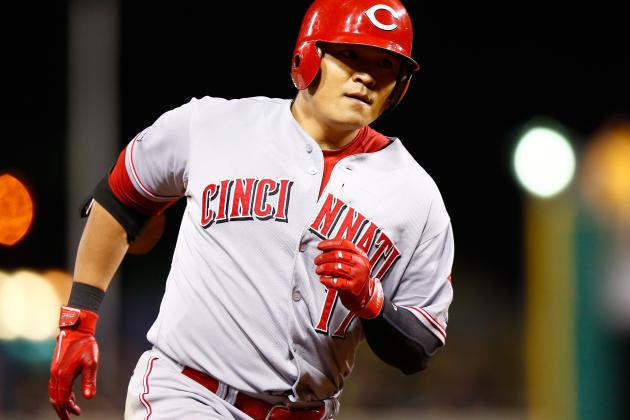 Jared Wickerham/Getty Images

The Rangers offense took a step back last year, and they've made it a point to address that this offseason, first by trading for Prince Fielder and now by signing Shin-Soo Choo to a seven-year, $130 million contract.
Choo is a good hitter but a flawed player overall. He mashes against right-handed pitching but struggles badly against lefties, and advanced defensive metrics rate him poorly. Those are big concerns for a guy who is getting as much money as Choo is, and this might be an interesting study in how a metric like WAR can't quite capture the nuances of team-building. Choo will help win games over a 162-game schedule, but it seems like his platoon split can be exploited in small samples like, say, the playoffs.
Is Choo a platoon player then? I highly doubt the Rangers see it that way, considering how much they're paying him. But if Choo remains neutralized by lefties, then he can't really afford to decline elsewhere without seeing his overall value plunge. That's a scary proposition for a guy who will turn 38 in the final year of the contract.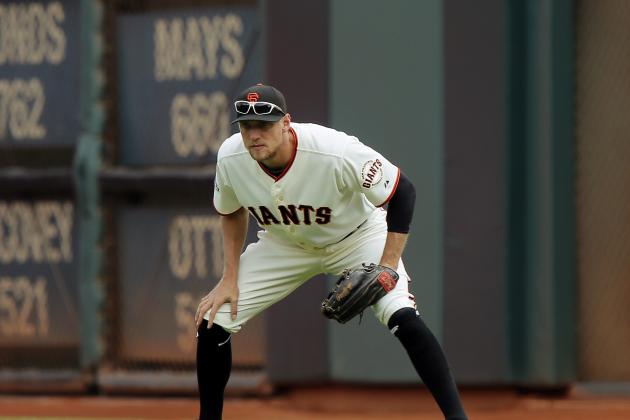 Brian Bahr/Getty Images

The Giants were aggressive in re-signing right fielder Hunter Pence, finalizing a five-year, $90 million deal before he officially reached free agency.
Pence is coming off a career year in 2013, at least in terms of WAR (5.4), so perhaps the Giants were anticipating that his price tag would be driven up if he reached the open market. They precluded that by locking him up with a contract that pays him for about three wins per year, which seems reasonable enough considering he's averaged 3.5 WAR in his seven-year career.
However, the Giants now have Pence from ages 31-35, so regression seems likely on the back end. Will Pence produce enough up front to earn most of that value? Eh, probably not. And that's why the Giants overpaid. They're compensating Pence as if he'll keep producing the way he has been. That's possible but unlikely.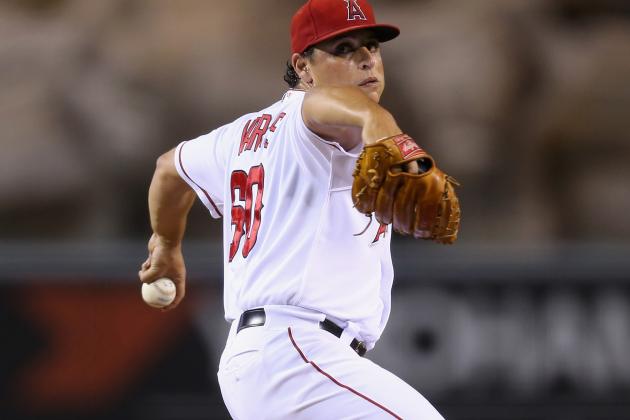 Jeff Gross/Getty Images

In what was the long-term deal that no one saw coming, the Royals inked left-handed pitcher Jason Vargas to a four-year, $32 million contract. Vargas, an innings-eater, seemed like a strong candidate for a one- or two-year deal. Instead, the Royals went after him and hammered out a strange contract that keeps him in Kansas City through his age-34 season.
You don't often see long-term deals for No. 5 starters, which is why this one is hard to figure out. The annual average salary of $8 million is fine enough, but a healthy chunk of the $32 million owed to Vargas could become a sunk cost if he regresses to the point that he's no longer major-league caliber. That's money that a cost-conscious team like the Royals can't afford to just eat and then shrug off. It hurts.
Will Vargas implode before the end of the deal? As a soft-tossing lefty who relies on deception, he's never gotten by with his stuff. If it slips a little bit, can he continue to scrape by? I wouldn't want to wait around four years to find out.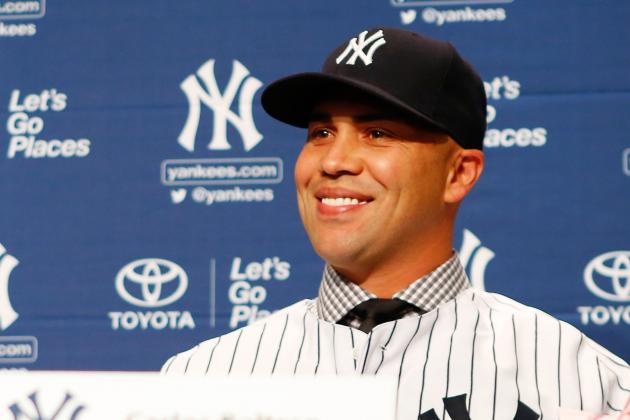 Mike Stobe/Getty Images

After Brian McCann and Jacoby Ellsbury were in the fold, the Yankees continued their busy offseason by adding Carlos Beltran on a three-year, $45 million contract. Unlike those deals, though, this one wasn't quite a no-brainer.
While Ellsbury and McCann are within reasonable proximity of their respective primes, Beltran is an aging switch-hitting slugger with defensive concerns, and he may be showing signs of decline at the plate. With the Yankees, he'll probably share right-field and DH duties with Alfonso Soriano. Beltran has rated poorly in right field the past couple of years, so whether it's him or Soriano in right, it's not ideal for the Yanks.
The Yankees are paying Beltran to hit, though. His .296/.339/.491 line in 2013 with the Cardinals was plenty good, although his walk rate dropped to 6.3 percent (vs. a 10.4 career rate), so that suppressed his OBP some. He also didn't hit lefties well: .252/.281/.448. If those trends continue, it's going to eat away at Beltran's offensive value, and that's pretty much all he's bringing to the table right now.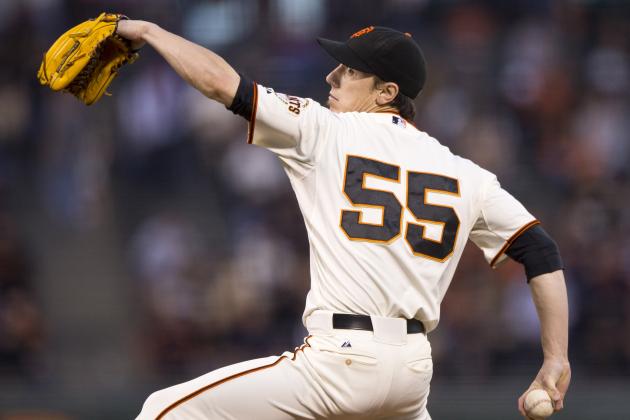 Jason O. Watson/Getty Images

Just like his teammate Hunter Pence, Tim Lincecum worked out an extension with the Giants before hitting free agency, signing a two-year deal worth $35 million. And like Pence's, Lincecum's deal feels like an overpayment.
A two-time Cy Young Award winner earlier in his career, Lincecum has fallen on hard times the past two seasons, tallying only 2.5 WAR in 65 starts. The Giants, however, are paying him for about six wins over the next two seasons, which seems unlikely given his recent performance. Apparently, the Giants plan to keep Lincecum in the rotation (he pitched out of the bullpen during the 2012 postseason) and think he'll do well there.
Maybe the Giants see something the rest of us don't, but re-signing Lincecum in hopes that he discovers his old form just seems like a poor strategy. Lincecum's prior success probably influenced the Giants' desire to keep him, and perhaps the fear that he would return to form on another team did as well.
The pursuit of past glory seemed to be a recurring theme for the Giants this offseason, and that is part of what makes their moves for Pence and Lincecum questionable. They're not horrendous moves in and of themselves (Lincecum deal is worse than Pence, in my opinion), but what do they accomplish as far as making the team better than the one that lost 86 games last year?