The NFL has an element of unpredictability to it already, but Week 16 presents the most intense pressure for teams still vying for playoff positioning. That should only give way to a slew of shocking upsets that will rock the league landscape and muddle the postseason picture even further.
Many matchups consist of teams that are firmly in the running to make the playoffs, but there is almost more pressure on contenders to seal victories in facing so-called "weak" opponents.
Few could have foreseen the New Orleans Saints losing to the St. Louis Rams last week. When it looked as though the Saints would take a commanding lead in the NFC South, they fell short and are now fighting to avoid slipping to a wild-card slot.
That proves anything is possible on the pro gridiron, so let's examine the underdogs that will pull off wins over their favored foes.
Indianapolis Colts (9-5) over Kansas City Chiefs (11-3)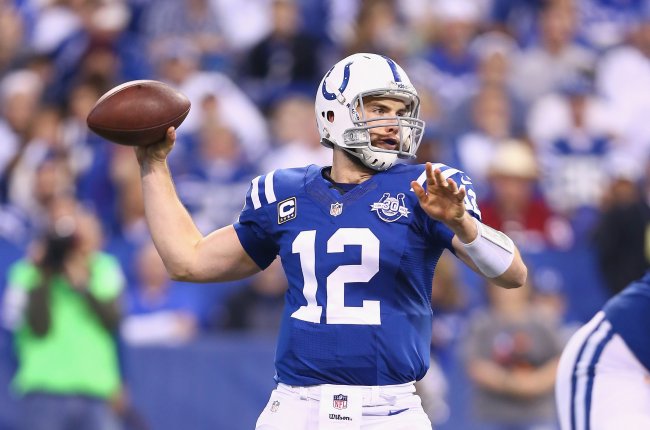 Andy Lyons/Getty Images
Although Andrew Luck may not have had much experience with cold weather from his college days at Stanford, he has the physical skills to thrive in adverse conditions. His quarterback counterpart in Alex Smith does not.
Arrowhead Stadium is going to be cold and blustery on Sunday (a high of 26 degrees, winds of up to 15 mph, per Weather.com). That will allow the Colts to focus their defensive efforts on star Chiefs running back Jamaal Charles.
Having yielded four consecutive 100-yard rushers, Indianapolis had better focus on that, with Smith likely struggling to keep them honest with throws downfield.
Indianapolis could use a bit more security in the AFC as it currently has the No. 4 seed and would play Kansas City if the playoffs began now. Thus, it will be interesting to see how these teams scheme against each other, because there's a strong possibility they will face off in the postseason again.
Due to the inclement weather, though, look for Luck to come through with a huge victory at Arrowhead and put the Colts in position for a chance at the third seed and a prospective date with an easier opponent in the wild-card round.
Trent Richardson hasn't given the Colts much of a spark out of the backfield, but this could be the game where he finally turns it around. Luck was pleased with what Richardson did at the end of last week's win in Houston, per Colts.com's Craig Kelley:
I think [Richardson] had a great game and really carried the load of the whole offense, especially when you're up and guys are going to load the box and it's tough to run. He broke out some good ones and great catches, which is great...He definitely feels like he's in the rhythm now and that comfort zone. I think it's just going to continue to improve and 'wow' people, but I don't think it surprises us.
Richardson ran for a season-high 64 yards on 19 carries, including 52 yards on seven rushes in the fourth quarter, while also catching four passes for 38 yards and a touchdown.
This should be his time to shine on a field that will favor powerful, physical running more than speedy, shiftiness that Charles is known for.
Prediction: Colts 20, Chiefs 14
Minnesota Vikings (4-9-1) over Cincinnati Bengals (9-5)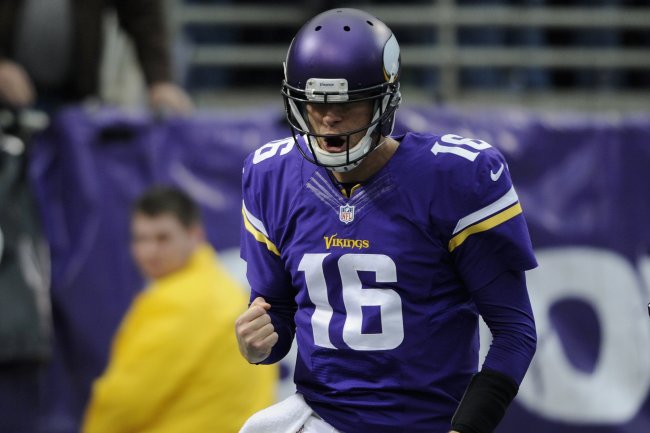 Hannah Foslien/Getty Images
Some serious linkage is going on here—former Chiefs QB Matt Cassel is having a renaissance of sorts in Minnesota, guiding the Vikings to victory in two of three games and tying the one before.
Week 15's triumph over the Philadelphia Eagles featured Cassel throwing for 382 yards without Adrian Peterson to help him out. The Vikings have little to gain at this point, but Peterson is still planning on playing in spite of that after he returned to practice on Wednesday.
Although Peterson did not practice on Thursday, head coach Leslie Frazier still said the superstar runner should be ready to roll in Paul Brown Stadium, per the Associated Press.
This Bengals team is an enigma. Head coach Marvin Lewis has been at the helm since 2003, yet he still hasn't won a playoff game. The reigning Super Bowl winning Baltimore Ravens are just one game behind in the AFC North, too, and the two clubs will meet in Week 17 for a potential division-deciding clash.
Sure, this Cincinnati nucleus may be young, but it's time for it to take the next step. Third-year signal-caller Andy Dalton recognizes that:
.@Bengals QB Andy Dalton tells @RichGannon12 & @BruceMurrayNFL the time to win is now in Cincinnati. Listen -> http://t.co/uFTTVgjk0P

— SiriusXM NFL Radio (@SiriusXMNFL) December 19, 2013
But there's a difference between recognizing the problem or the shortcomings and acting on that to find a solution.
It's in the Bengals' control, on their home turf, to take the next step in Week 16 and clinch the division. Unfortunately, they will have to grind it out and find a way to secure the title in the finale.
The Vikings are hot at the moment, and as stout as Cincinnati defense is, it will be exploited by a confident Cassel and a pernicious Peterson.
Prediction: Vikings 27, Bengals 24
Washington Redskins (3-11) over Dallas Cowboys (7-7)
America's Team is in disarray, and it seems Jerry Jones is the culprit for what's gone awry.
Jones has not assembled a good enough stable of talent on defense, and bringing in defensive coordinator Monte Kiffin has been a disastrous move. Oft-maligned QB Tony Romo has been playing his tail off, but he's often let down by the other side of the ball.
Thankfully for Dallas, its NFC East adversary in Washington is experiencing arguably more turmoil at the moment. Head coach Mike Shanahan seems like a lame duck at this point, although ESPN's Adam Schefter reports he and Dan Snyder will try to amend their differences after the season:
Redskins will not attempt to fire Mike Shanahan for cause and withhold $7 million due for 2014. Contract is "ironclad", per legal source.

— Adam Schefter (@AdamSchefter) December 15, 2013
Mike Shanahan intends to sit down Dan Snyder at end of year to see if they can work out arrangement that works for both sides next season.

— Adam Schefter (@AdamSchefter) December 15, 2013
By any measure, this has been a disaster in the nation's capital, but one silver lining is that the team has an invaluable asset in backup QB Kirk Cousins, who should garner attention as a potential starter in 2014.
Which favorite is likeliest to avoid a Week 16 upset?
Cousins doesn't bring the dynamic athleticism his draft classmate Robert Griffin III does, but he's a very accurate passer and has proven capable of running the offense with effectiveness in his limited action.
The Cowboys are dead-last against the pass, and their No. 28 rush defense will have to deal with second-year phenom Alfred Morris coming out of Washington's backfield as well.
That is too much for Romo to overcome, even though he's facing a favorable matchup himself. Plus, the mistake-prone Cowboys gunslinger showed up again in Week 15's epic collapse at home to the Green Bay Packers, when he threw interceptions on the final two possessions.
At least to date, Cousins hasn't shown a susceptibility to such errors. That should allow Washington to snap its six-game skid and all but end Dallas' already remote playoff hopes.
Prediction: Redskins 41, Cowboys 31
Complete Week 16 NFL Picks

| | | |
| --- | --- | --- |
| Away Team | Home Team | Winner |
| Miami Dolphins | Buffalo Bills | Dolphins |
| New Orleans Saints | Carolina Panthers | Panthers |
| Dallas Cowboys | Washington Redskins | Redskins |
| Tampa Bay Buccaneers | St. Louis Rams | Buccaneers |
| Cleveland Browns | New York Jets | Jets |
| Indianapolis Colts | Kansas City Chiefs | Colts |
| Minnesota Vikings | Cincinnati Bengals | Vikings |
| Denver Broncos | Houston Texans | Broncos |
| Tennessee Titans | Jacksonville Jaguars | Titans |
| Arizona Cardinals | Seattle Seahawks | Seahawks |
| New York Giants | Detroit Lions | Lions |
| Oakland Raiders | San Diego Chargers | Chargers |
| Pittsburgh Steelers | Green Bay Packers | Packers |
| New England Patriots | Baltimore Ravens | Patriots |
| Chicago Bears | Philadelphia Eagles | Bears |
| Atlanta Falcons | San Francisco 49ers | 49ers |
Picks are personal opinion