The Friday Clock-Watcher's Guide to NFL Week 16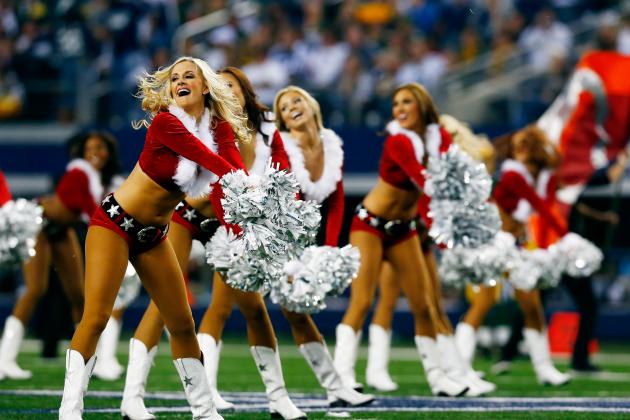 Tom Pennington/Getty Images

We're officially in the throes of the worst time of year to be at the office: the week before Christmas.
Trust me, I feel your pain. In addition to all the work-related stress you feel on a regular basis, there's now holiday-related stress added on top of it. Whether it's Christmas shopping, making travel arrangements, or figuring out how best to deal with your girlfriend's alcoholic father on Christmas Day, there is most certainly a level of frustration that comes with the season.
For those of you that are finished today (Friday the 20th), I urge you. I beg of you. I plead of you. Don't get discouraged. Don't let the stress weigh you down. There's an unbelievable football Sunday on the horizon, with tons of fantastic games rife with playoff implications.
Even for you sorry souls that have to go into the office next Monday and Tuesday: relax. Take a deep breath. Sunday is almost here, and you'll be able to forget your worries if only for a glorious 12-hour period.
Here is the Friday clock-watcher's guide to NFL Week 16.
Merry Christmas, ya filthy animals.
Begin Slideshow

»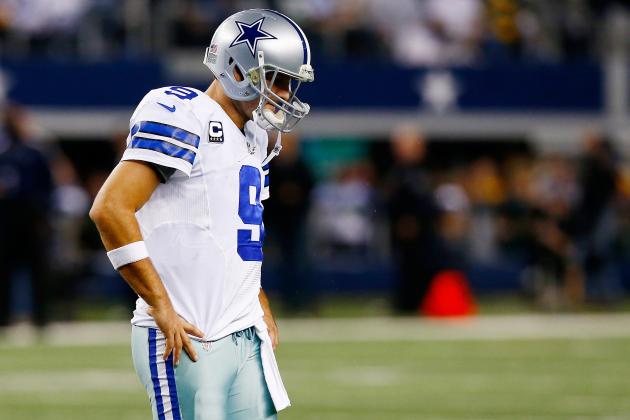 Tom Pennington/Getty Images

In the spirit of the holiday season, the Dallas Cowboys are truly the gift that keeps on giving.
In a season full of memorable, Chernobyl-esque meltdowns, last Sunday's debacle against the Green Bay Packers takes the cake. Dallas led 26-3 at halftime but collapsed in the second half, ultimately losing 37-36.
And believe it or not, but quarterback Tony Romo threw a backbreaking interception that led to Green Bay's go-ahead score. I know you need to pick your jaw up off the floor in surprise that such an event could unfold. Or not.
The Cowboys are like Santa Claus for the rest of the league and the Grinch to their own fans.
Seriously, what kind of team pulls this on a year-in, year-out basis? I know Cowboys fans who almost didn't show up to work on Monday because they were both devastated and afraid of getting endlessly harassed by jubilant co-workers.
In fact, if I were to assign a Christmas song to describe the 2013 Cowboys, it would be the George Michael classic "Last Christmas." Cowboys fans constantly give their heart to the team, only to have Tony Romo throw it into the arms of an opposing cornerback.
"In Week 15, I gave the Cowboys my heart, but the very next play, Romo threw it away!"
Speaking of which: How heartless is the female Michael sings about? She couldn't even wait 48 hours before breaking the dude's heart? It HAD to be the next day? And to do it at Christmas! What a jerk! I digress.
Despite last weekend's horror show, the Cowboys only need to beat the Washington Redskins on Sunday to ensure a de facto NFC East title game in Week 17 against the Philadelphia Eagles. The stakes are high. The nation will be watching. The potential for a meltdown looms large.
I absolutely cannot wait.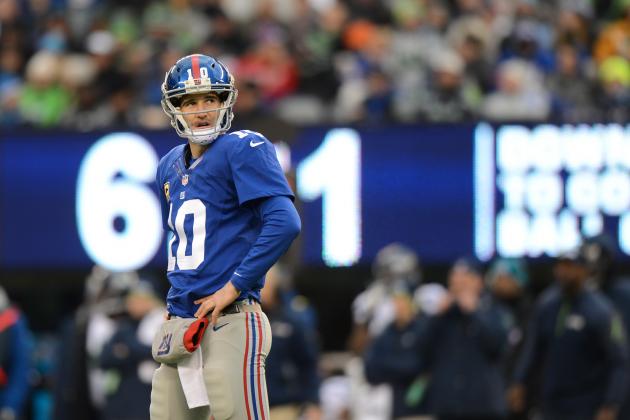 Ron Antonelli/Getty Images

If this was the first year that you ever watched football, you'd think that Eli Manning was the worst quarterback of all time.
He's thrown a ridiculous 25 interceptions and generally has the dumbfounded look of a stoned teenager watching the X-Files.
Imagine trying to explain to a football newbie that Eli has actually won two Super Bowls and was named the most valuable player in both of them. It'd be like trying to teach particle physics to the same stoned teenager who loves watching the X-Files.
It's as if Eli is trying desperately to throw 30 interceptions on the season, which would be an achievement up there with Rob Ford remaining mayor of Toronto despite having admitted to smoking crack while in office.
I know what you're thinking: As bad as Eli has been, he'd have to throw five interceptions over the final two games for that to happen.
Well, he threw five just last week against Seattle. With Eli, any amount of ineptitude is possible.
Maybe he's just trying to embrace the holiday spirit of giving. Maybe he considers himself a modern-day Santa Claus, doling out interceptions like St. Nick does PlayStation 4's.
Either way, his horrendous play will be on full display for the nation over the next two weeks.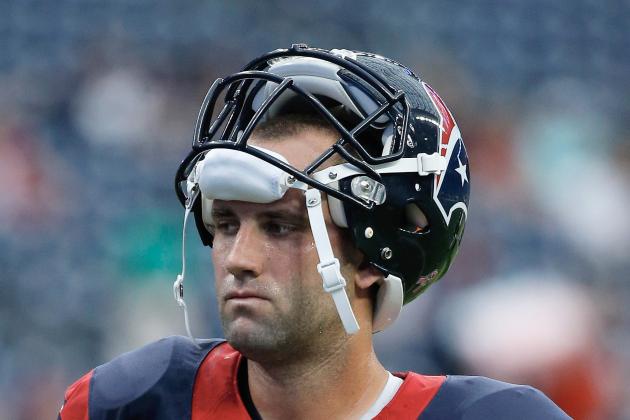 Scott Halleran/Getty Images

One of my favorite expressions in life is: "The natives are restless."
I think there's so much comedy behind that phrase. It can be used in almost any situation. At a bar and feel a fight brewing? Damn, the natives are restless! At a family party and the kids are making a scene? Geesh, can you believe how restless those natives are?
But the phrase is never used as well as when it's applied to a home crowd that's extremely displeased with its team.
This Sunday in Houston, those aforementioned natives? Yeah, they're going to be restless.
And it's because Matt Schaub will once again be under center for the Texans.
Schaub drew the ire of Texans fans earlier this year by throwing approximately 7,541 pick-six interceptions, helping to submarine what many (including yours truly) felt could be a super (Bowl) season in Houston.
Instead, the Texans are 2-12, have already fired their coach and are staring down the barrel at the No. 1 overall pick in the draft.
Schaub is in a lose-lose situation. Lose against Denver on Sunday (and lose he will), and the crowd will boo him mercilessly. Win against Denver on Sunday (fat chance), and the crowd won't know what to do, because a win could end up costing them the No. 1 overall pick in the draft.
Win or lose, the natives will be restless.
And that makes for quality entertainment.
Sunday night's game between the Chicago Bears and Philadelphia Eagles is going to be amazing for several reasons.
First, as always, is Carrie Underwood singing the Sunday Night Football theme song in her daisy dukes. She's so hot that it makes me sick.
Second, it contains massive playoff implications. Both teams are 8-6 and could potentially win their divisions.
Third, there's going to be a ton of scoring. The Bears would have trouble stopping you at running back, much less LeSean McCoy, and the Eagles secondary is awful. You just know that Bears quarterback Jay Cutler will slice and dice them.
Fourth, and most importantly, is the potential for Cutler's wife, Kristin Cavallari, to be shown on camera several times during the game.
For those of you that don't know who Cavallari is, watch the above video.
I admit it: I used to watch MTV's Laguna Beach. I watched The Hills. And before you insult my manhood, realize that I did it because I was in love with Kristin Cavallari. She's the kind of female that would step on your soul and cast you aside—and you'd be left asking for her to do it again like Kevin Bacon in Animal House.
So every time Cutler throws a touchdown, there's a chance the camera will pan into his private box, where Cavallari will be cheering.
If that doesn't get your blood pumping, you might want to check your pulse.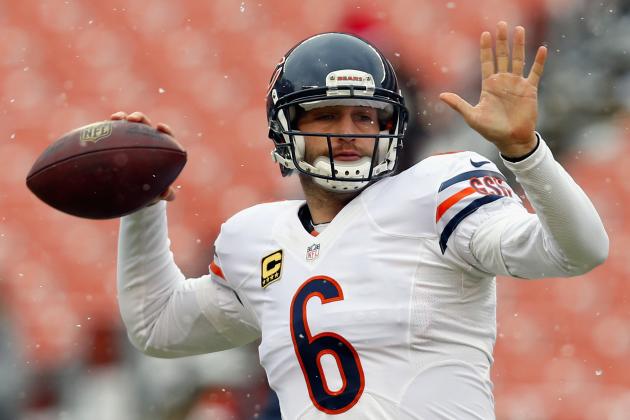 Matt Sullivan/Getty Images

Once again, I am no longer giving survivor pool advice in this space. If you're still in one, it means that you AND someone else are still alive, which means the two of you should drop whatever you're doing and head to Vegas immediately.
So let's move on to real gambling.
Not to toot my own horn—okay, I'll gladly toot my own horn—I've been KILLING my best bet of the week in this space. And I love my best bet this week.
My best bet of the week is the Chicago Bears getting three points on Sunday night in Philadelphia. The Bears offense is on a roll with the return of quarterback Jay Cutler. The Eagles defense isn't as good as it looked recently and was exposed last weekend in Minnesota.
While the Eagles should be able to put 30 points on the board, I expect the Bears to score 40. Chicago is the better team, and it will get the job done.
Another game I like is the Detroit Lions favored by 10 at home against the New York Giants. While I generally consider Detroit coach Jim Schwartz to be clueless, even he won't be able to screw this one up. The Giants are one of the worst teams in the league, and even if the Lions commit 75 personal foul penalties, they should still be able to win by double digits.
My last bet of the week is the Baltimore Ravens laying 2.5 points at home against the Patriots. As usual, the Ravens are on a roll as the season draws to a close, and they're playing at home. Their defense plays well against Brady and the Pats, and I think they eek out a close one. The fact that the spread is under three gives me confidence.
As always: good luck, godspeed, and stay away from teaser bets. They're the bane of any true gambler's existence.