In the Knicks' 107-101 double-overtime win over the Milwaukee Bucks Wednesday night, J.R. Smith finally set a record that he has been flirting with his whole career. And, there could not be a more quintessential record for the 28-year-old shooting guard to hold.
After chucking up 17 of them, J.R. Smith set a Knicks franchise record for most three-point attempts in a single game.
How very J.R. Smith of him.
According to Bleacher Report's Adam Fromal, Smith's final attempt from long distance allowed him to surpass Jamal Crawford, James Starks and Danilo Gallinari, who had each logged games with 16 attempts from deep.
Lol 17 threes tho! Had to say damn my self!

— JR Smith (@TheRealJRSmith) Dec. 19, 2013
But trust me give me that chance again I'll shoot it again!

— JR Smith (@TheRealJRSmith) Dec. 19, 2013
Though the record is somewhat equivocal, the moment does inspire reflection on some of the other entertaining exploits of J.R. Smith's career.
Smith has always had an affinity for the spotlight. Whether he's on the receiving end of a high-flying alley-oop or he's launching circus shots from long-range in high volume, Smith seems to enjoy every facet of basketball's offensive realm.
Smith also has a knack for getting involved in off-the-court shenanigans. He has never been afraid to speak his mind, and his Twitter account brims with controversial, and often hysterical, insights.
Though his actions sometimes leave fans shaking their heads, Smith has undoubtedly been one of the NBA's most exciting players over the past decade. As much as he may irk basketball purists, his ability to spark offensive onslaughts is undeniably impressive.
The legacy of J.R. Smith began in the cutthroat echelons of New Jersey high school basketball. As a senior at St. Benedicts Prep in Newark, N.J., Smith signed a letter of intent to play for Roy Williams at North Carolina. However, Smith's mindset seemed to change following his participation in the 2004 McDonald's All-American Game.
Smith wasted little time in asserting himself in the high school showcase. In his squad's first possession of the game, Smith buried a three from about six feet behind the high school arc. That shot not only set a tone for the game, but it was also most basketball fans' first impression of Smith.
Smith would go on to score 25 points in the game, rescind his commitment to North Carolina and declare himself eligible for the 2004 NBA Draft.
The 18-year-old 2-guard was then drafted in the first round by the New Orleans Hornets.
As a rookie, Smith put his hops on display in the NBA's Sprite Rising Stars Slam Dunk Contest. Though Smith didn't win, he produced the first installment of what would become a very lengthy dunk highlight reel.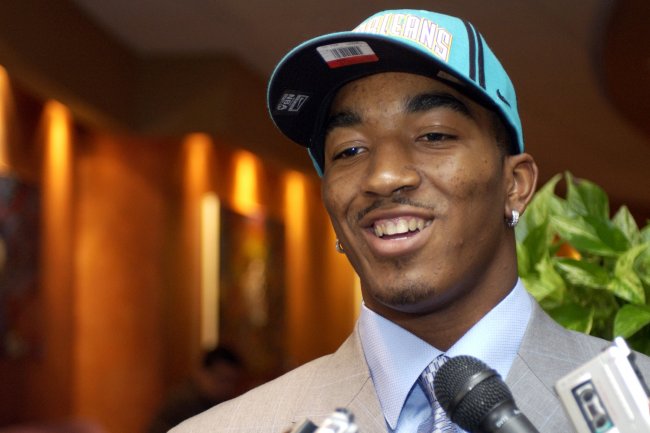 Chris Graythen/Getty Images
Through a series of trades, Smith eventually ended up in Denver in the summer of 2006. Smith's tenure in Denver was tumultuous as he began to make serious waves around the NBA.
Early in his career with Denver, Smith received his first serious disciplinary sanctions from the NBA following a scrap with the New York Knicks.
How ironic.
After being fouled hard by Mardy Collins on a fast break, Smith engaged in a shoving match with Nate Robinson. The fight escalated quickly, and Smith would subsequently be suspended 10 games for his instigation.
Later that season, Smith had his first taste of playoff basketball, but it didn't taste very good. And, it certainly didn't help Smith's already strained relationship with Nuggets head coach George Karl.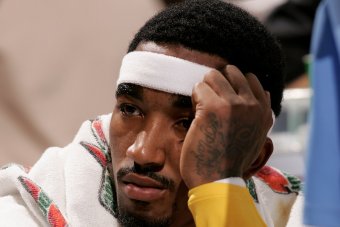 Doug Pensinger/Getty Images
In the Nuggets' series against the San Antonio Spurs in the 2007 NBA Playoffs, Smith went ice cold. In the first four games of the series, Smith missed 12 consecutive three-point attempts, prompting George Karl to say, "He's done," via Mark Kiszla of the Denver Post.
In reference to Smith's final miss of the series, a fuming Karl told Kiszla, "I just love the dignity of the game being insulted right in front of me."

Smith did have his moments as a member of the Nuggets, though. In a game against Sacramento on April 13, 2009, he poured in 45 points, sinking 11 three-pointers in the process.
During the 2011 NBA lock out, Smith signed a contract with the Zhejiang Golden Bulls of the Chinese Basketball Association. Smith treated his season with the Golden Bulls like one continuous all-star game, erupting for monstrous offensive performances. He tallied 60 points in one game, shooting 14-of-18 from three.
Upon his return to the NBA, Smith signed with the New York Knicks, where he's logged his most promising, yet ultimately disappointing, NBA seasons to date.
The one problem that seems to resonate for Smith is consistency.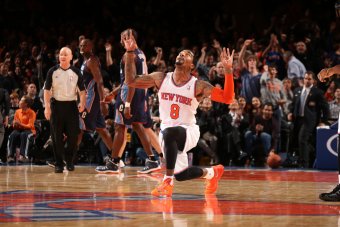 Nathaniel S. Butler/Getty Images
In his first season with the Knicks, Smith averaged 12.5 points per game and emerged as a fan favorite in Madison Square Garden. However, when the Knicks reached the 2012 NBA Playoffs, Smith once again lost his touch. He shot just 31.6 percent from the field and 17.9 percent from beyond the arc as the Knicks lost to the Miami Heat in five games, via NBA.com.
The following season, Smith averaged 18.1 points per game and helped the Knicks to a 54-28 regular season record. Again, however, Smith's numbers dropped in the postseason as the Knicks fell in the Eastern Conference Semifinals to the Indiana Pacers.
Now, Smith is a controversial focal point of one of the NBA's most disappointing teams. As the Knicks have slid to a dismal 8-17, Smith seems perpetually on the verge of collapse. Averaging just 11 points per game, Smith is shooting a career worst 33.3 percent from the field.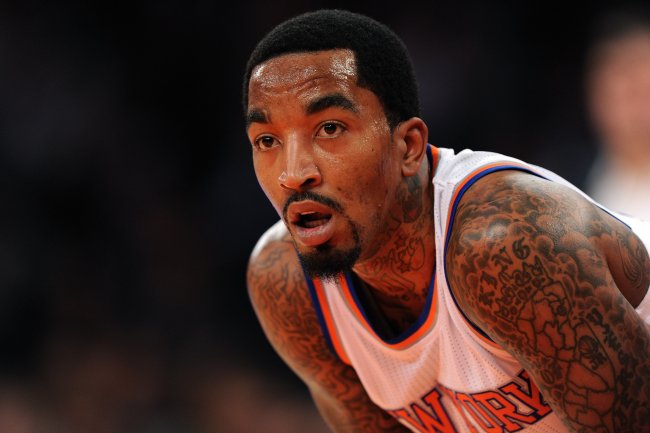 Maddie Meyer/Getty Images
What's worse, he's once again causing problems off the court. He was recently involved in a spat with Knicks head coach Mike Woodson regarding his shot selection in a rare Knicks win over the Chicago Bulls. In a juvenile display of rebellion, Smith attempted just one shot in the Knicks' next game against the Celtics.
Smith is in a dangerous place this season. He's playing the worst basketball of his career on one of the worst teams in the NBA. If the Knicks can't turn things around soon, Smith could quickly begin adding more negative chapters to his already turbulent legacy.