NFL Picks Week 16: Teams That Will Earn Critical Wins
Use your ← → (arrow) keys to browse more stories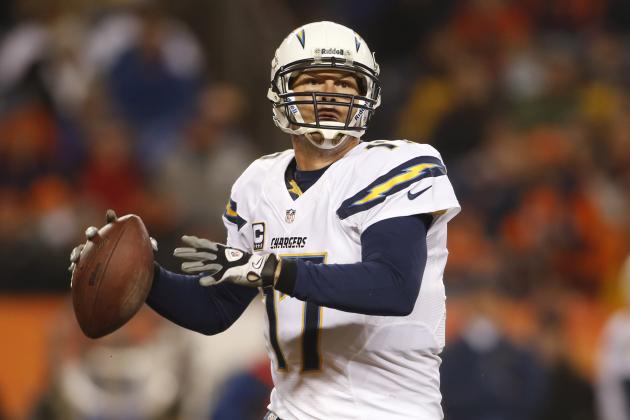 Chris Humphreys-USA TODAY Sports

With Week 16 approaching, the NFL teams with any shot at making it into the playoffs need to keep winning games.
Whether it's a team on the outside looking in or a team like the Seattle Seahawks at the top of their conference, winning late in the month of December often means the difference between meeting goals or failing miserably.
With that in mind, there are a few teams that are locks to earn those critical wins in Week 16. But first, here's a look at every game on the schedule.
| | | |
| --- | --- | --- |
| Away Team | Home Team | Proj. Winner |
| Miami Dolphins | Buffalo Bills | Dolphins |
| New Orleans Saints | Carolina Panthers | Panthers |
| Dallas Cowboys | Washington Redskins | Redskins |
| Tampa Bay Buccaneers | St. Louis Rams | Rams |
| Chicago Bears | Philadelphia Eagles | Eagles |
| Cleveland Browns | N.Y. Jets | Browns |
| Indianapolis Colts | Kansas City Chiefs | Chiefs |
| Minnesota Vikings | Cincinnati Bengals | Bengals |
| Denver Broncos | Houston Texans | Broncos |
| Tennessee Titans | Jacksonville Jaguars | Jaguars |
| Arizona Cardinals | Seattle Seahawks | Seahawks |
| N.Y. Giants | Detroit Lions | Lions |
| Oakland Raiders | San Diego Chargers | Chargers |
| Pittsburgh Steelers | Green Bay Packers | Packers |
| New England Patriots | Baltimore Ravens | Patriots |
| Atlanta Falcons | San Francisco 49ers | 49ers |
Jesse Reed
Miami at Buffalo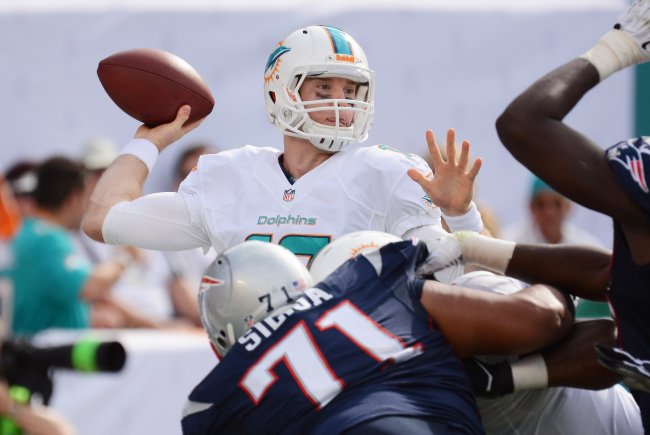 Brad Barr-USA TODAY Sports
The Miami Dolphins need to keep winning to have a chance to win either the No. 6 seed in the AFC or the AFC East title should New England collapse down the stretch.
Currently on the outside looking in at No. 7 with a record of 8-6, Miami has the same record as Baltimore, which is currently the No. 6 seed based on head-to-head matchups. One more loss would likely doom the Dolphins to watch the playoffs from home, rather than being a participant.
Miami lost to Buffalo in Week 7, 23-21. The Dolphins were a team in turmoil at that point, however, in the midst of a four-game losing streak. Since then, Miami has been playing outstanding football, winning five of its last seven games.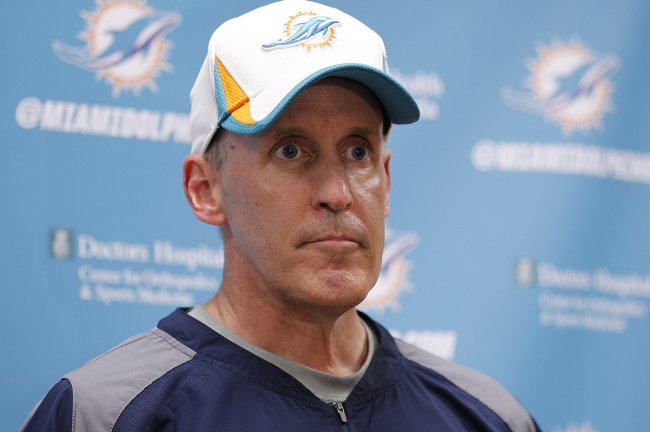 Joel Auerbach/Getty Images
Head coach Joe Philbin talked about how his team has plugged away through the tough times, noting things have gone his team's way of late, as reported by Adam H. Beasley of the Miami Herald:
I think the goal is to get this team to play at a consistently high level, week in and week out. Things tend to even out, officiating, luck, the bounce of the ball, all that kind of stuff. The better you play, the harder you play, usually the ball bounces your way.
On the other side, the Bills have been struggling, losing recently to Atlanta and Tampa Bay before barely beating the Jacksonville Jaguars in Week 15.
Robert Mayer-USA TODAY Sports
Backup quarterback Thad Lewis will be starting in place of the injured EJ Manuel, and though he helped lead Buffalo to its win earlier this year over Miami, he failed to throw a touchdown while throwing one interception.
In that game, it was Buffalo's defense that did the work, forcing three turnovers—including one that went for a touchdown. The Dolphins have cleaned up the mistakes during their recent winning streak, and this team will gut out a tough win on the road to stay in the playoff chase for at least one more week.
Projected Score: Dolphins win, 24-17.
Indianapolis at Kansas City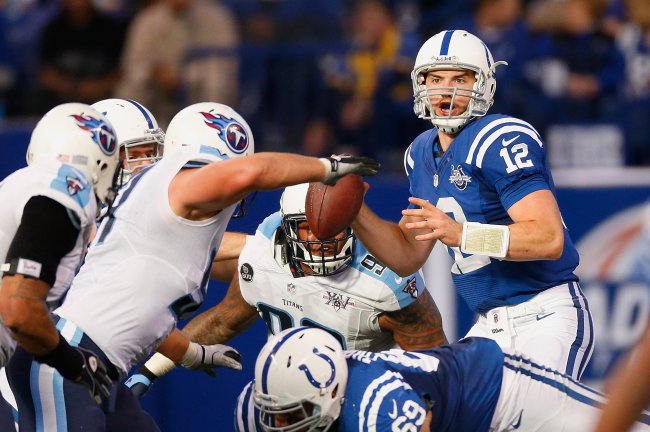 Gregory Shamus/Getty Images
The Kansas City Chiefs are being picked to win by 11 of 12 Bleacher Report experts.
NFC South Lead Writer Knox Bardeen points to this simple fact as a big reason why the home team is being favored: "Indianapolis hasn't won against a playoff-bound team since Oct. 20."
At home, with the college-type atmosphere that is Arrowhead Stadium, with the AFC West still up for grabs and against a Jekyll-and-Hyde Colts team, the Chiefs are going to dominate.
The Colts defense was helpless to stop Arizona and Cincinnati the last two times on the road. The Cardinals and Bengals combined for 840 total yards of offense and 55 first downs, scoring a combined 82 points.
Meanwhile, in the past two games, the Chiefs have racked up 101 points thanks to Alex Smith, who threw for seven touchdowns, and seven touchdowns by running back Jamaal Charles—five of which came through the air.
Andrew Luck could go off for 400 yards and three touchdowns and the Chiefs will still win this game, keeping their hopes alive for the AFC West title.
Projected Score: Chiefs win 35-23.
Oakland at San Diego
Talk about two teams headed in opposite directions.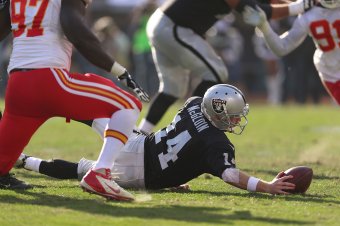 Jed Jacobsohn/Getty Images
Oakland has lost four straight and six of its last seven heading into this contest. Conversely, San Diego has won three of its last four and is fighting for the No. 6 seed in the AFC with a record of 7-7.
The Raiders have been a mess on both sides of the ball throughout the second half of the season after showing promise early on.
As a result of the team's inability to improve through the course of the season, there are rumors swirling about head coach Dennis Allen's future. Michael Silver of NFL.com recently reported Allen could be on the hot seat, while writing general manager Reggie McKenzie's position is likely safe.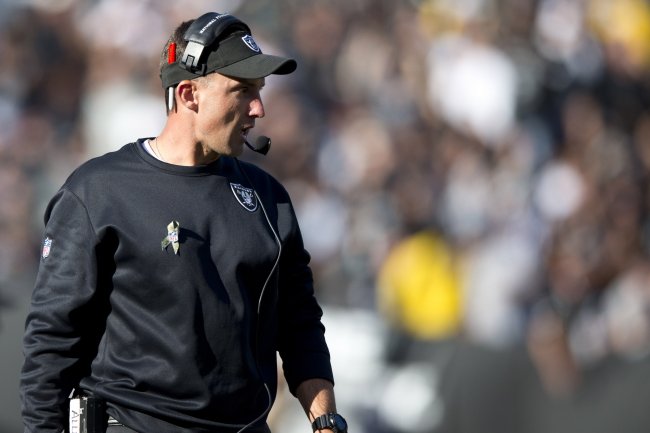 Jason O. Watson/Getty Images
However, Silver also reported that some within the organization believe Allen isn't the problem, noting the team's lack of talent shouldn't get a head coach fired:
I've talked to several Raiders players who believe this is a good coaching staff and coordinators [Jason] Tarver and Greg Olson (who signed a two-year deal before this season after replacing the fired Greg Knapp) are doing a terrific job with deficient talent.

And they think it's wrong to blame Allen for the talent deficiencies caused by the team's well-documented salary cap troubles and decisions that can be traced to McKenzie.
Clearly, Oakland has issues from top to bottom.
Without a quarterback, without a defense and without a clear voice of leadership within the organization, the Raiders are floundering badly.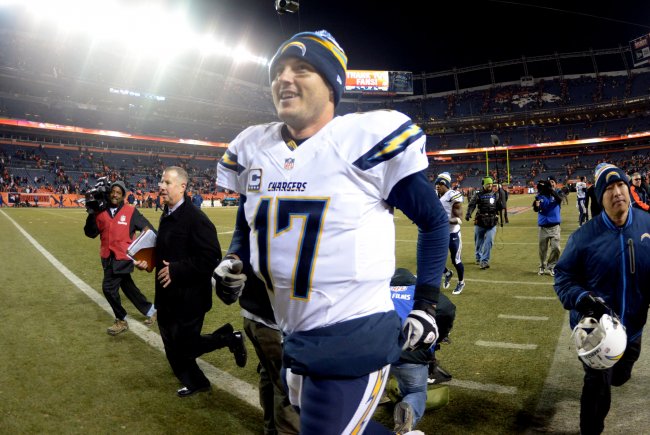 Kirby Lee-USA TODAY Sports
The Chargers, on the other hand, just got done taking down the mighty Denver Broncos in their home stadium. A trip back home to face a dysfunctional Raiders team with the playoffs on the line will have this team playing its best on Dec. 22.
Projected Score: Chargers win, 31-17.
Follow me on Twitter @JesseReed78