Thanks to Paul George's remarkable growth, it's not completely crazy to wonder if he'll ever occupy the same part of the superstar stratosphere that LeBron James currently holds down all alone.
I can't really think of a higher compliment for the Indiana Pacers' stunning young talent.
As good as George has been this season, he's not on James' level yet. That's no knock on the 23-year-old wing. Really, it's more an acknowledgement of LBJ's singular greatness.
Is it possible for George to get there eventually? That's a closer question.
For his part, PG won't be deterred by anybody in his efforts to scale the NBA mountain.
Per Slam's Tzvi Twersky, George is totally consumed with becoming the best in his field:
I have goals. I want to be MVP. I want to be Defensive Player of the Year. I want to be First-Team All-NBA. I want to be a Gold medalist. I want to be a Hall of Famer. I want to be a Champion. Everything that's the highest or the greatest that you can do, I want to do that.
George's incredible focus is good for the Pacers, the NBA and fans of the game. All of the greats share the same kind of relentless drive and confidence George's comment reveals.
But he took a step further when he mentioned James as a comparison (or target, depending on how you view it):
I took strides in my consistency, but if I want to get where I want to get to, I need to continue being a consistent basketball player. I feel like I can be in the category of LeBron, as far as being a walking triple-double guy.
That's where this discussion gets complicated.
By invoking the King's name, George has set himself up for a comparison that's almost impossible to win.
On the Hardwood
George's numbers are fantastic this season, and they're made all the more impressive by the fact that he's taken such a notable jump in key areas. Once viewed principally as a defensive player, he has added to his offensive game in ways that leap off the stat sheet.
Paul George's Offensive Improvement

| | | | | | | |
| --- | --- | --- | --- | --- | --- | --- |
| | PPG | FG% | 3FG% | FT% | TS% | FTA/GM |
| 2012-13 | 17.4 | .419 | .362 | .807 | .531 | 3.5 |
| 2013-14 | 23.8 | .461 | .406 | .858 | .592 | 5.9 |
Basketball-Reference.com
James has more than twice the NBA experience George possesses, so it's not totally fair to compare their statistics from this season. But the side-by-side look gives a good impression of how much more George will have to improve on offense before he reaches James' level.
James vs. George in 2013-14

| | | | | | | | |
| --- | --- | --- | --- | --- | --- | --- | --- |
| | PPG | RPG | APG | FG% | 3FG% | TS% | eFG% |
| James | 25.2 | 6.8 | 6.5 | .597 | .411 | .681 | .636 |
| George | 23.8 | 5.8 | 3.6 | .461 | .406 | .592 | .535 |
Basketball-Reference.com
Defensively, there's no question that George is ahead of where James was at this stage in his career.
Per Basketball-Reference.com, LeBron posted 4.3 defensive win shares in his third full season. George posted 6.3 in his third year, a remarkable 2012-13 campaign that saw him play starter's minutes for the first time. And if anything, George looks even more impressive on defense this season.
At the same time, it's difficult to imagine George getting any better defensively than he already is. That might sound absurd given his now-famous work ethic, but there's only so much one person can do on D. Credit George for realizing the importance of defense a little earlier than James, but also note that LBJ might actually be a better defender than George is right now.
Paul George had 6 points on 3-9 FG when guarded by LeBron James last night (19 Pts, 5-7 FG vs everyone else)

— ESPN Stats & Info (@ESPNStatsInfo) December 19, 2013
Granted, James picks his spots at this stage in his career. But when the situation calls for elite, lockdown defense, the King is better than anyone.
For all of George's praiseworthy improvements, it's still important to mention that James' fourth-year statistics were better than the ones PG is producing this season.
James vs. George: Year No. 4

| | | | | | | |
| --- | --- | --- | --- | --- | --- | --- |
| | PPG | RPG | APG | FG% | 3FG% | PER |
| James | 27.3 | 6.7 | 6.0 | .476 | .319 | 24.5 |
| George | 23.8 | 5.8 | 3.6 | .461 | .406 | 23.1 |
Basketball-Reference.com
Keep in mind that James was carrying a much heavier burden and was a few months younger than George in the season-to-season comparison above. That 2006-07 campaign was a statistical low point for James; his numbers were his worst since his rookie campaign.
But they were still better than George's breakout performance this year.
Maybe PG will continue his meteoric rise over the next few seasons. Maybe he'll change our beliefs about how much one player can improve. Nobody's saying that's out of the question.
The fact is, though, that whatever George has done, James either did it sooner or better.
In the Hearts and Minds
Perhaps the numbers won't persuade you that James was, is and probably will continue to be on a level far above his young challenger.
In that case, consider the non-statistical advantages he has on George.
James has a rare mystique about him, an aura that comes partially from on-court dominance but also derives from his status as the unique player who has lived up to unprecedented hype. The fact that everyone expected the world from James should have doomed his career before it started.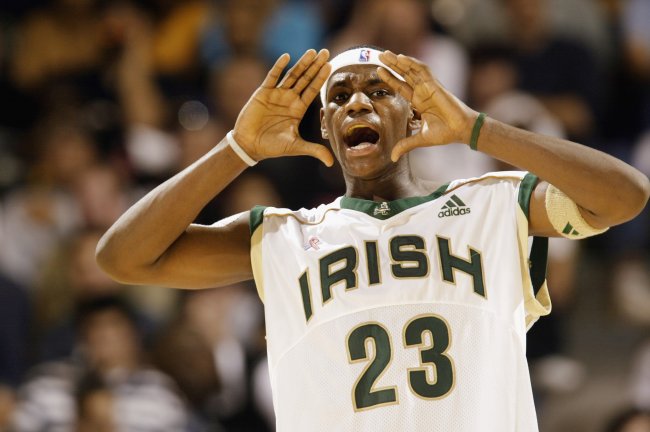 Stephen Dunn/Getty Images
From the moment James graced the cover of Sports Illustrated as a high school student, he was set up to fail. Nobody could fulfill the expectations he faced.
Well, nobody except him.
Four MVP awards and two NBA titles later, James continues to be a player who stuns fans and peers alike. After a historically efficient 2012-13 season, it seemed like improvement was impossible. James got better anyway.
Even his overall demeanor and maturity continues to improve. The way he apologized to teammate Mario Chalmers for an ugly sideline outburst against the Pacers on Dec. 18 was utterly stunning. Superstars don't have the selflessness or presence of mind to admit their wrongs, especially not in the heat of battle.
But James owned up in a way that wouldn't have seemed possible in years past. And forget about other alpha dogs doing what he did. Every year, James reaches the impossibly high bar we set for him. And every year, his growth as a player and person raises it another notch.
George is different. He's an overachiever who burst on to the scene relatively unheralded. There's appeal in his narrative, too. But his story of hard work and determination doesn't give him the same bulletproof, superhero aura that surrounds James.
PG worked his way up from ground level. James descended from the clouds.
Oh, So Close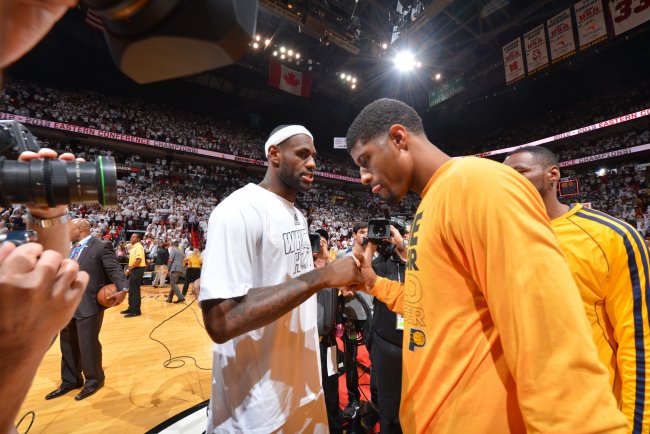 Jesse D. Garrabrant/Getty Images
George is a great player, one who is already worthy of MVP consideration and should continue to improve in the coming years.
But for all of his desire to equal James' stardom, it's just not realistic to expect him to get there.
James is a once-in-a-generation talent, an unquestioned alpha on the court who has global appeal off of it. There have been three or four players of his quality to this point in league history, and when he's done for good, I'm betting he'll stand alone as the greatest to ever play.
..or was LeBron just showing us that @Paul_George24 is the future king? http://t.co/3Ej29Ta6dF pic.twitter.com/l050amr4h1

— Ballislife.com (@Ballislife) December 19, 2013
So, despite this photo, George probably won't ever get to be King.