Things haven't exactly gone the way of either Manchester United or West Ham this season. The defending champions are just eighth on the Premier League table and have already lost as many games this season (five) as they did all of last season.
Meanwhile, West Ham are currently in 17th place and hanging on above the relegation zone by a thread, a year after they finished 10th in the league.
So which one of these disappointments thus far will come away with a positive result in Matchday 17? Can United earn the three points and continue their slow ascent back up the Premier League table? Or will West Ham steal a point (or three) and leave United and their supporters once again confounded by another poor result?
When: Saturday, December 21 at 10 a.m. ET/3 p.m. GMT
Where: Old Trafford, Manchester. England
Watch: NBC Sports Live Extra;
Odds: Manchester United (56.2 percent), West Ham (20.3 percent) and draw (23.5 percent), according to Bloomberg Sports
Key Storylines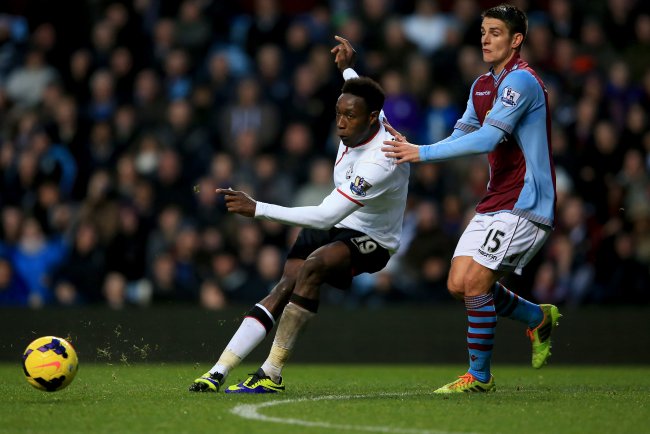 Richard Heathcote/Getty Images
Are Manchester United finally heating up? Are they about to hit a second-half hot streak, much like David Moyes' Everton teams often did?
It might be a bit premature to forecast that, but United have won three straight across all competitions, just the second time this season they've been able to string that many wins together (they won four straight from October 23 to November 2).
Despite the absence of Robin van Persie to injury, United looked as good as they've been all season in Matchday 16, defeating Aston Villa 3-0.
Wayne Rooney was everywhere as the team's creative force and engine, often dropping so far in the midfield he was playing in front of the back four. Danny Welbeck earned an important brace. Antonio Valencia and Adnan Januzaj were threats on the wing.
Rather than a collection of somewhat puzzled individuals, United looked like a strong, dangerous side.
If they are indeed rounding into form, that's trouble for a West Ham side that has managed just 14 points on the Premier League season and just six points on the road.
United have dropped points in five home matches, including three losses, but it would be surprising if they couldn't beat a hapless West Ham side.
Well, somewhat hapless. West Ham are fresh off of victory over Spurs in the Capital One Cup and manager Sam Allardyce is hopeful that result will inspire his side, noting (via BBC Sport): "It's a relief. For me, the challenge is to get the players to kick on from this."
He added: "When we beat [Tottenham] last time, I thought we'd go on a run of results and pick up more points than we have done. I don't know where we'll go from here but it's just a fantastic result and the lads are absolutely delighted."
Prediction
Given how this season has gone for United thus far, it wouldn't be shocking if the club managed to lose this game, even at home. It's hard to know which United team will show up from week to week.
Still, they put on an absolute clinic against Aston Villa and seem to be rounding into form. In front of their home supporters, they should win rather easily. Should.
Expect United to win, 2-0.