Believe it or not, Adrien "The Problem" Broner could have beaten Marcos Rene Maidana on Dec. 14, but his fallible approach and useless corner cost him. If Broner is ever going to realize his potential, he needs to make changes on both fronts.
Physical conditioning never appears to be an issue with Broner. He has solid wind late and never appears to have an ounce of fat on his frame. For all the information available, Broner looks to be a hard worker from a conditioning standpoint.
What he doesn't possess is a solid plan or branching strategies should his initial approach fail. Maidana swarmed The Problem from the outset and forced him to fight on his heels in the early rounds. The second-round knockdown shook him up mentally and he didn't recover until the middle frames.
He had never been rocked like that before, and quite honestly, he panicked and so did his corner. Broner yelled and cussed at his team and tried to mask his perplexity with pseudo confidence, but Maidana wasn't buying it.
Broner looked good in the latter portion of Round 4, and in Rounds 5-7. He was taking command of the fight, but suddenly, all the body work Maidana had done early in the fight began to take its toll.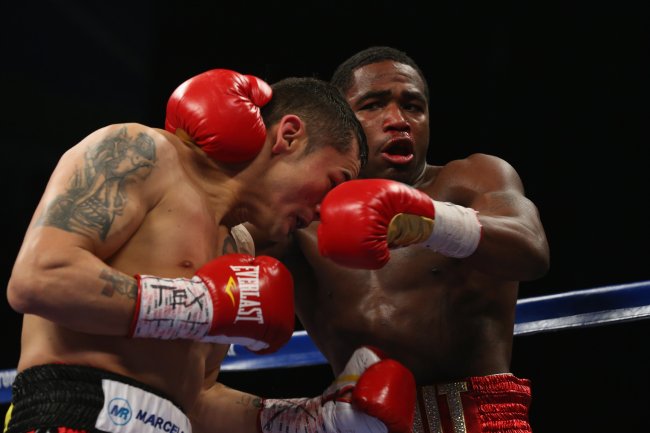 Ronald Martinez/Getty Images
The Problem makes little effort to protect his midsection. He almost offers it up the way one would in a street fight against an untrained pugilist. That doesn't work against world-class fighters with punching power like Maidana.
Body punches are an investment strategy in the ring. If you put strong shots in early—and stick around long enough—they are bound to pay off.
That's why it's called putting money in the bank. Per the Showtime broadcast, Maidana landed 101 body shots on the night. No matter who you are, if any fighter takes as many consistent body shots as Broner seems resigned to absorb, it will do a number on them late in the fight.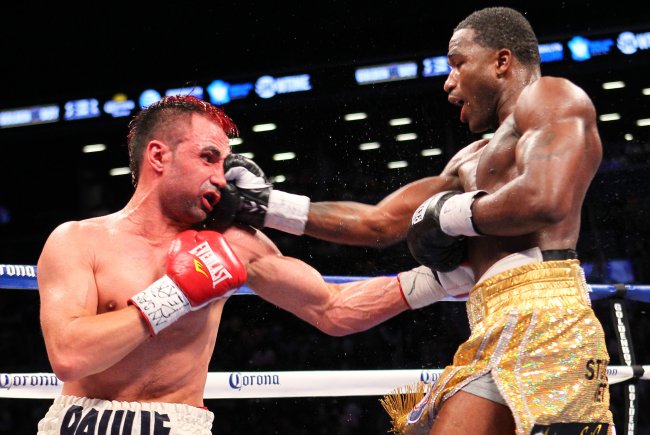 Ed Mulholland-USA TODAY Sports
Against Paulie Malignaggi in June, it was inconsequential. Malignaggi has seven career knockouts on his resume. He simply couldn't make the shots count. Maidana is a legitimate power puncher and he made Broner pay for his defensive issues.
Obviously, it is harder to move the body than it is the head, so in some instances the best way to deter a body assault is to return fire on the opponent's body. Broner didn't do that very much—despite the fact that Maidana was dropped by Amir Khan from a body shot in a previous fight.
At times, untrained fighters tend to become headhunters, especially once they believe their own hype. Broner was able to walk through foes at 135 pounds. His frame and strength was better suited for the style he wants to fight at lightweight.
Who would win a Broner-Maidana rematch?
At 147 pounds, he is not a devastating puncher. The only shot he hurt Maidana with was the one he landed after the bell in the 11th round. Likewise, he didn't hurt Malignaggi, though he landed 214 power shots, per CompuBox.
One might wonder, why doesn't Broner know this? Or, even more importantly, why wasn't he being instructed accordingly in his corner?
Unfortunately for him, he has seemingly surrounded himself with "Yes Men" who are either devoid of knowledge, or not encouraged to hold The Problem accountable in tough situations. All that could be heard from trainer Mike Stafford was disconnected instructions. He yelled things like, "Stay focused," "You're getting hit with a lot of bull----," and "Go offense-defense," per the broadcast.
What does any of that mean to a 24-year-old fighter who is getting smoked by an opponent and clearly coming apart at the seams?
Absolutely nothing. Many, such as Floyd Mayweather Sr., see the potential and lack of trainer guidance.
Perhaps Broner needs fewer team members brushing his hair and more help honing his skills. While many of the fans who dislike Broner may deny his talent, I do not. I admit, he is one of the easiest athletes on the planet to dislike, but The Problem can still be just that for most every opponent he faces.
Despite getting battered from pillar to post, he showed a very good chin and recuperative powers. He was caught with some serious shots, but he kept getting up and/or recovering with efficiency.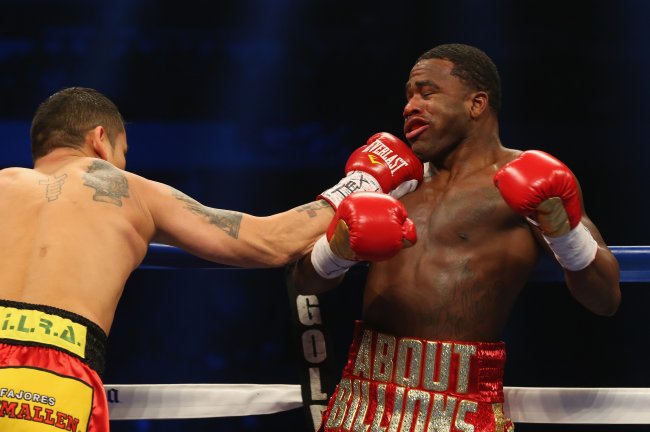 Ronald Martinez/Getty Images
Aside from his ridiculous behavior after Maidana's stupid head-butt in the eighth round, Broner showed inner toughness to finish the fight with a competitive effort. Considering he took so much punishment, his will was undeniable.
If you add those qualities in with Broner's speed and good—but not great—power, there is still a potentially great champion in that mix.
He just needs to make the proper adjustments to bring out his best.
Follow me for news and musings on The Sweet Science.