Every major sport has scandals, but because of its global popularity (and host of oddball characters), world football always seems to have more than its fair share.
In the scandal department, 2013 happened to be a banner year for the world of football.
From the bizarre, such as Luis Suarez biting Branislav Ivanovic in April, to the dangerous, such as Andre Villas-Boas' decision to play an obviously concussed Hugo Lloris in November, here are the top (worst) world football scandals from 2013.
Racism
Racism continues to be a massive problem in the world of football and there were plenty of examples from 2013 that highlighted this troubling issue.
Italy, in particular, was at the forefront of the issue as a number of incidents marred high-profile Serie A teams and players.
The year started out with Kevin Prince Boateng and AC Milan abandoning a match against lower-division side Pro Patria in January due to racist chants. AC Milan was again front-and-center in the spring as forward Mario Balotelli was subjected to racist taunts by Roma and Fiorentina fans.
In July, AC Milan made headlines again when Guinean defender Kevin Constant kicked a ball into the stands and walked off the pitch in response to racist comments from Sassuolo fans.
In October, racism in Russia became the focus as Manchester City midfielder Yaya Toure claimed he was racially abused by CSKA Moscow fans during the Champions League encounter.
In May, Didier Drogba's Galatasaray teammates proposed wearing blackface to protest alleged monkey chants directed at the Ivorian striker by Fenerbahce fans.
And finally, this year, Major League Soccer in the U.S. was embroiled in a racism scandal when one of its clubs, Chivas USA, rapidly divested itself of non-Latino players in the offseason.
A discrimination suit was eventually filed and Dan Calichman, who coaches Chivas USA's U-18 side, told ESPN's Jeff Carlisle that Chivas USA owner Jorge Vergara told the non-Spanish speaking employees of Chivas: "If you don't speak Spanish, you can go work for the Galaxy, unless you speak Chinese, which is not even a language."
HBO Real Sports segment puts spotlight on charges of racial discrimination by Chivas USA: http://t.co/p0VbQsvdgv #MLS

— Ives Galarcep (@SoccerByIves) July 24, 2013
Racism continues to be a major problem in football, except, of course, to FIFA president Sepp Blatter, who once suggested it could be solved by shaking hands after the match.
Sexism
Sexism continued to be a major, if less reported, issue in football in 2013 as well. Most recently, Italian legend Gennaro Gattuso argued there was no place in football for women saying: "I can't really see women in football, I don't like to say it but that's how it is."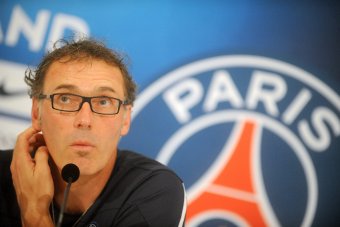 Antoine Antoniol/Getty Images
Just this week, PSG coach Laurent Blanc further highlighted the problem. When asked by a female journalist about his decision to switch from a 4-3-3 to a 4-4-2, he responded: "I mean, women talking football tactics, it's so beautiful. I think it's fantastic. You know what 4-3-3 means, don't you?"
When the reporter replied that it was her job to know, Blanc couldn't help himself and continued his disrespectful comments, saying: "I mean, there's a lot of ways of playing. Haha – just joking."
Blanc apparently learned nothing from the experience of former Australian head coach Holger Osieck, who also found himself in a controversy this June when he said in a press conference that "women should shut up in public."
Clive Mason/Getty Images
Not surprisingly, FIFA president Sepp Blatter also got himself in trouble in this same area this year. In May, at the appointment of Lydia Nsekera, the first female executive committee member for FIFA, Blatter said: "Say something, ladies! You are always speaking at home, say something now!"
But perhaps that shouldn't be much of a surprise from the man who once said that the popularity of women's football would be increased if they wore "tighter shorts."
World Cup Headaches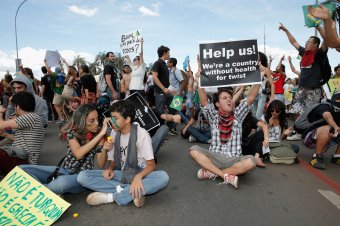 Dean Mouhtaropoulos/Getty Images
At this summer's Confederations Cup, protests erupted throughout Brazil with many angry at the Brazilian government for spending billions in preparation for the 2014 World Cup while ignoring poverty, health care, transportation and education needs.
Two weeks of protests included 1.5 million Brazilians taking to the streets and some feared the Confederations Cup would have to be cancelled as a result.
The unrest at the Confederations Cup was not the only scandal to rock Brazil's preparations for the World Cup, as a crane collapse in Sao Paolo killed two in November.
Latest image of Sao Paulo World Cup stadium where 2 workers were killed following crane collapse on Nov. 26. pic.twitter.com/QXGsxJY18q

— tariq panja (@tariqpanja) December 16, 2013
Qatar, host nation of the 2022 World Cup, was also hit by repeated scandals in 2013 relating to their tournament preparations.
In September, FIFA president Sepp Blatter was finally forced to admit awarding the tournament to the tiny Middle Eastern nation had been "a mistake" and that the tournament would have to be moved to the winter as it could not be played in the country's sweltering summer conditions.
Qatar itself has been hit by repeated scandals relating to how it treats its migrant workers, who will be relied upon heavily to provide the labor needed to prepare for the World Cup. The accusations of abuse towards workers in Qatar include "long working hours, hazardous working conditions…being unpaid for months, [having] had their passports confiscated, forced to live in overcrowded labour camps, denied the right to form unions, and without access to free drinking water in extreme heat."
Horrible treatment of foreign workers is a bigger problem for Qatar & WC22 than heat for players/fans http://t.co/qODDhgCqip

— Grant Wahl (@GrantWahl) September 25, 2013
Match-Fixing
There were multiple match-fixing scandals in football all around the world in 2013.
In February, a match-fixing scandal in Lebanon resulted in punishments ranging from fines to lifetime bans for 24 players and two club officials, with at least one World Cup qualifier thought to have been influenced.
In July, four teams in Nigeria were banned from competition for 10 years after two games ended up with the unbelievable score lines of 79-0 and 67-0. Two of the teams entered the final matchday even on points and were trying to earn promotion by winning the battle over goal differential—obviously with the complicity of their opponents.
Nigeria decides that 79-0 and 67-0 soccer matches may have been fixed: http://t.co/Ow9hISfgR5

— Deadspin (@Deadspin) July 23, 2013
In August, 22 El Salvadorian players were suspended for 30 days while the El Salvadorian football federation investigated claims of tampering. The investigation came about as a result of several suspicious results, one of which was against the United States men's national team.
And just this week, Italy's Gennaro Gattuso got himself embroiled in yet another scandal when his house was raided in conjunction with a match-fixing investigation.
Former AC Milan midfielder Gennaro Gattuso's home searched as part of match-fixing investigation. (via @ESPNFC) » http://t.co/mQXxPYnwIp

— SportsCenter (@SportsCenter) December 17, 2013
Hopefully things will be better in 2014.
Follow me on Twitter @JohnDHalloran
Follow me on Facebook www.facebook.com/AmericanTouchline