The 2013-14 college football bowl season is upon us and with it comes a ton of exciting playoff action. While there are a ton of great matchups that should keep fans on the edge of their seats, there are also some relatively unexciting contests between unappealing programs.
One way to crank the interest level up in those games is to place a wager on the outcome. Whether it is a small stake amongst friends or a massive bet at the sportsbook, having something riding on these bowl games will make them thrilling to observe.
Let's take a look at some of the wisest college football gambling decisions you can make this winter and highlight why.
*Spread information via ScoresAndOdds.com
Buffalo (-1) over San Diego State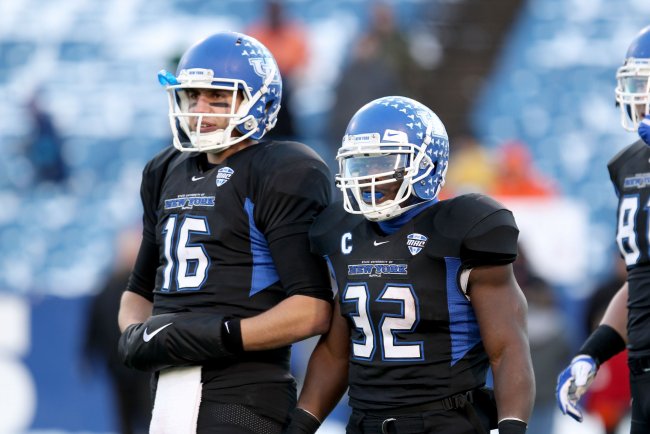 Timothy T. Ludwig-USA TODAY Spor
The Aztecs won an impressive seven games this season, overcoming an 0-3 start to become postseason eligible and get selected to match up with the Bulls in the Famous Idaho Potato Bowl.
However, SDSU is extremely fortunate to be in this position and never played as well as its record indicated. It had lucky breaks at the end of games and won of all four of the overtime contests it participated in.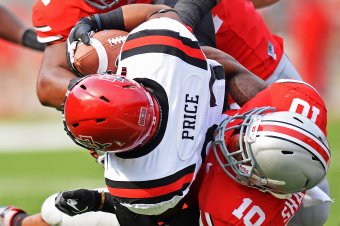 Jamie Sabau/Getty Images
In fact, the Aztecs never won a game by more than 10 points, and over half their victories were decided by five points or less.
Football Outsiders' F/+ rankings—which are a measure of meaningful possession efficiency, an extremely revealing statistic—found this team to be the No. 94 squad in the nation, behind teams like Connecticut (3-9) and Tulsa (3-9) and just ahead of Temple (2-10) and South Florida (2-10).
On the other hand, Buffalo earned the No. 69 ranking via F/+ and its 8-4 record is much less of a fluke. This squad earned its eight wins in convincing fashion and fell just short of the MAC East title in the season finale.
The Bulls' margin of victory in their wins was over 25 points and showed that this team is capable of blowing out inferior competition. Don't be surprised if the Bulls do exactly that against an overrated and outmatched San Diego State opponent.
Sophomore quarterback Joe Licata and senior running back Branden Oliver will be the two stars to watch in this one, especially the latter. Oliver bulled over opponents for 1,421 yards and 15 touchdowns on 282 carries this season, proving that he can carry his side to victory.
It's going to be near impossible for a leaky SDSU defense to stop him, as the Aztecs gave up over 32 points per game and should get roasted by more than that in this bowl game.
Prediction: Buffalo 39, SDSU 28
North Texas (-6.5) over UNLV
This is the stone-cold lock of the bowl season. This is the bet you are going to want to bet your house on.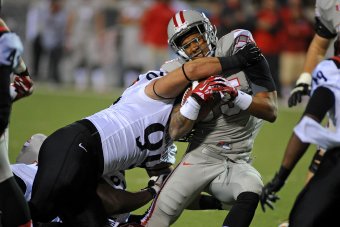 Stephen R. Sylvanie-USA TODAY Sp
The Mean Green is a vastly superior team to UNLV and will have no problems covering the spread in the Heart of Dallas Bowl.
Using the same F/+ system from earlier, it is easy to see that North Texas should be given far more than a touchdown. This 8-4 program has a respectable ranking of No. 49, putting it in the vicinity of Minnesota (8-4) and Fresno State (10-2).
You have to scroll far down the list to find UNLV, as the Rebels are ranked a paltry No. 95. That puts them behind the aforementioned San Diego State squad and the mediocre squads that are equally as efficient.
However, the public's knee-jerk reaction to the Rebels' season-ending blowout of San Diego State is a gambling gold mine. They are getting much more respect than deserved because of that result.
You have a chance to back a great Mean Green squad that features an elite defense—giving up just 18.1 points per game, which ranks No. 9 overall in the country—and a balanced offense that can score on most anyone.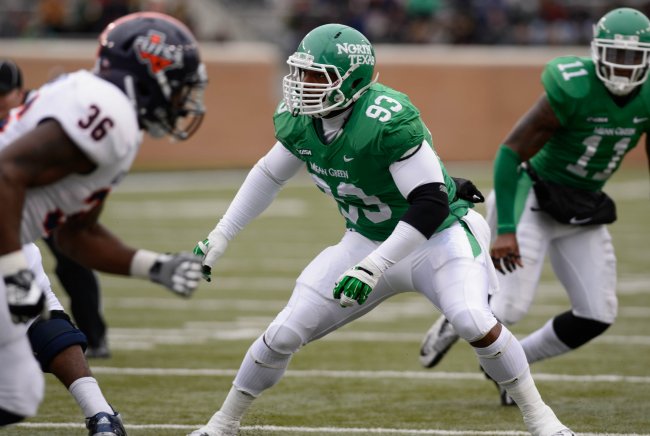 Jerome Miron-USA TODAY Sports
UNLV hasn't done much of anything well, giving up over 31.5 points per game and scoring less than that at 31.3 per contest. The Rebels' rushing and passing attack are both middle-of-the-road and shouldn't be too much of a threat to North Texas' defense.
Take the NT here and cash your ticket in the Heart of Dallas Bowl.
Prediction: North Texas 35, UNLV 24