While an injury to Andros Townsend would be considered headline news in a normal week for Tottenham Hotspur, this has been no normal week for the club.
The dismissal—or "mutual termination"—of Andre Villas-Boas following the 5-0 home defeat to Liverpool at the weekend has seen the club thrown further into crisis (the result alone had got the ball rolling), with caretaker head coach Tim Sherwood unable to steer the ship immediately back on course as the club went out of the Capital One Cup to West Ham on Wednesday.
It was during that game that Townsend picked up an injury, hobbling off with a hamstring problem in the 72nd minute of the Hammers' come-from-behind 2-1 win.
When asked whether Townsend would be out for a long period, Sherwood replied to the BBC: "It looks like it."
He then added: "It looked like he pulled up with a hamstring."
Initial reports suggested a lay-off of at least three weeks, meaning the winger is unlikely to return to action until after the FA Cup third round meeting with Arsenal in the first week of January.
By then, he might well have missed five matches, and find himself presented with a new manager he needs to impress in order to get back into the team.
Sherwood, who it seems (based on one team selection) rates Townsend, might well believe he has a good chance of getting the job on a full-time basis—"I've got to be in the frame, but it's not my decision, unfortunately," he added on Wednesday—but in reality the best he can probably hope for is that the club's preferred candidate cannot take over until the summer, and so he is handed the reins until then.
Having yet to complete his UEFA Pro licence (a requirement of all permanent Premier League managers), Sherwood's tactical nous is also open to some question—with West Ham boss Sam Allardyce seeming to crow a little about his opponent's tactical naivety following his side's win.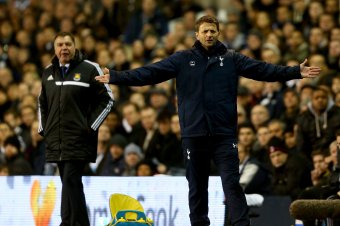 Paul Gilham/Getty Images
"It was a case of exploiting the spaces Tottenham left when they got 1-0 up," Allardyce said, per The Guardian, after Sherwood suggested his players did not have the stamina to sustain the attacking game plan he wanted for the full 90 minutes.
"I thought they might have sat back and protected that, but they didn't. They went for the second … and we started exploiting the spaces that were left."
It remains to be seen how long Sherwood will call the shots, or who eventually comes in to replace him. Either way, after gradually working his way into Villas-Boas' favour, Townsend will now have to repeat the feat with a new man.
Such circumstances are always something of an unknown quantity for players—who can find their personal fortunes at a club boosted or decimated by a new boss with his own particular tactical or technical prejudices.
Fortunately, this should not be a particularly daunting prospect for Townsend; a player who was famously loaned out nine times by the club before getting his chance this term.
He has got used to being asked to prove his worth far more than your average 22-year-old.
But, with the £30 million Erik Lamela hoping a new boss will mean a positive change in his personal fortunes, and the likes of Aaron Lennon, Gylfi Sigurdsson and Lewis Holtby keen to impress in similar roles to the one Townsend covets, it is safe to say his team-mates will not be keeping his spot in the first-team squad free, awaiting his return.
If Townsend's long-term desire is to be a regular start for his home-town club, then this inopportune injury will hardly help.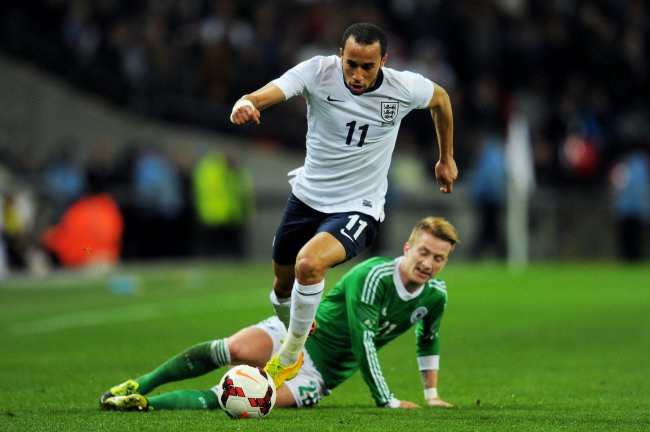 Mike Hewitt/Getty Images
For England, at least, the news is not so troublesome. Townsend should be back well in time for the next international friendly, against Denmark in March, while Three Lions head coach Roy Hodgson has previously suggested that an enforced winter break might be good for some of his players.
Townsend, Leighton Baines, Steven Gerrard and Daniel Sturridge—all have now missed and/or will miss large parts of the winter schedule, a timely sabbatical (from a purely international perspective) in what is a long season.
"I'd rather want the players got injured now," Hodgson noted recently about Sturridge's injury, as per the Daily Mail, indicating his level of concern about the setbacks.
The problem, however, is that the injury gives rivals for Townsend's England spot a chance to press their own claims. Theo Walcott, himself only recently back from injury, likely remained a slender first-choice for the right-wing spot in Hodgson's preferred XI, and will now get the unchallenged chance to consolidate the status.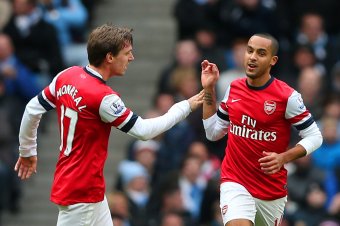 Clive Brunskill/Getty Images
But there will now also be a chance for other hopefuls, from Lennon to recent call-ups Alex Oxlade-Chamberlain and Raheem Sterling, to complicate the selection process with eye-catching displays of their own.
With likely only one, or at most two, spots alongside Walcott for right-sided wingers available on the plane to Brazil, Townsend will want to be back as soon as possible for that reason as much any other.
But it is establishing, and now re-establishing, himself at Spurs that is the focus.
"First and foremost I need to play well and stay in the Spurs first team," he told The Guardian last month. "I've got six or seven months to secure my seat on the plane."
Against that timeframe, three weeks is nothing. Townsend will be hopeful that proves to be the case, but circumstances surrounding Spurs at the moment might just complicate that.