Week 16 offers the opportunity for several NFL teams in the thick of the playoff race to boost their profiles heading into the regular-season finale.
Multiple teams will be jockeying for wild-card position, while others are attempting to seize the lead in their respective divisions. These are essentially make-or-break games, though, and victories are necessary to fortify postseason security.
Here is a look at three teams that will take care of business in Week 16, notch massive victories and inch closer to a sure playoff spot. The games themselves will be discussed, along with some potential scenarios in which the victors could clinch.
Note: Scenarios are courtesy of CBSSports.com's Joe Ferreira.
Miami Dolphins (8-6) over Buffalo Bills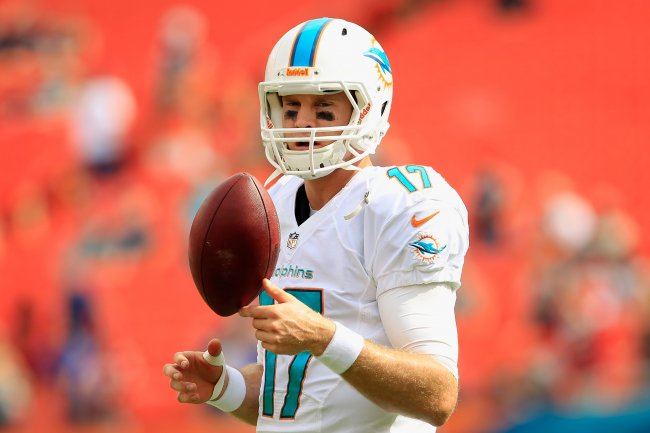 Chris Trotman/Getty Images
The fate of the Dolphins rests in the hands of second-year signal-caller Ryan Tannehill.
He's a bit of an enigma: a supreme athlete who doesn't run enough. A stupendous arm with spotty accuracy and less than seven yards per attempt this season. A ton of potential but a difficult player to study given his protection issues.
Speaking of which, how many of Tannehill's league-leading 51 sacks are on him, and how many are on the patchwork unit blocking for him? Hard to say.
In any event, Tannehill will be tested against a Bills defense that is first in the NFL with 49 sacks and third in takeaways. But the good news is Buffalo is starting Thad Lewis under center in place of an injured first-round rookie in EJ Manuel, per ESPN's Adam Schefter:
Bills HC Doug Marrone said QB Thad Lewis will start Sunday vs. Miami due to EJ Manuel's knee injury.

— Adam Schefter (@AdamSchefter) December 18, 2013
Lewis actually beat the Dolphins the last time he played them, and now he gets to face Miami in Ralph Wilson Stadium.
However, this is a do-or-die scenario for Miami, who is coming off a landmark win over New England. With an outside shot to still capture the AFC East and vengeance on their mind from the Week 7 23-21 defeat, the Dolphins should get it done on the road.
If the defending Super Bowl champion Baltimore Ravens lose and the Cincinnati Bengals drop their game against the Minnesota Vikings, a playoff spot is possible for the Dolphins with a win.
Prediction: Dolphins 28, Bills 20
Carolina Panthers (10-4) over New Orleans Saints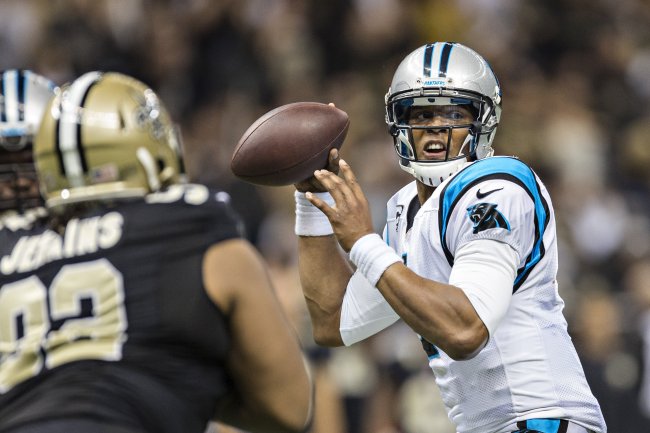 Wesley Hitt/Getty Images
The theme of revenge carries over into this contest, which might be the biggest game on the upcoming schedule.
It was a rather humiliating 31-13 loss for the Panthers in New Orleans in Week 14. It halted their eight-game winning streak and seemed to prove they weren't quite ready to reign supreme in the NFC South.
The Saints' loss to St. Louis in Week 15 changed everything, since Carolina disposed of the New York Jets with ease, setting up a showdown in Charlotte that has all kinds of postseason ramifications.
Carolina are in a win-and-you're-in scenario with regard to the playoffs, but it could climb to the No. 2 seed by protecting home-field advantage. This is a team that has an elite defense and just enough playmakers around the 2011 No. 1-overall pick in QB Cam Newton to make a deep run.
Newton is also far better at home, per ESPN Stats & Info:
Cam Newton's Total QBR is 77.8 at home this season (4th in the NFL), it is 39.0 on the road (29th among qualified QBs)

— ESPN Stats & Info (@ESPNStatsInfo) December 18, 2013
That does not bode well for New Orleans, who looks like a different team—not in a good way—away from the Superdome.
After being called a "weak link" by Jets receiver Santonio Holmes before last week's contest, per ESPN New York (h/t John Jones of the Charlotte Observer), the Panthers' secondary took it upon itself to play better, resulting in Geno Smith throwing for a measly 167 yards and a pick-six.
A similar undertaking will be necessary since Drew Brees threw for 313 yards and four TDs in beating Carolina the first time.
Newton and the defense will elevate their games and drive the Panthers to the top of the NFC South in the most important test of the season for this surging club.
Prediction: Panthers 27, Saints 17
Cincinnati Bengals (9-5) over Minnesota Vikings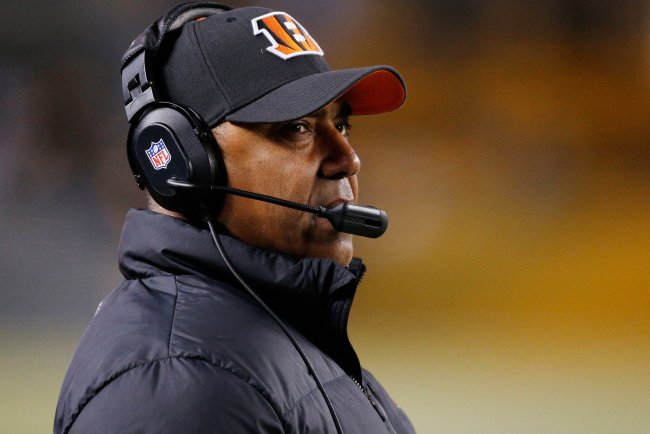 Gregory Shamus/Getty Images
It is possible that the New England Patriots could beat the Ravens, which would only require Cincinnati to win over Minnesota to clinch the AFC North.
But the Vikings have won two of their past three games and just beat the NFC East-leading Philadelphia Eagles this past Sunday.
Bengals safety Chris Crocker emphasized—to say the least—the importance of winning this game so that they don't take any chances entering their clash with Baltimore in Week 17, per Bengals.com's Geoff Hobson:
We're not in the playoffs. That's really the goal to win the division. I don't even know the scenarios, I just know that we have to win this game and then we'll get to the next game and we have to win that game.

We've just got to win, really. We've got to win. We've really got to win because if we lose this game, it's going to be really ugly. So let's just win.
The edge that Cincinnati has here is that it has one of the premier defenses in football, ranking sixth in both total yards allowed and points per game yielded. In stark contrast, Minnesota is 31st out of 32 teams in those respective categories.
Which heavily favored team is likelier to lose?
After two seasons of being one-and-done in the playoffs, the Bengals had a huge chance to make a statement in Week 15, but they fell flat in losing to the AFC North rival Pittsburgh Steelers.
Now is the time for Marvin Lewis' bunch to get off the mat and show it can face adversity. Otherwise, Cincinnati could collapse into calamity down the stretch.
The Vikings may be 4-9-1, but superstar running back Adrian Peterson practiced Wednesday in limited fashion, according to the Viking's injury report, so he is on track to play. Combine him with a confident Matt Cassel, who threw for 382 yards in the Eagles game, and this should be no easy win for the hosts at Paul Brown Stadium.
A.J. Green is just too much for Minnesota to handle in the defensive backfield, though. He and QB Andy Dalton will be enough to get the Bengals by—albeit by an uncomfortably close margin.
Prediction: Bengals 31, Vikings 23
Complete Week 16 NFL Predictions

| | | |
| --- | --- | --- |
| Away Team | Home Team | Winner |
| Miami Dolphins | Buffalo Bills | Dolphins |
| New Orleans Saints | Carolina Panthers | Panthers |
| Dallas Cowboys | Washington Redskins | Redskins |
| Tampa Bay Buccaneers | St. Louis Rams | Buccaneers |
| Cleveland Browns | New York Jets | Jets |
| Indianapolis Colts | Kansas City Chiefs | Chiefs |
| Minnesota Vikings | Cincinnati Bengals | Bengals |
| Denver Broncos | Houston Texans | Broncos |
| Tennessee Titans | Jacksonville Jaguars | Titans |
| Arizona Cardinals | Seattle Seahawks | Seahawks |
| New York Giants | Detroit Lions | Lions |
| Oakland Raiders | San Diego Chargers | Chargers |
| Pittsburgh Steelers | Green Bay Packers | Steelers |
| New England Patriots | Baltimore Ravens | Patriots |
| Chicago Bears | Philadelphia Eagles | Bears |
| Atlanta Falcons | San Francisco 49ers | 49ers |
Picks are strictly opinion