Rashid Magomedov: Get to Know the UFC Newcomer and Lightweight Prospect
Use your ← → (arrow) keys to browse more stories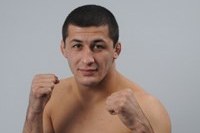 Sherdog.com

MMA's Russian revolution continued unabated last week when the UFC signed lightweight prospect Rashid Magomedov.
But this wasn't just an empty stroke in some promotional arms race or the equivalent of a fantasy football keeper-league signing, where the prospect gets stashed on the bench for some future time. No, the UFC pressed its new toy into service right away, announcing Tuesday that Magomedov will face fellow newcomer Tony Martin in February at UFC 169.
So, who is Magomedov? The 29-year-old is 15-1 overall and a winner in his last eight contests. His primary promotional home is the Russia-based M-1 Global promotion, where he is the welterweight champion.
Magomedov will compete, at least at first, at 155 pounds in the UFC. It may take a while for him to make an impression on one of the company's deepest divisions, which is only getting deeper as the UFC goes on a signing minispree, recently adding up-and-comers such as Martin, Kevin Lee, Yui Chul Nam and Frank Trevino along with Magomedov.
Still, it seems fair to expect that Magomedov's path will be much smoother thanks to the trail blazed by a couple of his countrymen, namely, Khabib Nurmagomedov and Rustam Khabilov, who are a combined 8-0 in the UFC lightweight division since they joined in 2012.
Magomedov has the same pedigree as many Russians who have already enjoyed big-league MMA success. He's a master of sambo, the fighting discipline that blends grappling, submissions and striking. Think MMA before MMA was MMA. Magomedov also trains in a pretty respectable camp: Goretz MMA, which also houses Bellator featherweight contender Shahbulat Shamhalaev.
But what can you expect to see from Magomedov in the cage? Check out the video of his latest fight, a title defense in M-1 against Alexander Yakovlev. (The action starts at about the 6:30 mark.) Like most Russian fighters, he's calm, patient and willing to let the game come to him.
Seven of his pro wins have come by knockout, but he's far from a headhunter. He seems to prefer the counterstriking game, and when he finds his range and sees his opening, he hits his target and hits it hard.
Overall, he doesn't seem overly aggressive in the grappling phase, but he is a tough nut to crack. He seems hard to control in any phase and has very good balance and takedown defense.
Most importantly, Magomedov doesn't appear to tire easily. If he's going to work for decisions in the UFC, cardio will be paramount, and he seems prepared in that area.
In Magomedov's UFC debut, it will be interesting to see how he adjusts to fighting in a cage under the lights. Martin is not the most experienced fighter, but he is a very aggressive striker and submission grappler. If Magomedov can convincingly stave off Martin's attack and damage him en route to a clear decision or TKO stoppage, that would be the best-case scenario for Magomedov. But if Martin can impose his will and catch Magomedov in a submission or overwhelm his defenses on the feet, it might not be a monstrous upset in the UFC debut for both fighters.
Time will tell, but this could be another key acquisition as Russia continues to export MMA fighters to North American shores and North American promotions snap them up with impunity. Will the race continue, or is the market due for a softening? Rashid Magomedov could help tell the tale.
Scott Harris is a writer for Bleacher Report MMA. He interviews, ranks and analyzes top prospects in the sport through The Beaten Path series.