Injuries are the harshest reality of all sport. I'd like to think that if we, as a sports fandom, had the opportunity to treat life as a video game that sending the "injuries" slider to off would be among our first moves. But, alas, we have no such ability and thus must slog through our respective seasons without star players for extended periods.
Perhaps no league is more affected by this than the NBA. Other leagues and teams lose players all the time, but no other sport's popularity is so intrinsically tied into individual stardom. It's a marketing ploy that was put into place by David Stern, and is one of the best (or worst) things he's done in his tenure.
The biggest drawback to the star structure comes when a rash of injuries send star players to the bench. We'll be more than two full calendar years removed from seeing Derrick Rose be Derrick Rose again the next time he reaches those heights—if he ever does. Kobe Bryant's slow return from his Achilles tear is just evidence that even when players come back from injuries, it takes a while to be the same.
All injuries are terrible and should be abolished forever. Even boo-boos. Actually, especially boo-boos.
But as the season progresses, the injury list is only going to get longer. The names are only going to get more high-profile. The implications of the length of said absences are going to irrevocably change the course of the season.
With that funness out of the way, let's check in on a few players that are out of the lineup and their latest potential returns.
Michael Carter-Williams Likely Back Friday vs. Brooklyn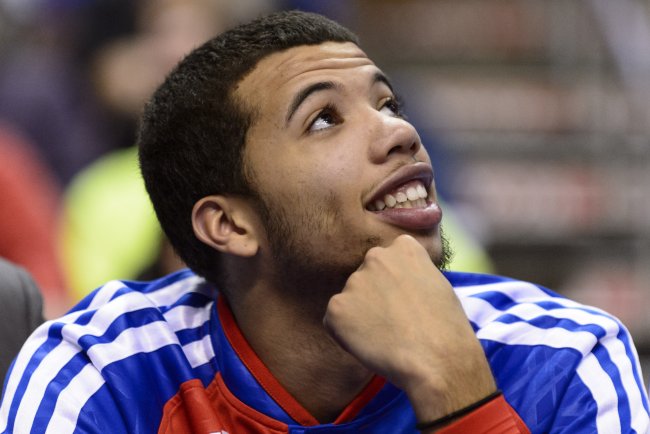 Howard Smith-USA TODAY Sports
Carter-Williams has been quietly racking up a disconcerting amount of missed games, and his latest injury is as strange as it is disappointing.
The rookie point guard spent an extended stay in a local hospital after being diagnosed with an ugly bacterial infection on the front of his right knee. It's unclear when exactly Carter-Williams suffered the injury, but its origin story might be the most odd I can remember that didn't involve a sneeze.
"I got a scrape on the floor," Carter-Williams said, per Jason Wolf of Delaware Online. "I just tried to let it heal on its own. And the infection set in and started swelling up different parts of my leg and stuff like that. That's pretty much it, really."
So, basically, he did the same thing we all do playing ball. We get cut up a bit, shower up and expect our body to heal itself. The lesson: Clean your wound, kids.
The bacterial infection has cost Carter-Williams seven straight games, all Sixers losses. Including an early-season foot injury, Carter-Williams has already missed 11 games. Philly is 1-10 in those contests versus a 6-9 record when he plays.
Considering the Sixers' obvious plan from the beginning of this season was to lose as many games as possible, the "benefit" may slightly outweigh whatever developmental cost exists by missing Carter-Williams.
That said, I'd say Brett Brown and Co. are ready to welcome Carter-Williams back into the lineup. The Sixers have been outscored by 13.5 points per 100 possessions. With the Rookie of the Year contender on the floor, they've only been outscored by 3.8 points.
So...progress!
Luckily, it seems like Carter-Williams is nearing a comeback. He participated in practice Wednesday, and Brown said that it "was pointing in that direction," when asked whether Carter-Williams would play Friday night against the Nets, per Keith Pompey of The Philadelphia Inquirer.
Whether Philly loses or wins against Brooklyn doesn't really matter. The Nets turned in their best performance of the season in Monday's 130-94 win over the Sixers at the Barclays Center, and they've been coming together of late.
One just has to hope Carter-Williams isn't showing any ill effects. He's been the one bright spot in Philly this year, the only player currently playing well who won't wind up on another team by mid-February. Without him, the Sixers have been a black hole of despair. With him, the Sixers will be a black hole of despair—with one ray of hope.
So..hope!
Marc Gasol Ditches Crutches, Getting Closer to a Return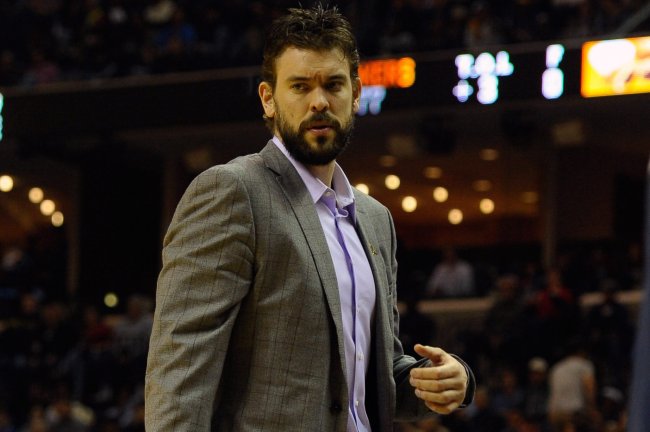 Justin Ford-USA TODAY Sports
Speaking of a black hole of despair, now is probably a good time to start wringing hands about the state of the Memphis Grizzlies. A Western Conference finalist a year ago, Memphis is 10-15 after Wednesday night's loss to Dallas. While that would be good enough for a playoff spot in the dreadful East, it has the Grizzlies as the No. 13 seed at the moment.
Spoiler alert: Only eight teams make the playoffs.
The Western Conference is a gauntlet, and any weakness could suddenly turn into the death knell. For the Grizzlies, that death knell has been Marc Gasol's knee injury. At the time Gasol went down with a knee sprain on the NBA's Black Friday, Memphis was sitting a very solid 7-6 and looking like a slightly worse but still formidable team.
I'll give you the benefit of the doubt and assume you can figure out the math to how bad they've been since. Over their last 10 games, the Grizzlies have been outscored by 10.1 points per 100 possessions—a Sixers level of putridity. And while they haven't exactly been juggernauts on the offensive end, Gasol's biggest effect has come from his absence defensively.
Memphis has allowed a whopping 110.1 points per 100 possessions during this latest downturn. For reference, the Grizzlies finished second in the league last season with a 97.4 defensive rating. Again, I'll leave the math to you.
Good news, especially if you like super awkward photos—Gasol is off crutches, should his Twitter feed prove a reliable narrator:
Wont need these anymore... pic.twitter.com/VaNBWlyB4G

— Marc Gasol (@MarcGasol) December 18, 2013
Tempered enthusiasm is necessary here. Gasol hasn't been cleared for practice or even to run on the injured knee yet. As we've learned the hard way with knee injuries, NBA teams are being more cautious than ever with player recovery. Gasol isn't going to return until he's 100 percent, and the way the Grizzlies are playing, it may be worth it for them to wait until he's 105 percent.
Tony Parker to Miss Thursday at Golden State, Status Unclear for OKC Showdown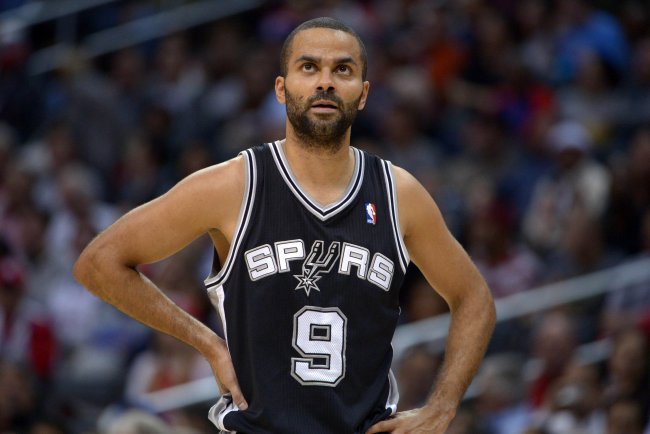 Kirby Lee-USA TODAY Sports
Because I usually find myself unsure whether the Spurs are human beings or alien lifeforms whose sole purpose is playing basketball, it's always a bit of a culture shock whenever a core player goes down. Though, as the O.G. Big Three get older, it's becoming a more common occurrence.
Parker, the youngest of the old fogeys at a spry 31, went down with a shin contusion in the Spurs' 115-92 loss to the Clippers on Monday. It looked like an innocuous enough play. Parker bumped into Ryan Hollins coming through the lane, with the 7-footer's knee striking the diminutive Frenchman perfectly.
It was the type of injury that looks totally innocent on the court but sometimes finishes with the words "fracture" or "break." Luckily for the Spurs and Parker and humanity, the relative best-case scenario played itself out. San Antonio announced prior to Wednesday's win over the Phoenix Suns that Parker would miss the Wednesday-Thursday back-to-back before being reevaluated when the team arrives back at the Alamo.
In typical Spursian fashion, they looked just fine without Parker against Phoenix. Manu Ginobili and Patty Mills both acquitted themselves well to increased roles, with the aging Argentine scoring a team-high 24 points and doling out seven assists. Ginobili has been able to play the pseudo-point guard spot for years in limited Parker absences, and his encouraging resurgence might allow Gregg Popovich to keep him out longer than needed.
Then again, Pop could do it just because he damn well feels like it. Oklahoma City-San Antonio might be a huge event to those of us who have nothing better to do with our Saturday nights than watch NBA basketball, but the ornery Spurs coach has made it quite clear what he thinks of supposedly big regular-season events before.
The interim effect either way is minimal. San Antonio is good enough to survive Parker's absence even it if it lasts five or so games. One or two games may wind up separating the top couple seeds in the Western Conference, but the core Spurs are at such an advanced age that just locking a spot somewhere in the top four should be good enough.
Either way, Parker is fine. Nothing to worry about.
Follow Tyler Conway on Twitter: