The Cincinnati Bengals (9-5) meet the visiting Minnesota Vikings (4-9-1) at Paul Brown Stadium this Sunday. This matchup will take place just one week after an embarrassing 30-20 loss at the hands of the Pittsburgh Steelers.
Despite the Vikings' lackluster record, they were able to catch fire in Week 15 against the Philadelphia Eagles, winning the game by a score of 48-30—without star running back Adrian Peterson.
Peterson's absence did not faze quarterback Matt Cassel, as he completed 26-of-35 passing attempts for 382 yards, two touchdowns and one interception for a passer rating of 116.6. This is not good news for a decimated Bengals secondary.
It gets worse for Cincinnati. Vikings head coach Leslie Frazier told the team's official website that he expects Peterson back for Sunday's game. Said Frazier:
I would anticipate that [Peterson will play] with this week of rest and his groin [injury] should be better because of that as well. I would anticipate that he would be back on the field.
Coach Frazier talks about Adrian Peterson's injury: http://t.co/yAVKpKXlzq pic.twitter.com/tC6nM6mo9T

— Minnesota Vikings (@Vikings) December 18, 2013
The Bengals defense will have their hands full with this suddenly high-octane offense of the Vikings. During its Week 15 contest against Pittsburgh, Cincinnati started to do some things very well to hide its deficiencies on the defensive side of the ball.
During this particular play, defensive coordinator Mike Zimmer dials up an intriguing blitz package.
Three safeties are on the field at once, and the Bengals look to confuse Ben Roethlisberger with seven men in the box. The hope is that Roethlisberger will not realize which side of the line Zimmer's blitz will come from: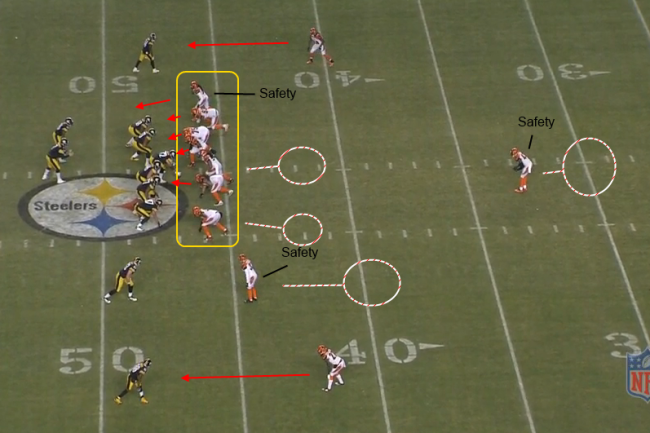 NFL Game Rewind
The blitz works, as the running back was not shifted to the left side where safety Reggie Nelson is coming from. The Bengals remain in tight coverage early during the play: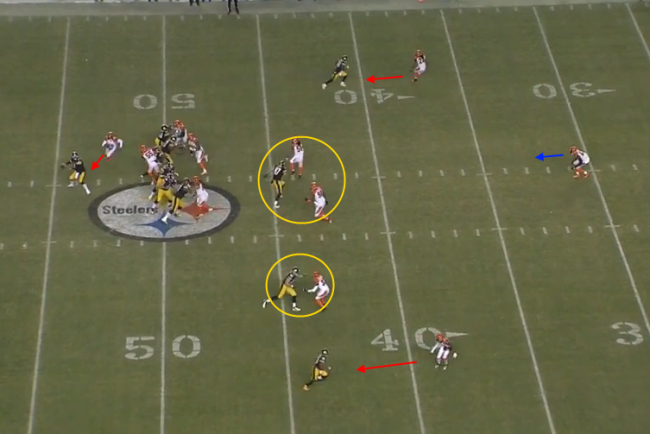 NFL Game Rewind
As Nelson gets to Roethlisberger, the ball is released. Chris Crocker is in great position to make a play on the ball, as Dre Kirkpatrick remains behind the receiver in coverage: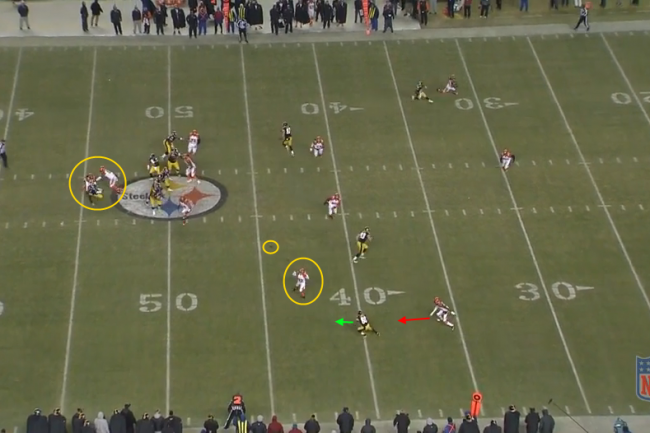 NFL Game Rewind
Crocker misses, and the pass is completed for a first down. Even though the play was successful for Pittsburgh, the damage was already done in the backfield: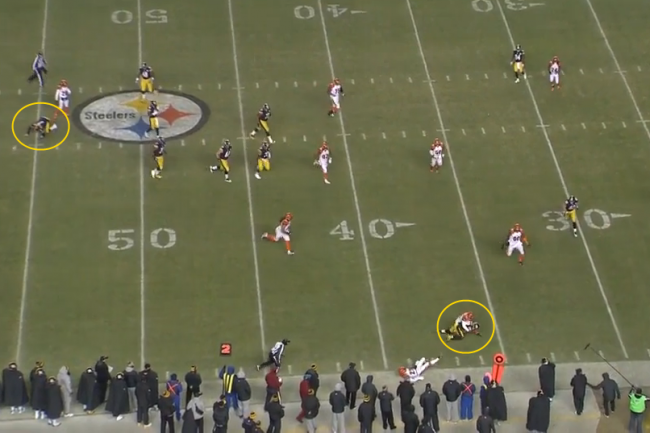 NFL Game Rewind
If the Bengals can apply this type of pressure to Cassel in Week 16, he will begin to get nervous in the pocket, become antsy, deliver off-balance throws and allow Cincinnati a chance to create turnovers.
Since Cincinnati is hurting on the defensive line as well as the secondary, it is important for the defense to continue dialing up plays like this to keep Cassel and the Vikings offense guessing.
On the offensive side of the ball, the Bengals found themselves in dire straits over the first half of their Week 15 contest. The running game could not get going, and the passing game just could not seem to click.
The best way to combat this problem is simple: Cincinnati must keep its best players on the field at all times.
Yes, it is important to give players relief from time to time; however, this game brings about a must-win scenario for the Bengals—especially if they are to cling to any hope of obtaining the AFC's No. 2 seed.
Bengals' loss to Steelers could lead to no division title -- and possibly no playoffs -- for Cincinnati http://t.co/DCwswMk6Yf

— ProFootballTalk (@ProFootballTalk) December 16, 2013
This week, quarterback Andy Dalton must have all of his weapons constantly at his disposal.
Take this second-half play from Week 15 for example.
Dalton is graced with A.J. Green, Mohamed Sanu, Tyler Eifert, Marvin Jones and Giovani Bernard on the field at once. This is a defense's worst nightmare. It is a simple play, as the routes will develop quickly for Dalton. The defense must respect the talent and back away accordingly: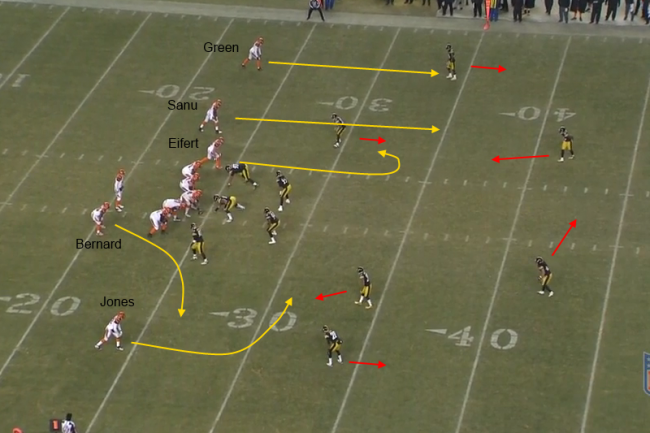 NFL Game Rewind
Dalton takes advantage of the retreating defense, as he hits Eifert quickly after Sanu and Green clear out the defense. Dalton shows great timing and connects with Eifert just as he makes his break, which does not give the Steelers time to react and leaves Eifert with a good amount of cushion: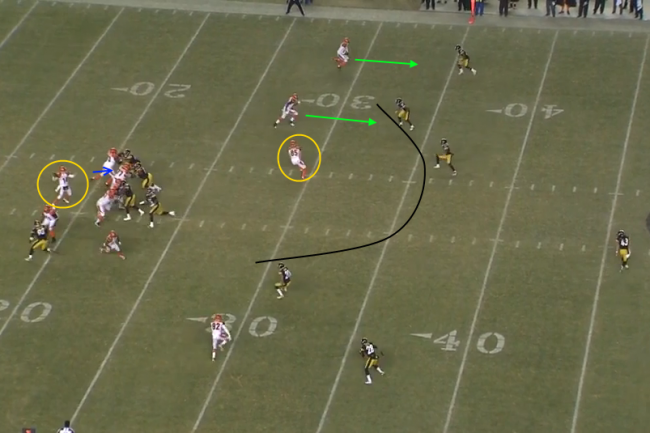 NFL Game Rewind
After Eifert breaks one tackle, he quickly gets a full head of steam downfield: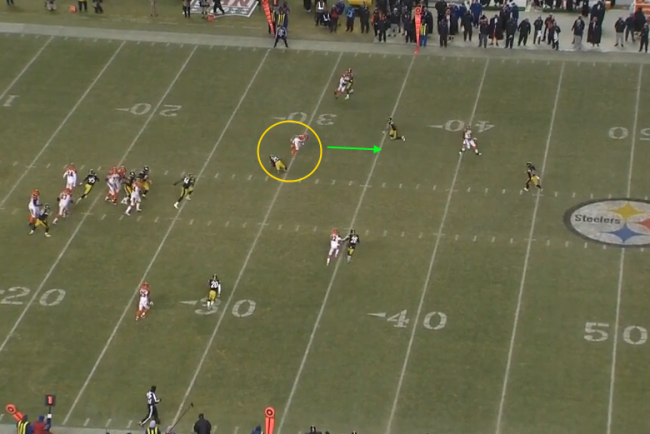 NFL Game Rewind
Steelers safety Troy Polamalu hits him at the 39-yard line, but Eifert isn't done yet: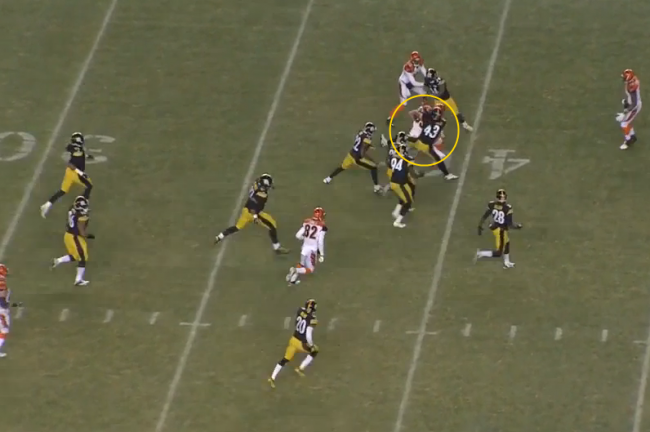 NFL Game Rewind
Eifert drags the safety an additional five yards for a 19-yard gain on the play: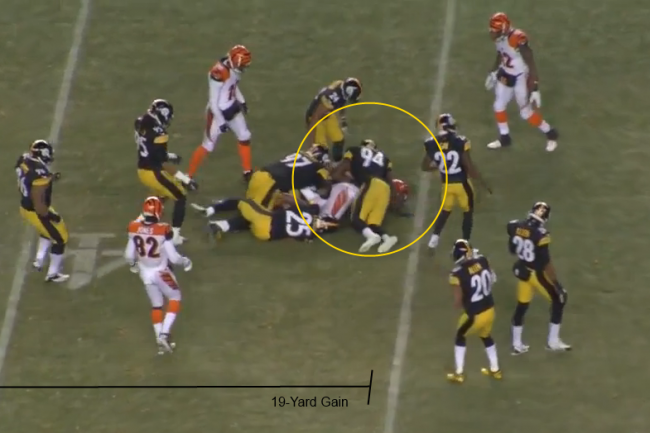 NFL Game Rewind
The Bengals have all of the necessary tools to come away with a win against the Vikings on Sunday. As far as talent and coaching go, Cincinnati is a far superior team.
What will make the difference in this contest is coming in with a smart game plan that will allow Bengals players to perform at the highest possible level. Utilizing personnel in the best possible way this week will give head coach Marvin Lewis and Co. another notch in the win column for the season.
All screen shots courtesy of NFL Game Rewind.