Ideally, the longer the NFL season goes on, the easier it should be to make a wager. However, that isn't the case this year, as the most sure of bets have resulted in money being flushed down the drain time and again.
Look at last week.
The Denver Broncos lost at home to the San Diego Chargers. The Minnesota Vikings, without Adrian Peterson, beat the Philadelphia Eagles by 18 points. The Baltimore Ravens won on the road against the Detroit Lions.
The NFL is known for its parity, but it seems like you might as well throw darts at the wall and use that to determine which teams you're selecting this year.
If you want to do a little more research, here are the updated lines on all 16 games this weekend, followed one safe bet and one bet that is a tad more risky.
The odds are courtesy of ScoresAndOdds.com.
*Note: The line for Green Bay vs. Pittsburgh remains open until more information is known about Aaron Rodgers' injury.
Week 16 ATS Picks

| | | | | |
| --- | --- | --- | --- | --- |
| Home Team | Away Team | Line | O/U | Pick (ATS) |
| Buffalo Bills | Miami Dolphins | MIA -2.5 | 43 | MIA |
| Carolina Panthers | New Orleans Saints | CAR -3 | 46 | CAR |
| Cincinnati Bengals | Minnesota Vikings | CIN -7.5 | 47.5 | CIN |
| Houston Texans | Denver Broncos | DEN -10 | 52.5 | HOU |
| Jacksonville Jaguars | Tennessee Titans | TEN -5.5 | 44 | JAX |
| Kansas City Chiefs | Indianapolis Colts | KC -6.5 | 45 | KC |
| Washington Redskins | Dallas Cowboys | DAL -2.5 | 53 | DAL |
| New York Jets | Cleveland Browns | NYJ -2.5 | 40 | NYJ |
| St. Louis Rams | Tampa Bay Buccaneers | STL -4.5 | 43 | TB |
| Seattle Seahawks | Arizona Cardinals | SEA -10 | 43 | SEA |
| Detroit Lions | New York Giants | DET -9 | 48.5 | DET |
| Baltimore Ravens | New England Patriots | BAL -2.5 | 44.5 | BAL |
| San Diego Chargers | Oakland Raiders | SD -9.5 | 50.5 | SD |
| Green Bay Packers | Pittsburgh Steelers | | | |
| Philadelphia Eagles | Chicago Bears | PHI -3 | 55.5 | PHI |
| San Francisco 49ers | Atlanta Falcons | SF -12 | 45 | SF |
Betting lines via ScoresandOdds.com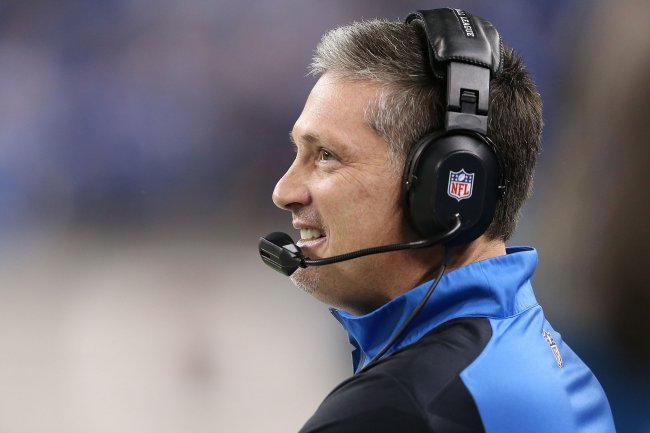 Leon Halip/Getty Images
Bet the House: Detroit Lions (-9)
The margin for error when it comes to the Detroit Lions is nonexistent. By losing four of their last five, they've relinquished control of the NFC North and need some help from the Chicago Bears if they're going to make the playoffs.
One more loss will all but eliminate the Lions from the playoffs. In addition, it could spell the end for Jim Schwartz, per NFL.com's Ian Rapoport:
On #Lions: View from inside is they must make the playoffs for Jim Schwartz to keep his job. If they don't, it's 1 for 5 in the postseason

— Ian Rapoport (@RapSheet) December 17, 2013
That's a lot to play for, and Detroit is facing off against a New York Giants team fresh off getting shut out by the Seattle Seahawks.
Considering how much the Lions have to play for and how little is on the line for the Giants, Detroit could run away with this one.
New York's offensive line has been terrible lately, which will only serve to help a Detroit pass rush that has struggled to get pressure on the quarterback.
Playing at home with so much on the line, the Lions will bounce back from their two losses and win big on Sunday.
Prediction: Detroit 30, New York 17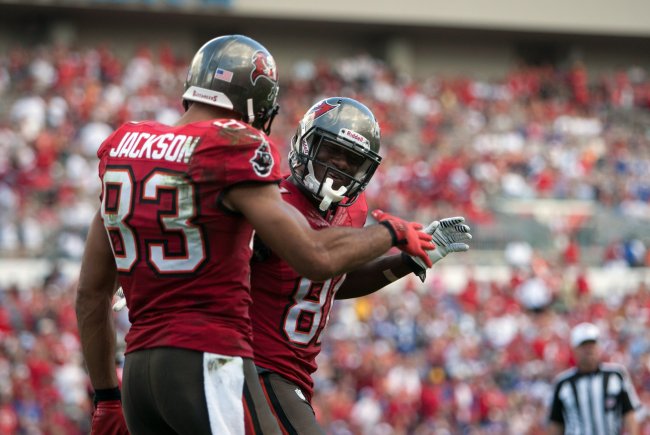 Rob Foldy-USA TODAY Sports
Take a Chance: Tampa Bay Buccaneers (+4.5)
Good luck trying to apply any sense to the St. Louis Rams. They beat the Indianapolis Colts, Chicago Bears and New Orleans Saints by double figures but got whopped by the Arizona Cardinals.
With as well as Kellen Clemens has played under center, you can understand why the Rams are favorites.
But don't discount the Tampa Bay Buccaneers. They've been a different team since their Week 10 win over the Miami Dolphins. The Bucs' two losses since that victory aren't too damning, either—at Carolina and versus San Francisco.
It's no secret that Robert Quinn will have a large say in how this game unfolds. He's second in the league in sacks (15).
Greg Schiano is well aware of the threat Quinn poses, per Pat Yasinskas of ESPN.com:
He's got 15 sacks and seven forced fumbles, so that tells you something. He's as good as tomahawk chopping the backside of the quarterback as there is. You haven't seen a guy do it with that effectiveness since L.T. (Lawrence Taylor). L.T. used to knock that ball out with a vicious tomahawk chop. He's bringing it that way. I mean, seven forced fumbles? Think about that. That's a lot of forced fumbles in 14 games.
Although Tampa's offense isn't at an elite level, Schiano should figure out a way to neutralize Quinn so the defensive end isn't wreaking havoc on every snap.
With the way the Buccaneers have performed in the second half, that 4.5-point line is a bit generous. At the very least, Tampa should keep it within a field goal.
Prediction: St. Louis 24, Tampa Bay 21