The free-agent market is all but dried up, and it seemed to happen in a hurry this year. The few top-shelf free agents who hit the market are mostly gone, with a couple of notable exceptions. Meanwhile, the more robust market for secondary types was active right from the get-go.
Aside from Shin-Soo Choo, Japanese star Masahiro Tanaka, Ervin Santana, Matt Garza and Ubaldo Jimenez, the big fish have already been reeled in. Now is when teams will begin sifting through the rubble in search of bargain finds.
These players typically fit a couple of molds, but mostly, they're established MLB players with injury or makeup concerns.
Jesse Crain, Relief Pitcher
Jesse Crain is something of a late bloomer. The right-hander was merely an adequate middle reliever for the first few years of his career with the Minnesota Twins, but he's become a high-strikeout pitcher and worked his way into high-leverage work.
Crain was in the midst of a career year in 2013 when a season-ending shoulder injury struck in July. The Tampa Bay Rays acquired him anyway in a conditional deal in the hopes that he would make it back, but he never did.
Crain lost the entire second half of his walk year, which is probably why he's still wading through free agency. Plus, this year's class of free-agent relievers was deep. It seems like his market is taking shape, though, now that the Grant Balfours and Joaquin Benoits of the world have signed.
Crain has reportedly received multiple offers and is deciding whether he wants a one- or two-year deal, Jon Morosi of Fox Sports tweeted Tuesday. A two-year deal sounds risky to me, but then again the investment should be modest. Obviously, whether Crain nets out to be a good signing will come down to his health.
Jason Hammel, Starting Pitcher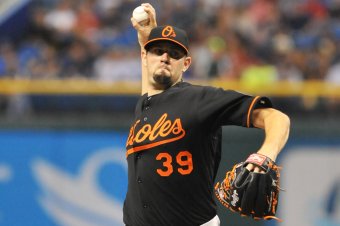 Al Messerschmidt/Getty Images
Jason Hammel might be in the same market as the Garza types had he not missed time in each of the past two seasons due to injury. The right-hander had a couple of good seasons with the Colorado Rockies and then was in the midst of a career in 2012 with the Baltimore Orioles when he hurt his knee. In 2013, it was his pitching elbow.
Instead of perhaps a four-year deal worth $50 million, he's now probably looking at one year and $8 million, which is what Josh Johnson signed for. I'm not going to cry for Hammel, but suffice to say his injuries have cost him. The good news for him is that he can re-establish his value with a healthy, productive season and then hit the market again next offseason.
As with Crain, if Hammel stays healthy, he could turn out to be very profitable, dollars-to-wins. He's had three- and four-fWAR seasons in the past.
Chris Perez, Relief Pitcher
Chris Perez was released by the Cleveland Indians after a tough season in which he pitched poorly and pleaded guilty to a misdemeanor drug charge. Surely, Perez's poor performance and off-field issues played a role in his dismissal, but he was also due a raise on top of his $7.3 million 2013 salary through another round of arbitration.
Add it all up, and cutting Perez kind of made sense.
A wildly inconsistent performer, Perez wouldn't be a good value at a salary of upward of $10 million. But he's worth a shot on a cheap one-year deal, which I think he'd be glad to take considering his less-than-ideal departure from Cleveland.