There is plenty of buzz being generated on the NBA rumor mill, as teams are already figuring out which pieces fit on their roster and some are unfortunately realizing contention in the 2013-14 season is unrealistic.
One square peg in a round hole is Houston Rockets center Omer Asik, who hasn't meshed well or taken a liking to the fact that Dwight Howard arrived in the summer. It appears a deal is imminent that will get Asik on his way to another squad.
Also worth addressing is the speculation surrounding Cleveland Cavaliers guard Dion Waiters, along with another notable development in Toronto that's sure to spark interest due to the involvement of marquee players.
Read on to find out the latest on all these situations, which could result in a lot of front office action in the coming days.
Omer Asik to the Boston Celtics?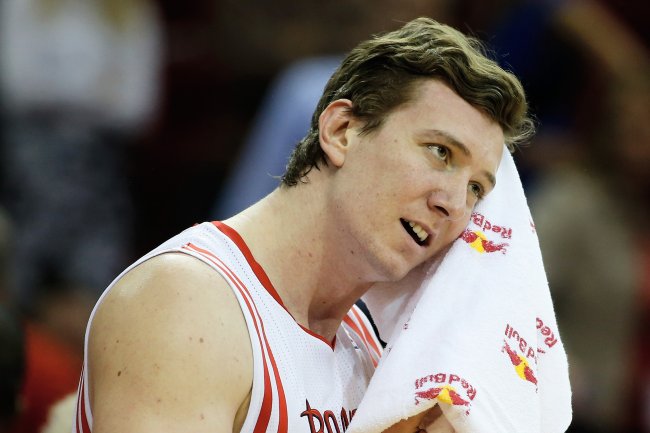 Scott Halleran/Getty Images
The latest to enter the race to get Asik is Boston, who could use the big man's rebounding ability on a front line that is more perimeter-oriented and lacks a physical, defensive presence in the paint.
According to Adrian Wojnarowski of Yahoo! Sports on Dec. 18, Brandon Bass, Courtney Lee and a first-round pick would be on the table, while Lee could be shipped to a third team:
Serious talks on Boston-Houston package for Asik have included Brandon Bass, Courtney Lee and a 1st round pick, sources tell Yahoo.

— Adrian Wojnarowski (@WojYahooNBA) December 18, 2013
If such a package were to come together, it is unclear if Lee would go to Rockets or be routed to a third team.

— Adrian Wojnarowski (@WojYahooNBA) December 18, 2013
FoxSportsOhio.com's Sam Amico reports that Cleveland could be that third team. Sources have told Amico that owner Dan Gilbert isn't pleased with the team's record and is expecting more, giving the front office the OK to make a move to improve the roster.
Boston has two first-round selections in the upcoming draft, so landing a player of Asik's caliber at the cost of that pick would be of solid value.
However, it reportedly depends on which first-round pick—Boston's own, or the one it will receive from either the Atlanta Hawks or Brooklyn Nets:
Celtics, Rockets still haggling over which future first-round pick goes to Houston in Asik deal, sources tell Yahoo.

— Adrian Wojnarowski (@WojYahooNBA) December 18, 2013
Under first-year head coach Brad Stevens, the Celtics (12-14) have exceeded expectations, and with superstar point guard Rajon Rondo returning to the hardwood not too long after the New Year, it's definitely worth exploring the possibility of landing Asik.
Which team would win the rumored trade offer for Omer Asik?
With the tutelage of a defensive-minded coach in Stevens and with several decent scorers around him,
Asik
has the chance to thrive for one of the NBA's most storied franchises.
Bass would give Houston's fast-paced offense a great fit at the 4 to go with Howard, but Wojnarowski did note in a subsequent report that Howard didn't like playing with Bass on the Orlando Magic.
The Rockets have set a deadline of Thursday to trade Asik, who hasn't played since Dec. 2. Cleveland and Atlanta have faded as possible destinations, but the Philadelphia 76ers are still interested, per Wojnarowski.
Action should come in short order, so expect Asik to be out of Houston, with Boston looking like a strong candidate for a landing spot.
Dion Waiters Desires Departure from Cleveland?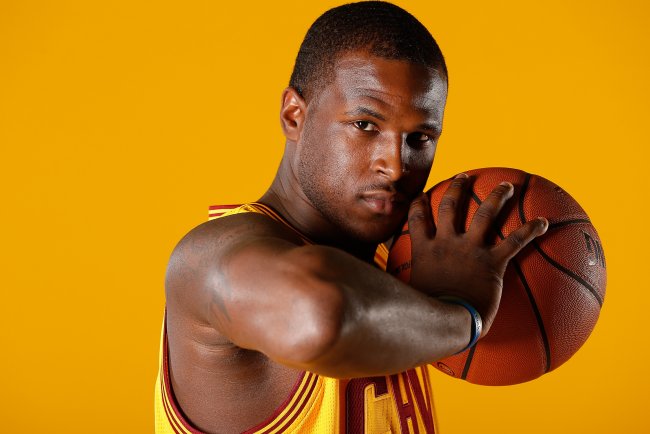 Gregory Shamus/Getty Images
If the Sixers miss out on Asik, there is a possibility that they could get a local former lottery pick in Waiters (14.9 ppg) from the Cavs.
Bleacher Report NBA analyst Jared Zwerling reported on Dec. 17 that Waiters "wants out," as his source paints a picture of a somewhat egomaniacal Waiters who must be the alpha male, rather than point guard Kyrie Irving:
[Waiters] thought he was going to come in and be a 2-guard and be a superstar. He came in and was in the (Rising Stars Challenge) with half of his team last year. He worked really hard this offseason, and he came in with the mentality that this was going to be his team. And it's never going to be his team. It's always going to be Kyrie's team.
Zwerling reports that the Sixers could trade Evan Turner (19.3 ppg, 6.5 rpg, 4.0 apg), which would allow him to fill a hole at small forward in smaller lineups—a position the Cavs desperately need help at. Waiters also feels he would be the best player on his native Philadelphia team.
For one thing, Waiters was the No. 4 overall pick in the 2012 draft, while Irving went first overall the year before. That gap in draft status is smaller than what it's looked like on the court in their young careers, too.
The young shooting guard did deny that he requested for a trade, per FoxSportsOhio.com's Sam Amico:
#Cavs G Dion Waiters says he's tired of rumors: "They gotta write something. Why would I say (I want traded). It's crazy."

— Sam Amico (@SamAmicoFSO) December 17, 2013
It would be interesting to see what sort of interest Waiters would generate on the open market, because he's a talented young scorer and did just match Irving with 25 points in Tuesday's loss to the 22-4 Portland Trail Blazers.
Cleveland is in win-now mode, so with the inconsistency Waiters has shown and how early he is in his career, the dilemma on whether to deal him or not is all the more difficult for general manager Chris Grant.
Between the Asik chatter and the Waiters situation, there's hardly any telling what might be up Grant's sleeve.
Toronto Raptors Reportedly Shopping Kyle Lowry and DeMar DeRozan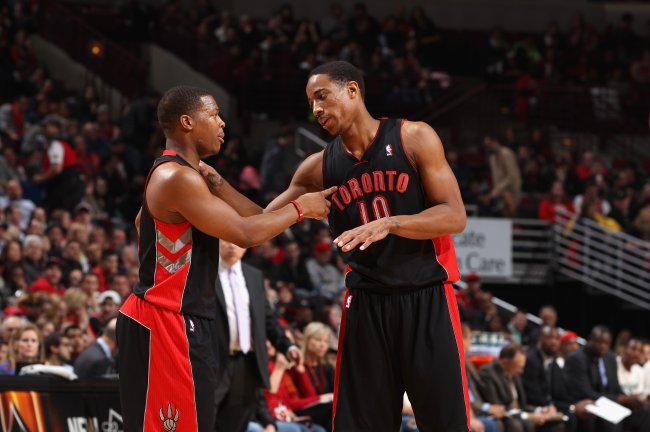 Gary Dineen/Getty Images
Wojnarowski reported on Dec. 13 that the New York Knicks and Brooklyn Nets were vying for Lowry's services. Both of the Empire State's typical starting point guards in the Knicks' Raymond Felton and the Nets' Deron Williams have been hobbled by injuries this season.
The media market in New York inevitably leaves Lowry open for discussion, but perhaps a more surprising player on the block is the starting shooting guard in DeRozan.
According to Bill Ingram of HOOPSWORLD.com, GM Masai Ujiri is open to trading both but is demanding a lot in return.
Source confirms Raptors working "hard" to move DeRozan and Lowry....but the price for both is "surprisingly high."

— Bill Ingram (@TheRocketGuy) December 18, 2013
ESPN.com expert Chad Ford (subscription required) hinted that by trading Rudy Gay to the Sacramento Kings earlier this month, Ujiri was attempting to sabotage the current club for 2014 draft position. It hasn't quite worked out:
Rudy Gay's absence hasn't had the tanking effect GM Masai Ujiri had hoped for. In fact, the Raptors are 3-1 since the trade. That's why Ujiri is out working hard to move more veterans, such as Kyle Lowry and DeMar DeRozan. Lowry should be pretty easy to move. DeRozan will be tougher.
It would be a shock to see both these players skip out of town. Lowry is an efficient distributor who averages 6.9 assists to just 2.3 turnovers and scores 14.3 points per contest, and DeRozan leads Toronto with 21.4 points per game.
Getting rid of two stellar backcourt players may be too much for the Raptors to overcome and make up for in the impending draft.