With two weeks left in the regular season, there is a lot on the line in this week's games. Teams will be battling for playoff seeding, division races and, of course, postseason existence altogether.
The most notable game will go down in Carolina where the Panthers (10-4) will host the New Orleans Saints (10-4) in an NFC South showdown. The Saints won the first meeting of those two powers, so the Panthers have to win this game if they want to keep their divisional title hopes alive.
In case patience is not your strength, you've come to the right place. I will present you with the winner of the Saints-Panthers game and every other game.
Check out my full predictions for the week, and then I'll add more depth to the predictions for the week's biggest games.
Langford's Week 16 Picks

| | | |
| --- | --- | --- |
| Away Team | Home Team | Prediction |
| Miami Dolphins | Buffalo Bills | Dolphins, 24-20 |
| New Orleans Saints | Carolina Panthers | Panthers, 23-16 |
| Dallas Cowboys | Washington Redskins | Cowboys, 31-27 |
| Tampa Bay Buccaneers | St. Louis Rams | Rams, 27-17 |
| Chicago Bears | Philadelphia Eagles | Bears, 35-31 |
| Cleveland Browns | N.Y. Jets | Browns, 16-13 |
| Indianapolis Colts | Kansas City Chiefs | Chiefs, 27-17 |
| Minnesota Vikings | Cincinnati Bengals | Bengals, 27-24 |
| Denver Broncos | Houston Texans | Broncos, 42-20 |
| Tennessee Titans | Jacksonville Jaguars | Jaguars, 20-17 |
| Arizona Cardinals | Seattle Seahawks | Seahawks, 17-13 |
| N.Y. Giants | Detroit Lions | Giants, 28-27 |
| Oakland Raiders | San Diego Chargers | Chargers, 31-24 |
| Pittsburgh Steelers | Green Bay Packers | Steelers, 25-24 |
| New England Patriots | Baltimore Ravens | Patriots, 27-20 |
| Atlanta Falcons | San Francisco 49ers | 49ers, 24-13 |
New Orleans Saints at Carolina Panthers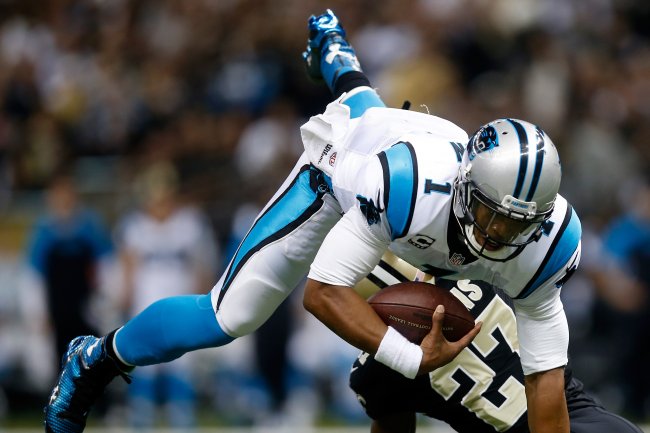 Chris Graythen/Getty Images
Just looking at the first matchup between these two teams, the Panthers don't stand much of a chance in this game. The Saints cruised to a 31-13 win, and that was just in Week 14.
In that game, the Saints wracked up 373 yards of offense. Most of that damage was done through the air where Drew Brees threw for 313 yards at 7.5 yards per pass.
The Panthers have the league's fifth-best mark in passing yards allowed per game, but a lot of their success is due to a pass rush that is third in the league in sack percentage. In Week 14, the Panthers sacked Brees just twice.
Things are not all doom and gloom for the Panthers, however. New Orleans is not the same team on the road.
We don't have to tell Panthers coach Ron Rivera this.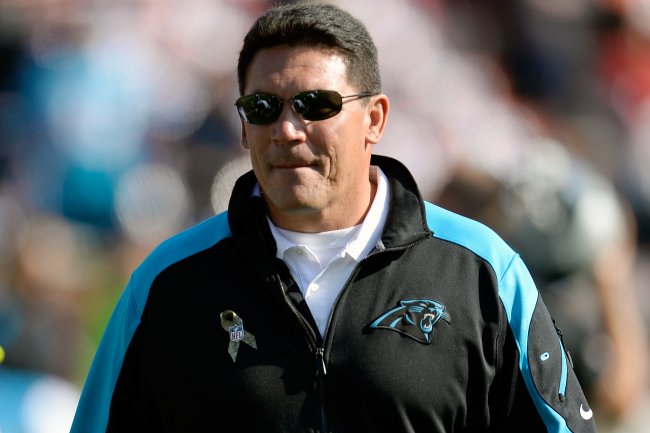 Thearon W. Henderson/Getty Images
Following the Week 14 loss, Rivera, as the Associated Press, courtesy of the New York Daily News, passed along these thoughts from Rivera:
They [Saints] have the crowd behind them and they're on turf, not natural grass, which is a little bit different. It helps them as far as their speed and their timing. The things that they do here, they do very well. We'll see how things go when they come to Carolina.
New Orleans is just not as potent away from the Superdome.
#Saints Drew Brees has comp 58.7% of his attempts 15+ yards downfield at home this season, but only 40.0% on the road (#NFL average 42.0%)

— Cecil Lammey (@cecillammey) December 17, 2013
For example, the Saints have combined to score just 36 points in their last three road games.
Meanwhile, the Panthers have been exceptionally stingy at home. Carolina has not allowed more than 20 points in any home game this season.
All of this will allow the Panthers to slow down the Saints and then take the game over with their eighth-ranked rushing attack. Although the Saints have been vastly improved on defense this season, they are still just 21st in rush defense.
Prediction: Panthers 23, Saints 16
Chicago Bears at Philadelphia Eagles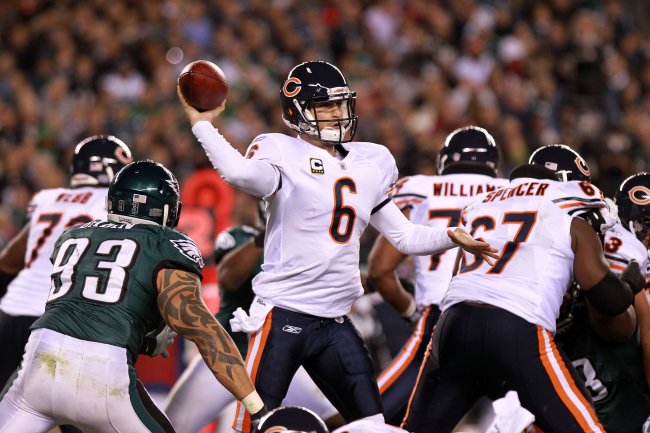 Nick Laham/Getty Images
If you're a fan of points, this game is for you.
Eagles Bears game has more explosive play potential than any game we have done this year on both offense and defense.

— Cris Collinsworth (@CollinsworthNBC) December 18, 2013
For all of the talk centered around the health of Jay Cutler and whether he or Josh McCown is a better fit for this offense, it isn't going to matter much unless the Bears start playing better defense.
The Bears are awful against both the run and the pass. They are 24th in yards allowed per pass and 32nd in yards allowed per rush.
This is good news for the Eagles because they aren't prepared to win a defensive struggle. The banged-up Eagles secondary is 31st in pass defense. That pass defense definitely is not improving either. The Eagles just gave up 382 passing yards and 48 points to Matt Cassel and the Minnesota Vikings while they were playing without the services of Adrian Peterson.
Needless to say, the Eagles secondary did not get good reviews for that outing:
#Eagles Notes: Secondary hit with injuries, horrendous play; more: http://t.co/CS9q5VcQxT

— Jeff McLane (@Jeff_McLane) December 16, 2013
Meanwhile, both of these offenses can score some points. The Bears boast the league's second-most prolific scoring attack and the Eagles the seventh.
In this game, I'm siding with the Bears because they will control the time of possession. The Eagles are 32nd in the league in net time of possession.
The Bears will control the ball in the fourth quarter and pull out the close win.
Prediction: Bears 35, Eagles 31
New England Patriots at Baltimore Ravens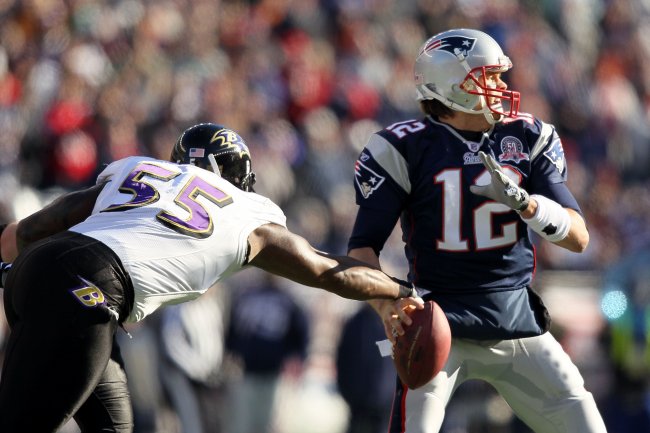 Al Bello/Getty Images
This game is dripping with playoff implications. The New England Patriots (10-4) need a win to clinch the AFC East, and the Baltimore Ravens (8-6) are just a game back of the Cincinnati Bengals in the AFC North.
The Ravens can thank a four-game winning streak for their improved place in the standings and for the fact they are now in the driver's seat for the AFC's second wild-card spot.
SIXTY. ONE. YARDS. #ForTheWin #BALvsDET MUST-SEE: http://t.co/mGDXZyHw9T

— NFL (@nfl) December 17, 2013
The Ravens have won four straight to pull themselves up to 8-6 to sit in the driver's seat for the AFC's second wild-card spot.
If the Ravens are going to improve their standing, they will have to play better on offense. The Ravens can't count on Justin Tucker to drill six field goals in every game.
Much of the Ravens' offensive struggles can be attributed to poor offensive line play. The Ravens are dead last in yards per rush and 22nd in sacked percentage.
Great opening by ESPN showing Ravens o-line problems. Amazing they are 7-6, credit Joe Flacco for that. Hope he doesn't get killed 2nite.

— Ed Frankovic (@EdFrankovic) December 17, 2013
That offensive line will stand a chance of not being overwhelmed in this game as the Patriots are sinking on defense. The Pats are 31st in yards allowed per game.
Still, in the end, it is the Ravens' offensive line that has me siding with the Patriots in this one. The Patriots' offensive line is far better. New England is ninth in quarterback sacked percentage.
This will allow the Patriots to pick up the key third downs that the Ravens do not.
Prediction: Patriots 27, Ravens 20