The path is set for a possible all-Manchester final in the Football League Cup final. The semi-final draw for the Capital One Cup was held on Wednesday, Dec. 18, after the completion of fifth-round action.
The Twitter account for the Premier League provided the matchups:
. @CapitalOne_Cup semi-final draw: Sunderland v Man Utd & Man City v West Ham. Ties to be played weeks beginning 6 & 20 January

— Premier League (@premierleague) December 18, 2013
Of course, for there to be an all-Manchester final, the Red Devils will have to get past Sunderland. Although Sunderland are terrible, assuming a win by David Moyes' squad is a dangerous proposition these days.
The first leg of these two semi-finals will be on Jan. 6. The second comes two weeks later on Jan. 20. The winner of each semi will move on to play in the Capital One Cup on March 2 at Wembley Stadium.
Below, I will get you up to speed on both of these matchups.
Sunderland vs. Manchester United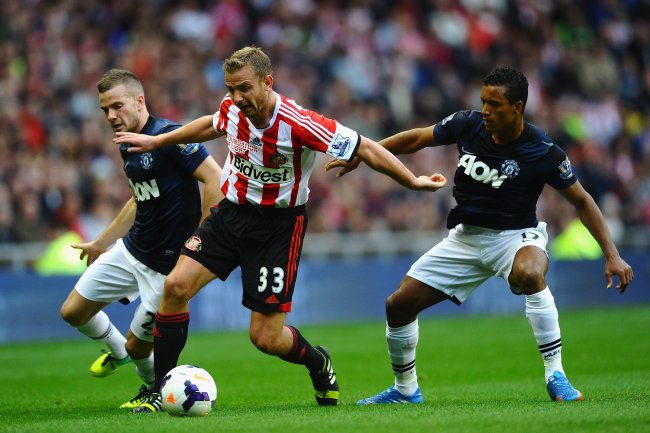 Laurence Griffiths/Getty Images
In a year where little has gone right for Sunderland, the wayward side earned an impressive 2-1 win over Chelsea on Wednesday to advance to the semi-final. It took a bit of late-match magic to pull off the win, too.
Sunderland trailed 1-0 into the 88th minute before Fabio Borini sent them to extra time. Ki Sung-Yueng netted the winner in the 118th minute.
Things were a little easier for the Red Devils. In fact, things went so well that the maligned Ashley Young even netted a goal. United beat Stoke City 2-0 to secure their advancement.
GOAL! Ashley Young breaks the deadlock at the Britannia Stadium with a fiercely struck strike. His first goal since May 2012 for United.

— ESPN FC (@ESPNFC) December 18, 2013
The Red Devils continue to be better outside of Premier League play. The defending league champs sit just eighth in the table. They have, however, been great in the Champions League and this competition.
Since the third round, Manchester United have beaten Liverpool, Norwich City and Stoke City by a combined score of 7-0. David Moyes reacted to draw, per the club's Twitter account:
David Moyes reacts to semi-final draw: "We have a tough semi – Sunderland played really well to beat Chelsea. I'm pleased to be away first."

— Manchester United (@ManUtd) December 18, 2013
While United will look to continue their momentum, Sunderland will take any success they can get. They are 20th in the EPL having lost 11 of their 16 matches.
In this competition, however, they have been dumping in goals and have at least two to their credit in each of their past four matches in this competition.
They would be well served to keep that scoring streak rolling to keep up with the Red Devils in this two-leg showdown.
Manchester City vs. West Ham United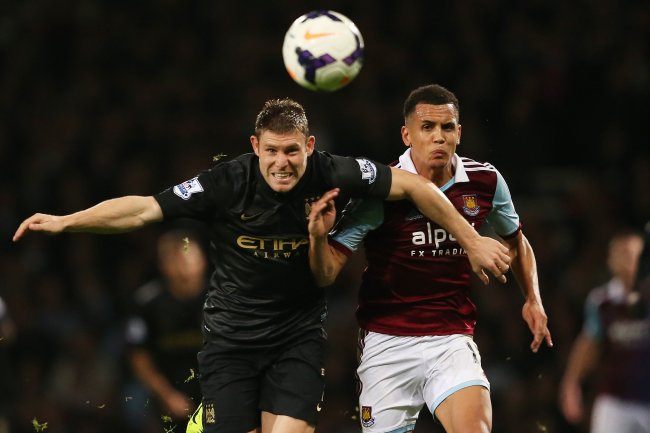 Warren Little/Getty Images
I don't think any team wants to take on Manchester City in a two-leg affair. The Citizens have won all eight of their home EPL matches this season and have scored 35 goals in those matches. They have not been nearly as strong on the road, but with all the goals at home, they don't need to be.
It was just on Dec. 10, though, that the Citizens earned an away win over German giants Bayern Munich, 3-2.
City have also outscored their last three Capital One Cup opponents 10-1.
This is all going to be a lot for West Ham to handle. They sit in 17th place in the EPL table and have scored just 13 goals in 16 league matches. Still, that didn't stop West Ham from scoring two goals after the game clock hit 80 to beat Tottenham, 2-1, on Wednesday.
The win propelled them into this match, and it gives West Ham a chance to add a positive to this disappointing year.
Although they are overwhelmed, they can take solace in a few facts: They will host the second leg of this showdown, and there is also this:
The Citizens will suffer without the scoring ability of Sergio Aguero, but with the likes of Yay Toure and David Silva, this team will still be able to score.
Meanwhile, James Nursey in the Mirror, passes along that potential replacement Edin Dzeko would like to remind fans he can score a few goals of his own and Nursey reminds that us that:
Dzeko has a habit of scoring against the Cottagers, netting against them in both the last two seasons.

Confidence is high in Pellegrini's camp after an eight-game unbeaten run in all competitions which includes last weekend's thumping of current league leaders Arsenal.
Although West Ham may not see a Manchester City side at full strength, they shouldn't expect the Citizens to come limping into this matchup either.