Dive or No Dive? Vote on Suarez, Ronaldo and Vidal
Use your ← → (arrow) keys to browse more stories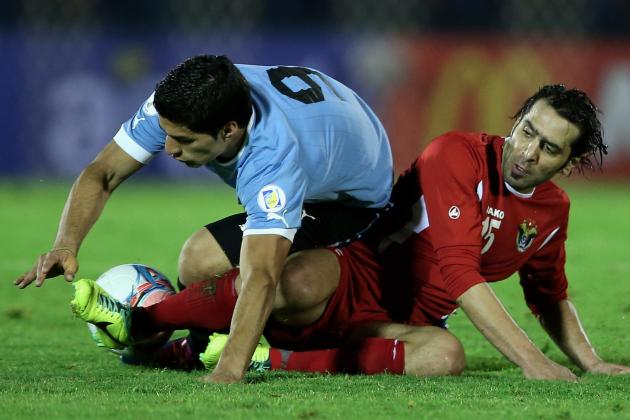 Friedemann Vogel/Getty Images

The issue of diving is typically among the most passionate topics in football, debated by fans of particular players and clubs, and analyzed by purists and proponents of player safety.
With 2013 coming to a close, we felt it was a good time to take a look at three such incidents from the past few months, involving each of Luis Suarez, Cristiano Ronaldo and Arturo Vidal.
Following are clips of the events in question and accompanying them are voting polls that will allow you to have your say.
Exhibit A: Luis Suarez vs. Jordan
In the first leg of Uruguay's World Cup qualification play-off against Jordan in Amman, and with the South Americans leading 1-0 through Maxi Pereira's opener, Luis Suarez went to ground inside Jordan's 18-yard box.
His tumble ended a swerving run that had taken him into a good scoring position and as the referee indicated play would continue, he raised his hands in protest.
Was he correct in his objection? Or did Jordan defender Tareq Khattab make contact with the Liverpool striker?
Have a look.
Exhibit B: Cristiano Ronaldo vs. Juventus
With draws from matches against FC Copenhagen and Galatasaray to kick off their Champions League Group Stage campaign, Juventus arrived in the Spanish capital in late October needing at least a draw in order to resuscitate their fading European aspirations.
Cristiano Ronaldo's fourth-minute opener put the guests in a desperate position from the get-go, and while the Portugal captain also tallied just prior to the half-hour mark, Fernando Llorente managed to pull one back for Juventus.
Then, shortly after the restart, any chance the Bianconeri had of getting a result at the Bernabeu went up in smoke when defender Giorgio Chiellini was ejected for what the referee interpreted as an elbow to Ronaldo's face.
But did the 28-year-old make a meal of his one-on-one against the Italian? Replays would seem to show he turned around to look at the referee before going to ground.
See for yourself.
Exhibit C: Arturo Vidal vs. Real Madrid
This incident took place during the same Real Madrid-Juventus match, an encounter the Daily Mirror later referred to as a "dive-off."
And it's pure comedy.
As Arturo Vidal attempted to cross the ball from deep inside the Madrid area, his right foot caught in the pitch and he fell head-first to the floor without a white shirt near him.
Nevertheless, he had the nerve to remonstrate for a penalty, although his protests failed to move the referee.
Voting on this one will be rather one-sided.