A sound running game is usually a new quarterback's best friend. In 2013, there were a lot of new quarterbacks in the Big 12.
Not surprisingly, the conference traditionally known for airing it out was dependent on the the ground game. In fact, seven of the Big 12's 10 teams ran the ball at least 50 percent of the time, technically making them a "run-first" offense.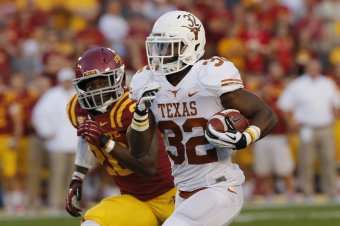 David Purdy/Getty Images
Two other teams, TCU and West Virginia, ran the ball 49 percent and 48 percent of the time, respectively. Only Texas Tech, which ran the ball 36 percent of the time, was a true "pass-first" offense. Though, with the evolution of the spread offense, screens, swings and slants are essentially extensions of the running game.
Running the ball was popular in the Big 12, although no running back cracked the top 30 nationally in rushing yards. Kansas' James Sims, at 1,110 yards, came in at No. 31 and led the conference.
Still, some of the biggest names on offense in the conference were running backs: Baylor's Lache Seastrunk and Glasco Martin, Oklahoma's Brennan Clay, Kansas State's John Hubert, Texas' Johnathan Gray and Malcolm Brown and West Virginia's Charles Sims.
Seastrunk, Gray and Sims made Michael Felder's B/R Top 250 list for running backs.
So will the Big 12 continue to be a conference that runs the ball?
Consider first that all of the names mentioned above—save for Seastrunk, Gray and Brown—are seniors. Seastrunk and Brown are juniors and could declare for the NFL draft.
But there are some solid names that could be the next wave of great running backs in the Big 12. Baylor freshman Shock Linwood, for example, was the team's second-leading rusher and carried the load for the Bears while Seastrunk and Martin sat out with injuries.
Junior running back Desmond Roland broke out in the second half of the season and TCU's B.J. Catalon, just a sophomore, is a threat to score every time he touches the ball. Other underrated running backs that should return next year include Dreamius Smith for WVU and Aaron Wimberly for Iowa State.
Offenses in the Big 12 should generally be better in '14 as well. A majority of the teams return starting quarterbacks and several top receivers, like K-State's Tyler Lockett, could be back too.
But the running backs likely to return have plenty of game experience, so don't expect too much of a drop-off in rushing attempts.
Since all things are cyclical, the Big 12 could return to a high-powered offensive conference soon enough. The SEC, after all, was known for great defenses until 2013 when veteran quarterbacks began tearing up secondaries.
For at least one more year, though, the Big 12 should be full of excellent rushing offenses.
Ben Kercheval is the lead writer for Big 12 football. All stats courtesy of the NCAA.