Your 2010 Baltimore Orioles Lineup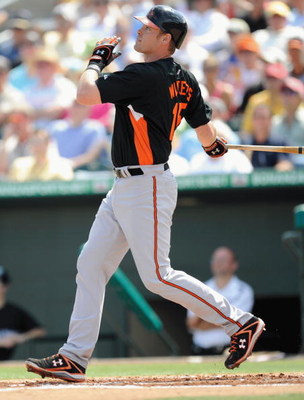 I know this is looking way, way ahead, but I'm extremely excited about the future O's. I think this team can contend for a wild-card spot next year if the pitching is intact. They're offense will be a force to be reckoned with, especially with the top and middle of the order.
If the pitching holds up, they will do well in years to come.
1. Brian Roberts, 2B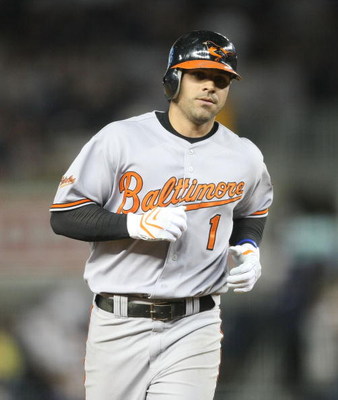 He'll be the Orioles lead-off hitter 'til he's not on the team anymore. I think that B-Rob is one of the most underrated hitters in baseball. His average is always around .300 and he is good for 10 homers a year and 50 RBI, which is good for a leadoff man. He's the steady vet that really drives the O's.
2. Adam Jones, CF
I'm calling it right now: Adam Jones is going to be the best center fielder in baseball in two years. He's an absolute monster. He is a five-tool player.
His power is really starting to show itself, and his ability to hit for average is well beyond his years. I think he eventually could move to leadoff when Roberts is gone.
3. Nick Markakis, RF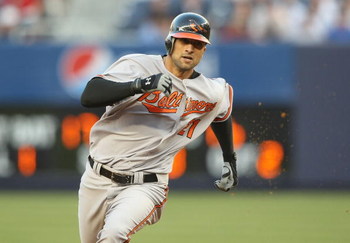 Nick Markakis is maybe the best young player in the game. He also is a five-tool player. His hitting ability is out-of-this-world and he has a cannon arm in RF. He'll be the catalyst for the Orioles for many years to come.
4. Matt Wieters, C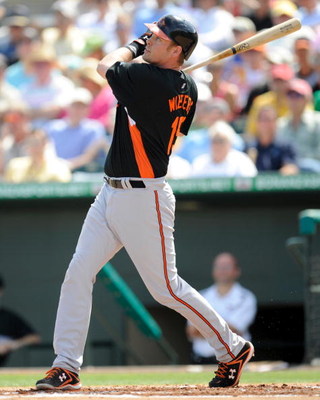 Here he is: the herald prospect, Matt Wieters. He got called up and had a good game yesterday, with a triple and double. Scouts say he's Joe Mauer with more power.
I'm not sure about that, but if he's as good as Mauer, we'll have the best catcher in the game. He too we'll be a mainstay in the O's lineup for years to come.
5. Nolan Reimold, LF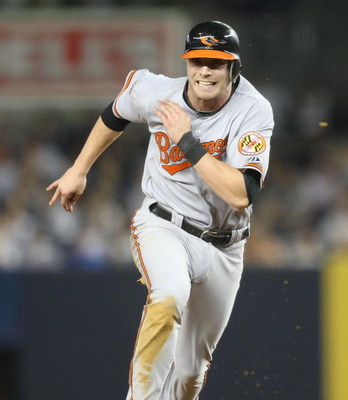 This guy is considered the "other" prospect. I believe he could actually be almost as good a hitter as Wieters. He's been smacking the cover off the ball since he's been called up. He's the answer in Left Field.
6. Luke Scott, DH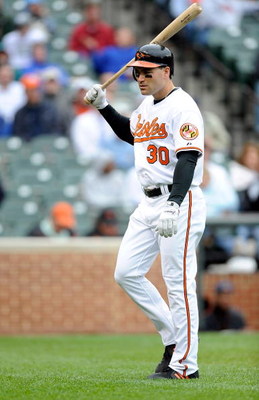 Luke Scott doesn't have anywhere else to go. Left Field will be occupied by Nolan Reimold. Scott is a good hitter and the O's will want to keep his bat in the lineup.
He will become the everyday DH. He's been on a tear lately, and if he can stay a little consistent, he will be a feared hitter.
7. Aubrey Huff, 1B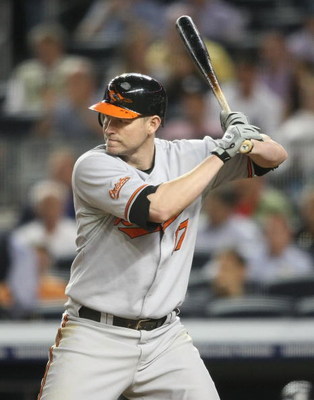 I'm not sure how many years Huff has left with the O's. He can still hit and his fielding is adequate. Huff's job will be in jeopardy if Brandon Snyder plays well in the minors. Huff is just holding down the fort 'til Snyder arrives.
Also, you could see Wieters at first when he's not catching in order to keep his bat in the lineup.
8. Melvin Mora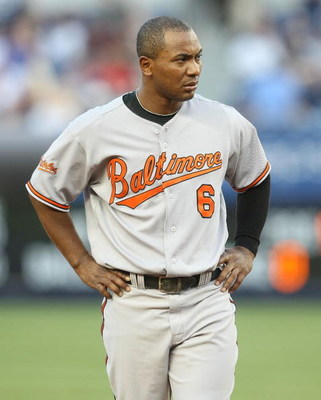 Melvin is also running out of time with the Birds. His defense is good but his hitting is deteriorating. He'll have the job for at least next year, but Ryan Adams, when his fielding gets better, will move there eventually.
9. Cesar Izturis, SS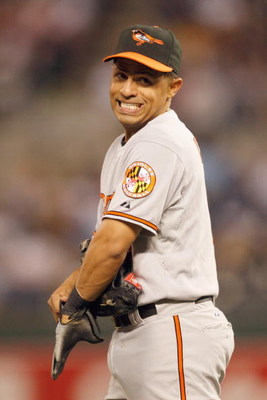 Everyone says Cesar can't hit, but to me he always seems to get the key hits. He's got a good glove and the SS prospects are a couple years away. There are better options, but he's a fine #9 hitter.
Backup Catcher: Greg Zaun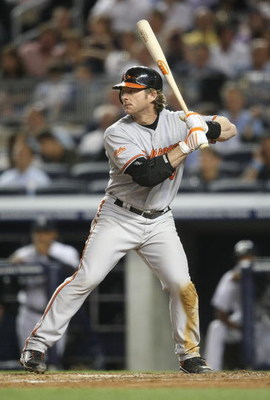 2010 will probably be Greg Zaun's last year with the O's. He's not a very good hitter, but he does very well behind the plate and can mentor Matt Wieters. He'll have the job for next year and will then be replaced by Caleb Joseph.
Fourth Outfielder: Lou Montanez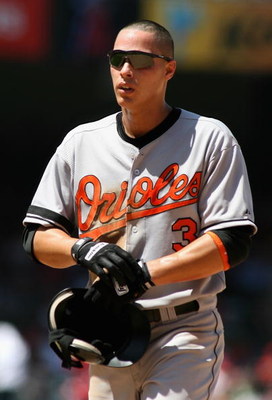 Lou has impressed me this year. He's got good speed, a decent arm, and a good bat. Unfortunately, Nolan Reimold is hitting very well against Major League pitchers and will have the starting RF job for many years.
Lou could be a good pinch-hitter and may be able to contribute in the field.
Utility Inf.: Robert Andino
Hopefully by this time next year, Blake Davis will be ready to join the O's and be the Utility man. Unless they pick up a free agent, Andino will likely be that guy. He's very erratic, but when he's on, he can hit and field well.
Keep Reading

Baltimore Orioles: Like this team?