5 Prospects Toronto Maple Leafs Should Have Their Eye on in 2014 Draft Class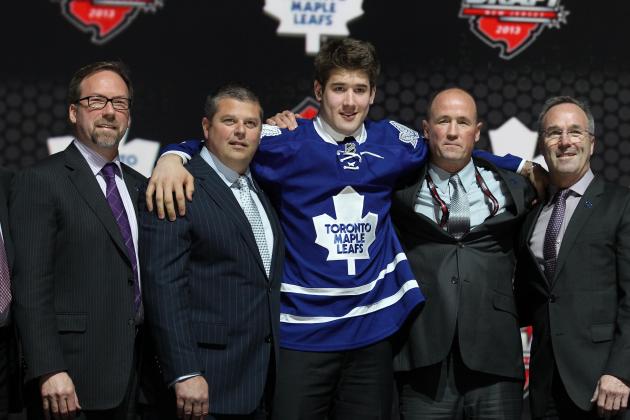 Ed Mulholland-USA TODAY Sports
2013 NHL Draft
The Toronto Maple Leafs have had to use a handful of talented players from their minor league system this fall. For several reasons, some of their top NHL prospects have played large roles on many nights.
Despite indications that the NHL salary cap will rise substantially in the coming years, developing players from within an organization's system is a cost-effective way of building a contending team. It frees up extra dollars for bringing in pieces that the organization lacks, but may need to make a long playoff run.
As it stands, the Leafs are likely to be drafting in the middle of the first round of the 2014 NHL draft.
While there can be a lot of movement among draft prospect rankings throughout the year, here are some potential considerations for the Leafs in that particular spot next summer at the NHL draft in Philadelphia.
Unless otherwise noted, all stats courtesy of Hockeydb.com
Begin Slideshow

»
Left winger Nick Ritchie has a lot of upside and projects to be a top-six winger in the NHL. Ritchie has all the physical attributes of a power forward, not unlike his older brother, Brett, who is in the Dallas Stars organization.
While Ritchie has to continue to work on his speed, he's a natural goal scorer who drives to the net with abandon. He has 15 goals in 28 games this season. If paired with a gifted playmaker, he could be a real threat to score regularly at the NHL level.
At 6'2" and well over 200 pounds, Ritchie is a lot to handle in the offensive zone. He is a work in progress in many ways, but his talent is undeniable.
If you're looking for a pro comparison, Nathan Horton or James van Riemsdyk come to mind.
Haydn Fleury follows in a long line of very good defence prospects from the central Alberta team. Current Leafs captain Dion Phaneuf was a standout for the WHL squad as a junior player.
At 6'3" and almost 220 pounds, Fleury combines a great physical presence with vision and excellent mobility. He is a natural puck-handler who can close quickly on players. At the junior level, he can be dominant along the boards and in front of the net.
There is every reason to believe that Fleury can develop into a top-four defender in a few seasons. While the Leafs have some very good NHL defence prospects, no organization can have too many, given the length of time it takes for defence prospects to develop.
Spencer Watson is a talented right winger with the Kingston Frontenacs. He needs to continue to fill out, as he's listed everywhere from 5'10" to 6'0" and from 157 to 170 pounds.
What we do know is that he's a highly talented sniper. He's years away from being an impact NHLer, but his offensive talents alone make him an intriguing first-round pick in 2014.
Watson excels at reading the play and there are few wasted movements in his game. He has the tools to be a very good top-six winger in the NHL.
Like most teams, the Leafs lack organizational depth at centre. At 6'0" and 172 pounds, Dylan Larkin has decent size for a draft-eligible player.
Larkin has the markings of a very good second-line centre in the NHL. He has soft hands, paired with a nose for the net. He'll be one of the younger players eligible for the draft, so immediate expectations should be lowered for him based on his late birthday.
He's already matched his point total of last season with 14 points in 12 games. If Larkin is available in the middle of Round 1, he could be a very good pick for the Leafs.
OHL star Jared McCann has speed to burn and a high hockey IQ to go with that speed. He sees the ice very well for such a young player.
If McCann falls at all on draft day, the Leafs would do well to take him because the Leafs could use help at the centre position more than anywhere else.
He has suffered a serious concussion in his young career, but that does not make him unique given the speed of today's game. The Ontario native has 38 points this season and is one of the most exciting draft-eligible players to watch in the OHL.
Expect big things from McCann in the years to come, whether he's a Leaf or not.