Breaking Down the Best Trade Targets for Houston Rockets in Omer Asik Deal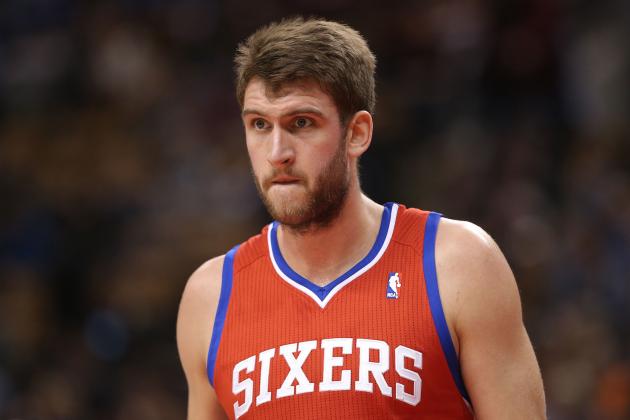 Tom Szczerbowski-USA TODAY Sport

Omer Asik is on the move.
Well, not yet. He hasn't officially been traded away from the Houston Rockets despite what seems like decades of trade rumors and reports that he's fully achieved disgruntled status. But he's going to be before Dec. 19 is through.
According to both Yahoo! Sports' Adrian Wojnarowski and ESPN's Marc Stein and Brian Windhorst, a deal is certainly coming soon. And it'll come from a laundry list of options, one that includes the Cleveland Cavaliers, Philadelphia 76ers, Boston Celtics and Atlanta Hawks.
Those are the options that I'll be breaking down here.
Asik could technically be traded for someone like Ryan Anderson, but that rumor hasn't risen to the forefront of the blogosphere lately. The New Orleans Pelicans could qualify as the "wildcard" that a league source refers to, per Wojnarowski, but that is more speculation than concrete rumor (as concrete as a rumor can get, I suppose).
It's the players who are actually mentioned in these leading whispers that are being ranked in this article, and they're presented from worst to best fit for the Rockets. The likelihood of the deal doesn't matter.
Only the return that Houston would be receiving for the Turkish big man.
Begin Slideshow

»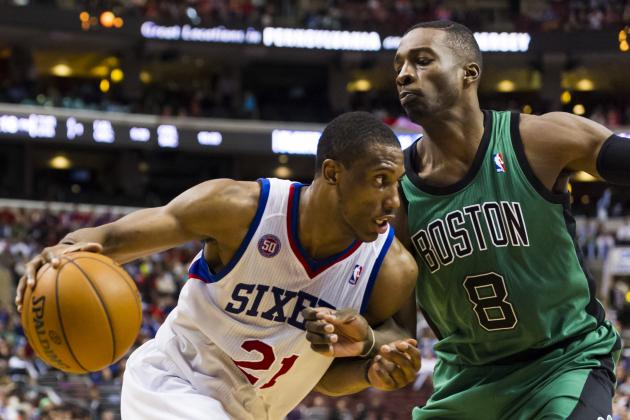 USA TODAY Sports

Both of these players would be great fits for the Houston Rockets in their quest to rise to the top of the Western Conference. But that's not why they're grouped together, and it's certainly not the reason that they're paired at the No. 6 spot. Especially when there are only...six spots.
It's because neither of these players fits into the long-term plans and would only be accepted by the Rockets due to a dearth of any other options.
As ESPN's Marc Stein and Brian Windhorst report, "Sources say the Rockets are conflicted about taking back Philadelphia's Thaddeus Young or the Celtics' Green because each player has two more seasons left on his contract after this one."
Houston would instead need to move into the realm of three-team deals here, because general manager Daryl Morey covets cap space in the future above all else. Without spare money, the team can't hope to re-sign Chandler Parsons when he hits the free-agent market after the 2014-15 season.
If Green or Young had only one year remaining on their deals, things would be different. But both are signed through the 2015-16 campaign (Green with a player option and Young with an early termination option), and that prevents Houston from keeping together the three-man core it already boasts.
James Harden and Dwight Howard are both key parts of the future. But now Parsons is viewed in the same light, especially since he has the potential to continue developing into a star player.
That's enough to knock these targets all the way back to the end of the rankings, even if they aren't entirely out of the sweepstakes.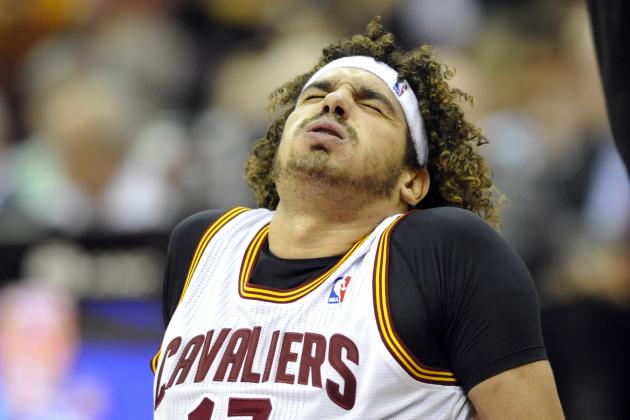 David Richard-USA TODAY Sports

What exactly does this solve?
Omer Asik didn't work alongside Dwight Howard because he couldn't provide the floor spacing that the Rockets so desperately need. Without lanes and open space, D12 can't go to work in the post, and the incessant drives of Jeremy Lin and James Harden are far easier to stop.
So why would Anderson Varejao be any different?
As B/R's Dan Favale wrote, "Rockets head coach Kevin McHale would be faced with the spacing problems he has now, only not as severe, and one of the two bigs would have cooler hair."
Frankly, I'm not even sure I agree with the "not as severe" part of that assessment, though I certainly can't argue with the overall message. Varejao might be a slightly more adept jump-shooter, but he spends more time than his Turkish counterpart around the basket seeking out rebounds and less time on the perimeter setting screens.
At the very least, it's close. And "close" isn't good enough for the Rockets, who should actually be looking to improve the roster, not stagnate with different pieces.
Varejao ranks higher than Thaddeus Young and Jeff Green as a trade target simply because he doesn't cripple the future hopes and plans of the organization. His contract expires at the end of 2014-15, so he wouldn't be in the way when the Chandler Parsons sweepstakes begin.
But it's not like he's going to move past anyone else.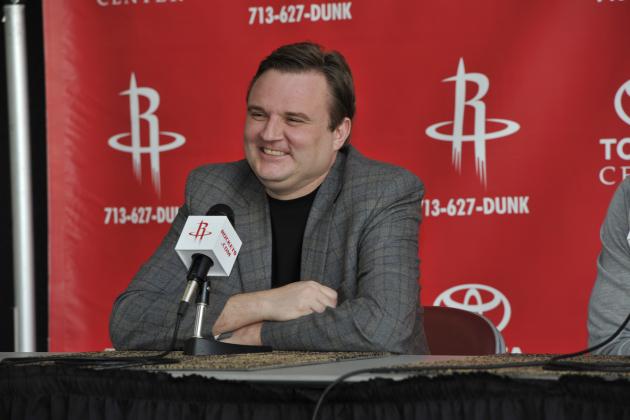 Bill Baptist/Getty Images

Speaking of assets that wouldn't actually help out the Houston Rockets this season...
General manager Daryl Morey's affinity for chasing superstars and stockpiling draft picks is rather well known at this point. Not including the picks that he traded away for James Harden, Morey's Rockets have been able to select seven players in the last three drafts, and five of them have been first-rounders.
Amazingly enough, Chandler Parsons is one of the two non-first-rounders, but that's beside the point.
Morey is great at uncovering gems in the draft, and he loves giving himself a lot of opportunities to do so. Whether he gets an additional spot in the first round via the Philadelphia 76ers or Boston Celtics, this would be a positive.
And that's why it comes in just ahead of Anderson Varejao but behind the three players who would actually make an impact in 2013-14.
How exactly does adding a draft pick help the Rockets win a title this season? That's the ultimate goal, as Houston boasts the services of two unquestioned superstars and a roster that's both deep and loaded with talent.
With a 16-9 record, the Rockets are right in the thick of the competition for an upper-tier playoff seed in the difficult Western Conference. They're right on the brink of moving past the Los Angeles Clippers for the No. 4 spot, and there's plenty of time left to make a run at the top spot in the conference.
But that's not going to happen if Houston doesn't find a way to upgrade the roster. Even slightly.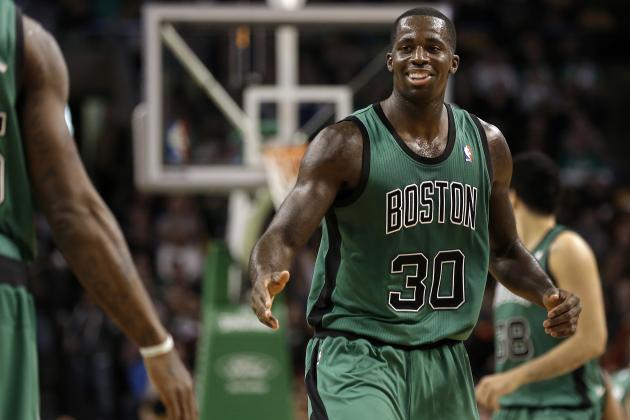 Winslow Townson-USA TODAY Sports

Now we get to the players who can actually help out the Houston Rockets in the present without messing things up down the road.
Brandon Bass has been playing steady, albeit unspectacular, basketball for the Boston Celtics without Rajon Rondo on the court. It's a positive development because so much of his offensive output relied on point guards driving the ball and kicking it out to him for an open jumper.
Despite the absence of the All-Star point guard, Bass has used one of the Association's best mid-range shots to help him average 11.2 points, 6.3 rebounds, 1.3 assists, 0.6 steals and 1.2 blocks per game. He's also shooting 45.9 percent from the field, which is a solid mark for a player who doesn't crowd the rim when he's on the court.
Synergy Sports (subscription required) also shows why his value has been on the rise.
He's not as heavily dependent on spot-up opportunities anymore. In fact, he's struggled on those this season and is still posting a good line thanks to his improved work in isolation sets and posting up. He's become more of a well-rounded power forward, and he still doesn't mess with the floor-spacing abilities of his squad.
Thanks to the emergence of Terrence Jones as a 4 worth starting next to D12, that floor-spacing power forward is no longer quite as necessary. Having a player like Bass—one who can bang around in the post and still step out to the perimeter—is more valuable than before.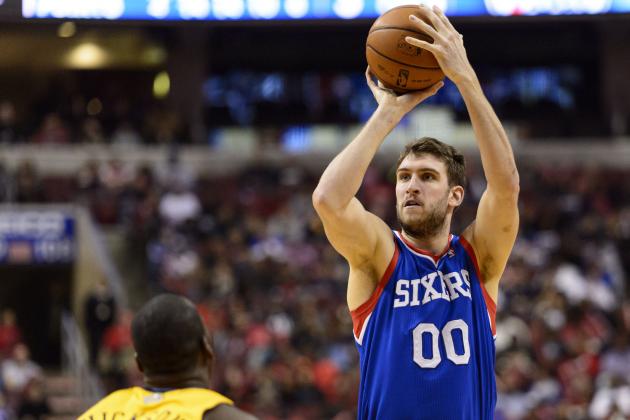 Howard Smith-USA TODAY Sports

The Houston Rockets would be absolutely terrifying if Spencer Hawes were added into the mix.
Throughout the 2013-14 season, the Philadelphia 76ers have been a rather fun team to follow thanks to the roller-coaster nature of their campaign. During a season of fluctuating results, there's been one consistent player during both the hot start and Icarus-like free-fall back to Earth: Hawes.
The big man has been lighting it up from outside, and he's never shot the ball with more confidence or while utilizing a purer stroke.
Hawes has been letting fly from beyond the arc 3.9 times per game, and he's still drilling 43.6 percent of his attempts. Those numbers are both career highs, and they aren't even close to the No. 2 marks he's earned throughout his career. In fact, the previous bests were 1.5 and 35.6, respectively.
There's always the sustainability question when a player takes this big a leap forward, but nothing appears to point toward a fluky start to the season. Those are marks that one can reasonably expect Hawes to maintain throughout the year, especially if he continues to be surrounded with a high-paced offense that features tons of scoring threats.
You know, like the one that Houston boasts.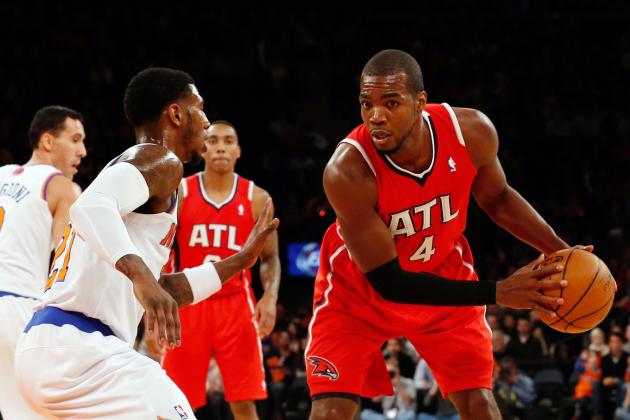 Anthony Gruppuso-USA TODAY Sport

Let's be perfectly clear.
Paul Millsap is not going to be traded for Omer Asik, not unless the Houston Rockets sweeten the deal rather significantly. The Atlanta Hawks value the versatile forward quite a bit, and he's experienced nothing but success next to Al Horford as his new team has risen to the No. 3 spot in the Eastern Conference.
Danny Ferry, the general manager in Atlanta, is not an idiot. Quite the opposite, in fact, and he'd have to be rather dumb to make a one-for-one swap like this.
For a full breakdown of why Asik-for-Millsap makes zero sense from Atlanta's perspective, check out Matt Moore's explanation on CBS Sports.
However, it's still a leading rumor. And since it's a rumor, Millsap gets to work his way up to the No. 1 ranking, as he's by far the best player that Houston could hope to land and pair with Dwight Howard. As Stein and Windhorst write, Millsap is "considered an ideal frontcourt complement to Howard."
And that's for good reason.
Millsap is showing off the full extent of his skills in Atlanta. The undersized forward is playing solid defense next to Horford, and he's expanding the court with his ball-handling skills and ability to knock down three-pointers.
All of that would be useful for the Rockets, but only if Morey can somehow pull the wool over Ferry's eyes.