The reality that there are only two weeks of NFL football left has fans everywhere devastated.
Once bettors overcome the sadness, it's time to enjoy Week 16 of the regular season and begin deciphering which favorites will falter. The only thing that could make the penultimate week worse is losing a wager.
Here is a complete list of picks against the spread and the three games featuring the favorites most likely to disappoint.
*Stats via NFL.com. Betting information via Vegas Insider.
Week 16 NFL Picks Against the Spread

| | | | |
| --- | --- | --- | --- |
| Away Team | Home Team | Spread | Pick ATS |
| Miami Dolphins | Buffalo Bills | MIA -3 | Dolphins |
| New Orleans Saints | Carolina Panthers | CAR -2.5 | Panthers |
| Dallas Cowboys | Washington Redskins | DAL -3.5 | Cowboys |
| Tampa Bay Buccaneers | St. Louis Rams | STL -4.5 | Rams |
| Chicago Bears | Philadelphia Eagles | PHI -4 | Eagles |
| Cleveland Browns | N.Y. Jets | NYJ -1 | Browns |
| Indianapolis Colts | Kansas City Chiefs | KC -6.5 | Colts |
| Minnesota Vikings | Cincinnati Bengals | CIN -8 | Vikings |
| Denver Broncos | Houston Texans | DEN -9.5 | Broncos |
| Tennessee Titans | Jacksonville Jaguars | TEN -4 | Jaguars |
| Arizona Cardinals | Seattle Seahawks | SEA -9.5 | Seahawks |
| N.Y. Giants | Detroit Lions | DET -9.5 | Lions |
| Oakland Raiders | San Diego Chargers | SD -9.5 | Raiders |
| Pittsburgh Steelers | Green Bay Packers | PK | Packers |
| New England Patriots | Baltimore Ravens | BAL -1.5 | Patriots |
| Atlanta Falcons | San Francisco 49ers | SF -10 | Falcons |
Source: Vegas Insider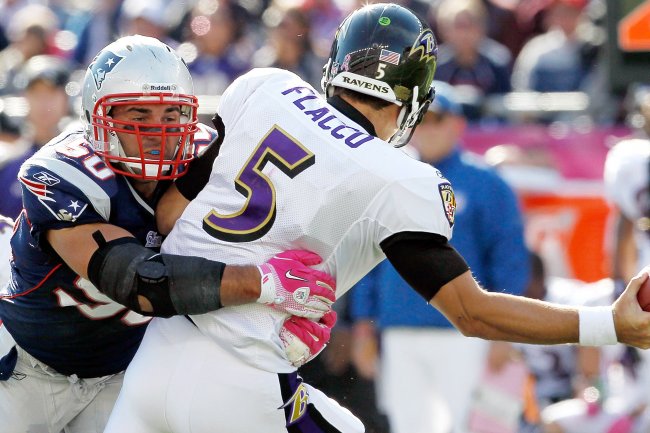 Jim Rogash/Getty Images
New England Patriots (+1.5) Over Baltimore Ravens
With the Baltimore Ravens coming off a big win and the New England Patriots coming off a heartbreaking loss, Baltimore is the 1.5-point favorite at home this weekend.
Despite the odds stacked against Tom Brady and the Patriots, New England has too much talent not to expose the Ravens' weaknesses. Baltimore was able to beat Detroit on Monday night, but it was an ugly 18-16 victory.
The Ravens won't be able stifle the Patriots like they did the Lions.
When facing John Harbaugh, Bill Belichick is 2-0-1 ATS in the regular season, but 0-3 ATS in the postseason. #Patriots are +2.5 at #Ravens.

— Bet Labs Software (@Bet_Labs) December 18, 2013
Before New England ran into the Miami Dolphins buzz saw in Week 15, the team had won three games in a row and was playing its best football of the season. There is no doubt that the injury to tight end Rob Gronkowski set the offense back, but the emergence of wide receiver Julian Edelman as an elite possession weapon will be the difference against Baltimore.
The Ravens secondary has been susceptible this season, allowing 231.6 yards passing per game, and the combination of Edelman and Brady will take advantage of the issues the Baltimore has covering in the nickel defensive sets.
Fans should expect New England to not only cover the spread, but also win outright.
Predicted Final Score: New England 27, Baltimore 20
Christian Petersen/Getty Images
Indianapolis Colts (+6.5) Over Kansas City Chiefs
In what could be the most exciting matchup of the weekend, the potential AFC playoff preview between the Kansas City Chiefs and the Indianapolis Colts has gamblers running to the betting windows.
With Kansas City favored by an outrageous 6.5 points, taking the Colts should be a no-brainer.
After multiple high-scoring games, it's clear Kansas City is thinking offense first now; that's good news for an Indianapolis team that can put up points in bunches.
The Colts have struggled to find consistency all season, but an offense led by Andrew Luck still has the ability to make big plays if the opportunity arises. After he was held to just 180 yards and two touchdowns against the stout pass defense of the Houston Texans, Indianapolis should expect much better results after the Oakland Raiders racked up 331 combined passing yards on the Chiefs last week.
Whether the Colts win the game or not will depend on their ability to run the ball consistently, but the recent history of both teams indicates this will be a close game. With a 6.5-point spread, take Indianapolis and the points.
Predicted Final Score: Kansas City 33, Indianapolis 30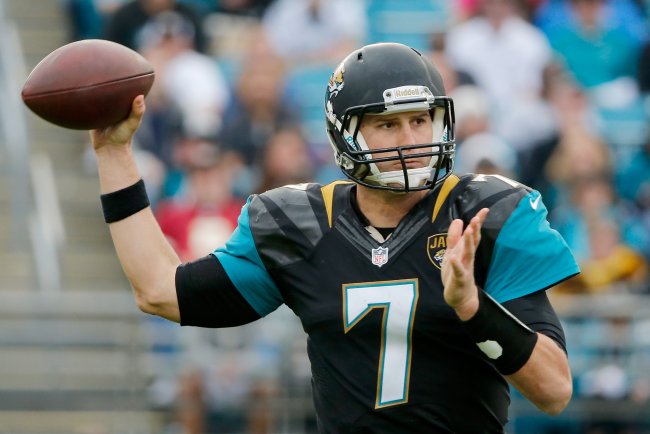 Sam Greenwood/Getty Images
Jacksonville Jaguars (+4) Over Tennessee Titans
It's hard to place a wager on a team as bad as the Jacksonville Jaguars, but when the matchup is against the Tennessee Titans and the road team is favored by four points, it's time to take an educated risk and bet it all on teal.
Which underdog is worth the biggest wager?
As well as the Titans have played, the team has lost three games in a row. While Jacksonville lost in Week 15 as well, the Jaguars had won four of the last five games coming into last Sunday.
The spread has been set for a potential lopsided matchup, but this will be a hard-fought game. Look no further for proof than Jacksonville's 29-27 victory over Tennessee earlier this season.
Neither team has an offensive unit that has found any consistency, but both franchises boast underrated defensive units. The Titans have fought hard even during losses, but the team has found ways to lose.
The Jaguars have been bad in 2013, but with Chad Henne playing well and the team finding a consistent rushing attack, Jacksonville will cover the spread and have a very good chance to win the AFC South divisional battle.
Predicted Final Score: Jacksonville 24, Tennessee 23