In terms of big games in the first week of the bowl season, the Famous Idaho Potato Bowl is one of the best. With a matchup that features one of the best defensive players in the country facing off against a team that has fought back from adversity just to get to this point, both the Buffalo Bulls and San Diego State Aztecs will be putting it all on the line on Saturday.
Aside from the obvious fact that college football fans will be able to get their last—and potentially first—look at Khalil Mack in a Buffalo uniform before he is drafted in likely the first round of the 2014 NFL Draft, there are other reasons to watch this game.
Before getting to the obvious treat of watching Mack, let's start with what the Bulls do well on offense—especially in the running game.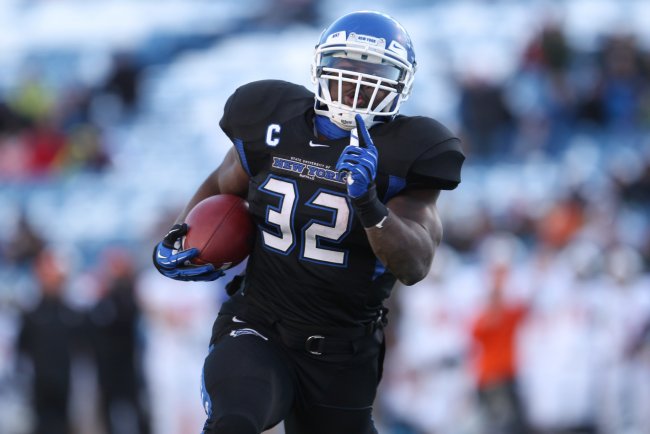 Timothy T. Ludwig-USA TODAY Spor
Branden Oliver
Buffalo has rattled off wins in eight of its last 10 games to finish second in the East Division of the MAC behind conference champion Bowling Green. Most college football and NFL fans have heard of Mack, but Branden Oliver is one of the most important offensive weapons the Bulls possess.
Shaun DePasquale of NFLDraftDiamonds.com named Oliver one of the best underrated running backs in the country this season:
2014 All-Underrated RB team: Dom Williams-Wagner Zach Bauman- UNA Avery Walker- Bemidji State Dillon Baxter- Baker Branden Oliver- Buffalo

— Shaun (@ShaunDoesDraft) December 11, 2013
Oliver has carried the ball 282 times for 1,421 yards—an average of just over five yards per carry—and 15 touchdowns, the most rushing touchdowns he's had in a single season in his career.
The senior started the year strong against two ranked opponents, but has really come on late in his last eight games. In just eight matchups, Oliver has rushed for 1,226 yards and 13 touchdowns with an average of 153.25 yards per game.
With five games at over 150 yards and two with 215 or more, Oliver could be the sparkplug on offense that Buffalo will need. Throw in the fact that Oliver has four multi-touchdown games and the senior could very well have a good showing on the biggest stage of his career.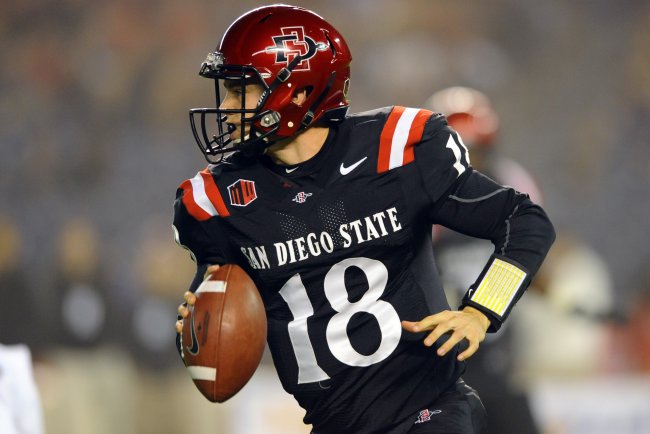 Christopher Hanewinckel-USA TODA
SDSU Passing Game
Quinn Kaehler didn't start the season for the Aztecs when they suffered an embarrassing 40-19 loss to FCS Eastern Illinois, but he has certainly finished the season. With 2,769 passing yards and 17 touchdowns in just 11 games, Kaehler has been one of the biggest keys to the Aztecs' turnaround.
Sporting a 60.1 completion percentage, Kaehler also has some sure-handed receivers including fellow junior Ezell Ruffin. The 6'1" receiver has exploded onto the scene since Kaehler took over, with six games of 80 or more yards for San Diego State.
The Famous Idaho Potato Bowl's official Twitter account featured Kaehler:
10 days until kickoff! Today we feature @GoAztecs QB Quinn Kaehler, who will lead the #Aztecs into Boise with 2796 yds & 17TDs on the season

— FamousIDPotatoBowl (@IDPotatoBowl) December 11, 2013
Ruffin has over 1,000 yards on the season and three touchdowns, but the real home run hitter has been Colin Lockett. The speedy 6'0" senior has just 696 yards receiving this year but has 355 yards and four touchdowns through the air in his last four games.
With two outstanding receivers on either side of Kaehler, the junior will simply need time in the pocket to break the game wide open. But time in the pocket will be at a premium for the Aztecs against Mack.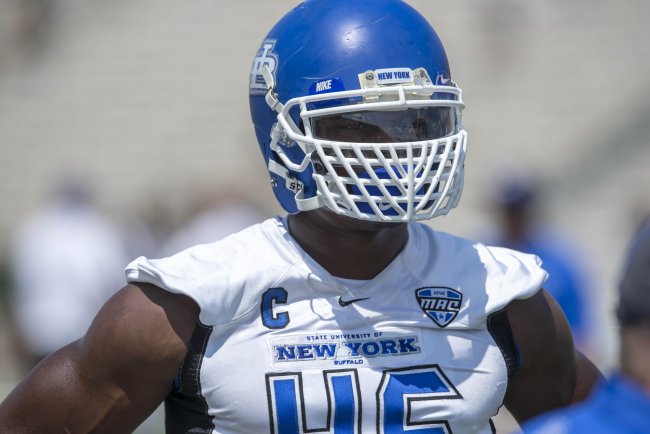 Jerome Miron-USA TODAY Sports
Khalil Mack
The man that has officially put the Buffalo football program on the map is a man that has led the Bulls for the last two seasons on the defensive side of the ball. But for all of his accomplishments, he was passed over by several programs and was rated as a two-star prospect by Rivals.com.
Since his time started with Buffalo, Mack has proven to be one of the best defensive prospects in all of college football and could be a top-10 pick in the NFL Draft according to Dane Brugler of CBSSports.com.
All he did this season was dominate again with 10.5 sacks and tied Jason Babin's career tackles for loss record with 75 over his career. Mack already holds the record for forced fumbles with 16 and should easily break Babin's career mark if he can breach the Aztecs' backfield.
Though many college football fans have probably not been able to watch a Buffalo game this season, tuning into the Famous Idaho Potato Bowl just to see how Mack might fit on their favorite NFL team might be worth their time. Oh, and the wonderful Idaho Potato commercials are worth a watch.
Prediction
Who will be the better defensive NFL player?
The Aztecs do have several offensive weapons that could lead to them pulling this one out, the rushing attack and defensive prowess of Mack will be too much for them overcome.
If SDSU can find a way to get the ball out quickly and give Kaehler enough time to make plays, it will be able to put up points and make this a close game. But when Oliver gets going on the ground, Buffalo will pull away and win the first bowl game in program history.
Final: Bulls 24, Aztecs 20