There is only one bigger trophy a WWE Superstar can hang on his wall than defeating John Cena without interference, without assistance.
Breaking Undertaker's undefeated streak at WrestleMania is the company's holy grail, but the more attainable goal that changes a Superstar's career is getting by Cena.
At TLC 2013, Randy Orton not only claimed the WWE World Heavyweight Championship, but he added a clean victory over Cena to his resume. It's a feat that happens rarely and has more power to boost one's momentum than any single victory.
Cena is the benchmark for a Superstar's greatness.
Knocking him off is akin to felling Superman. Only a select few ever do so.
The momentous feeling that surrounded Orton's win at TLC was partially born from the prestige of winning both world titles. Having his victim be the leader of the Cenation amplified the importance of the victory. The Apex Predator is the latest wrestler to be thrust forward by a win over WWE's biggest star.
A Place on the Mountaintop
A college football team can prove its might by defeating the No. 1-ranked team in the country. Besting the top-ranked tennis player shoots a player's star power upward. The same is true for defeating Cena.
In 2009, when WWE wanted to portray Sheamus as a human wrecking ball, it sent him after Cena.
They met at the first-ever TLC pay-per-view and as powerful as WWE had made Sheamus look, the champ was still the heavy favorite. Sheamus' shocking win earned the audience's attention like no other victory could have.
Sheamus defeats John Cena at TLC 2009.
After having been with the company for a few months, The Celtc Warrior was made to look like an elite talent. Besting the best will do that.
As Ric Flair said, "To be the man, you got to beat the man."
Cena has been "the man" for a long time now. When the company chooses someone to defeat him, it's a sign of great confidence, a sign that WWE believes one is ready to climb onto the upper rungs.
That was true for CM Punk in 2011.
Punk was pushed as a defiant trailblazer. What became known as "The Summer of Punk" wouldn't have had nearly the same effect had it not been punctuated by a win over Cena at the Money in the Bank pay-per-view.
CM Punk wins against John Cena at Money in the Bank 2011.
Whether or not the distraction from Vince McMahon at ringside prevents this from truly being a clean win, the moment's magnitude was due to Cena being Punk's victim. Had Big Show, Orton or Alberto Del Rio been the champion that fell to Punk in Chicago that night, the victory's power would have been lessened.
Few noticed when James "Buster" Douglas won his first eight fights. It was his ninth, a knockout over Mike Tyson, that catapulted him into the spotlight.
That's what Daniel Bryan pinning Cena at SummerSlam 2013 did.
It wasn't an upset on the level of Douglas vs. Tyson, but it was Bryan's biggest win by miles. This is the benefit of Cena's seemingly permanent roost on top of the WWE. Beating him has the power to elevate rising stars.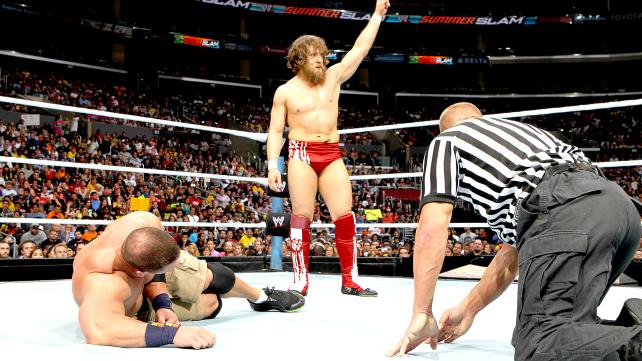 WWE.com
Bryan didn't follow up his win with much success, but having it on his resume puts him in a different class of Superstar. WWE books Cena so differently than its other Superstars that it changes the market value of victory.
Immortal Among Mortals
2013 has provided a number of images of Cena doing things that his peers cannot.
On Nov. 11, The Real Americans faced him in a handicap match. Antonio Cesaro and Jack Swagger had their share of losses together, but when this bout rolled around, the duo had eliminated two teams in the Tag Team Turmoil match at Night of Champions and defeated the Tag champs on Raw.
They were a team on the rise. Cena defeated them on his own.
Unlike Punk's win over The Shield at TLC, Cena didn't need one of his foes to take out another; he just had to be his Superman-like self.
Not long before that match, a one-armed Cena beat Damien Sandow.
Sandow clobbered the world champ with his Money in the Bank briefcase. He then targeted Cena's surgically repaired arm by smashing it into the steel steps and stomping on it.
A hobbled Cena took Sandow's best shots and came out the victor.
The negative effect of booking like this weakens his foes. It made each of The Real Americans look half as strong as Cena and lessened Sandow's image.
On the other hand, when Cena is done tossing his enemies aside, the power of a win over him increases.
Orton was no rising star in need of signature win. He was a man who discovered an echelon above the one he thought to be the highest.
Hurting Cena the way he did at TLC, playing with him at times, elevated him even with as high as he already was. He can now not only brag about his championship win but about being the one to send Superman face first onto a table.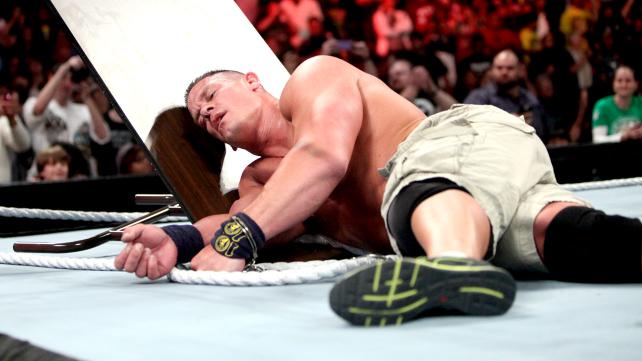 WWE.com
Orton doesn't take over Cena's spot as the biggest get in the business, though. The Viper has not been portrayed as unstoppable as Cena.
He had to resort to underhanded techniques to escape Bryan and has relied on The Authority to assist him in keeping or reclaiming the championship. Cena doesn't need this kind of assistance.
This is why a possible meeting between The Undertaker and Cena remains so intriguing. No one in 21 tries has beaten Undertaker at WrestleMania. Should Cena be pitted against him, doubt about that streak continuing will be born.
The supernatural would face the superhuman and picking a winner would be harder than it ever has been with The Deadman at WrestleMania.
Many believe that no one will ever end Undertaker's streak, and so the power of achieving that feat remains as elusive as finding the Loch Ness Monster. A clean victory over Cena is still rare enough to be a significant triumph—and WWE's most powerful form of transforming a Superstar's resume.