Omar Narvaez vs. David Carmona: Fight Time, Date, TV Info and More
Use your ← → (arrow) keys to browse more stories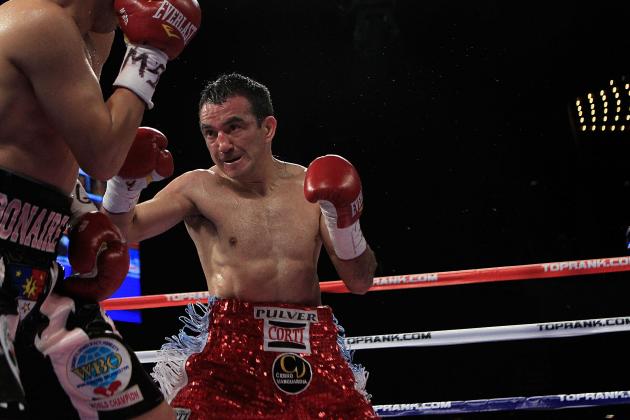 Chris Trotman/Getty Images

Even at age 38, Omar "El Huracan" Andres Narvaez (40-1-2, 21 KO) is going strong. The reigning WBO super flyweight champion will defend his title against David Carmona (16-1-4, 8 KO) Saturday night in Narvaez's native Argentina.
This will be Narvaez's third title defense of 2013. He won a split decision over Felipe Orucuta in May. Most recently, he scored a 10th-round TKO victory over Hiroyuki Hisataka in August.
Carmona is largely inexperienced and though his age is unlisted on BoxRec.com, the video below lists his age as 21.
He is the reigning WBO youth super flyweight champion, so this represents a chance to move up to the big time within the WBO ranks.
El Huracan represents a major step up in competition for the Mexican fighter.
Can he make a name for himself at the expense of a legend? Here's how you can watch the action.
When: Saturday, Dec. 21 at 8 p.m. EST
Where: Villa La Nata Sporting Club, Benavidez, Buenos Aires, Argentina
TV: TyC Sports in Argentina
The Book on Narvaez and Carmona
In His Comfort Zone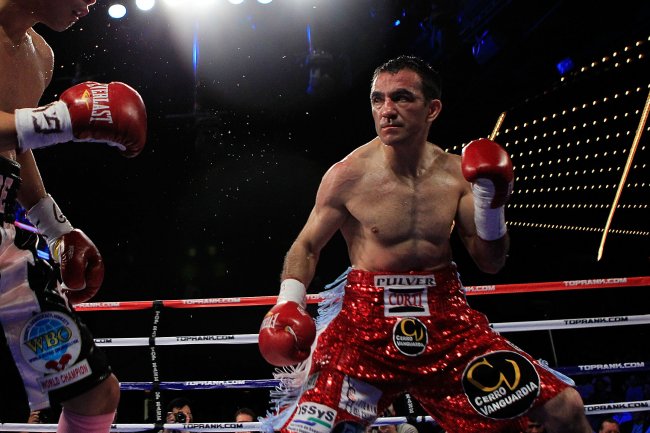 Chris Trotman/Getty Images
Narvaez has never lost at flyweight or super flyweight. The lone time he ventured above the 115-pound weight limit, he lost a lopsided unanimous decision to Nonito Donaire in 2011.
The two champions clashed at bantamweight, but Narvaez did not look good at 118 pounds. Perhaps that was more about Donaire's brilliance than it was about three extra pounds.
The bout also marked the only time Narvaez has ever fought in the United States. Almost all of El Huracan's fights have been in his native Argentina—including the last five.
At this point in his career, it is hard to imagine him fighting anywhere else.
Who is David Carmona?
Carmona is young and a bit inexperienced as a professional, but one look at his in-ring demeanor shows that he's comfortable in the ring. That could change against a hard-charging and aggressive veteran like Narvaez, though.
Carmona won the WBO youth title by defeating Danny Flores in May. In a rematch, he drew with Flores in July. In his last bout, he beat Antonio Tostado Garcia in September. If nothing else, Carmona is staying extremely active.
He's getting the opportunity of a lifetime here. A win would take his career to the next level.
Who wins Narvaez-Carmona, and how?
Prediction
I liked what I saw of Carmona in the bout with Garcia. He has decent head movement and counter-punching instincts. With that said, I question if he has the punching power—at least at this stage in his career—to keep Narvaez at bay.
The Argentinean has a great chin, stamina and he's a good body puncher. I see him wearing Carmona down late. Amidst the pressure of performing on a bigger stage and behind enemy lines, the young Mexican will falter.
This is too tall of an order for him this early in his career. Narvaez will retain the title with a unanimous decision victory.
Follow me for news and musings on The Sweet Science.