The San Francisco Giants were beset by injuries to star players Angel Pagan and Ryan Vogelsong last season, and their farm system was unable to produce viable replacements.
Expect more of the same in 2014, as many of the Giants' top prospects are still furthering their development in the lower levels of the minor leagues. That means another serious injury to a key player could spell disaster all over again.
While most of the prospects are not yet big league ready, there are a couple of exceptions. The prospect who should make the most immediate impact with the big league club is relief pitcher Heath Hembree. In 7.2 innings in the majors last season, Hembree did all he could to impress Giants management, not allowing a run while surrendering just six baserunners.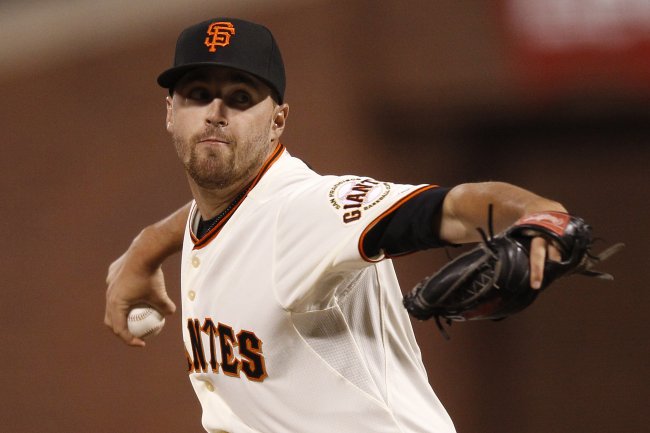 Stephen Lam/Getty Images
Hembree really has little left to prove in the minors, as Marc Hulet of Fangraphs notes. The right-hander has already logged two seasons at Triple-A, and has spent four seasons in the minor leagues overall. There is no reason to suggest that Hembree can't grab a spot on the MLB roster if he has a solid Spring Training. Expect him to play a role in middle relief in 2014.
The upcoming season should also be when we finally see Gary Brown's MLB debut. The 2010 first-round pick was once touted as the Giants' next great outfielder after his breakout 2011 minor league campaign. That year, Brown hit .336 with a .925 OPS, 115 runs scored, 13 triples and 53 steals at the High-A level.
His production has plummeted drastically since, all the way down to a .231 batting average in 2013 at Triple-A. Despite the tough season, however, not all is lost with Brown.
Per Henry Schulman of SFGate's The Splash, Giants assistant general manager Bobby Evans still thinks Brown can be a successful player in the majors. "He's not as far away as you might think," Evans commented. "It's going to be a process. We've got to allow this to happen. He knows he's got to adjust to get better and he's making them."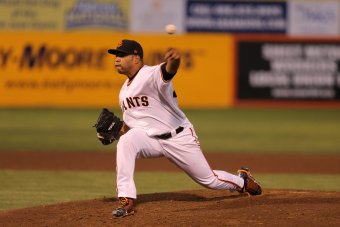 USA TODAY Sports
The final prospect who has a chance of appearing in the majors in 2014 is starting pitcher Edwin Escobar. The left-hander from Venezuela does not boast a power fastball or even dominant control. Rather, he simply has three above-average pitches (fastball, curveball, changeup) that he uses effectively to strike out batters at an impressive rate (146 stirkeouts in 128.2 innings last year) and keep the ball in the yard (12 home runs allowed in the past two seasons, spanning 259.1 innings).
Escobar dominated at Double-A last year, with a 2.67 ERA and 1.06 WHIP in 10 starts. He is one of the team's top prospects and perhaps the most polished pitching prospect in the organization other than Hembree.
Looking ahead to the 2015 season is much more exciting. An army of Giants prospects should see their first big league action, including starting pitcher Kyle Crick, the team's consensus top prospect. General manager Brian Sabean has indicated his intent to debut many of his top pitching prospects in 2015, which include Clayton Blackburn, Chris Stratton and Martin Agosta, in addition to Crick.
The pitching prospects are abundant, but don't forget about shortstop Joe Panik. The 2011 first-round pick struggled in Double-A in 2013 after excellent seasons in 2011 and 2012, but that doesn't mean Giants fans should give up on him.
Panik has perhaps the best discipline of any prospect currently in the organization, as he has drawn 144 walks against just 147 strikeouts in right around 1,500 career minor league plate appearances. The earliest Panik will play in the majors is 2015, and his performance in the upcoming season will perhaps be what determines whether the Giants' decision to spend a top pick on him was worth it.
Another batter with promise in the Giants organization is Christian Arroyo, the Giants' first-round pick in 2013. Arroyo might not end up spending too much time in the minor leagues, which is of course conditional upon continued future production. However, his impressive numbers from 2013 (.326 average, .898 OPS) point toward a bright future. A late 2016 call-up for Arroyo should not be too far of a stretch, although that is looking way into the future.
For now, Giants fans must be content with what they currently have. For the most part, their top prospects are still in the more developmental stages of their minor league careers, and thus should not factor into the 2014 equation.
Fans must wait until 2015 for the real impact of the organization's prospects; as the saying goes, patience is a virtue.
All statistics used in this article are courtesy of baseball-reference.com.