The Anatomy of a College Football Conference Champion
Use your ← → (arrow) keys to browse more stories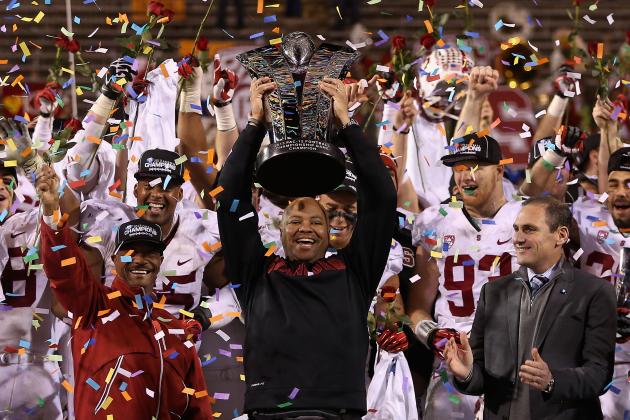 Christian Petersen/Getty Images
David Shaw and Stanford celebrate the 2013 Pac-12 title.
Do the 2013 Baylor Bears and Michigan State Spartans have anything in common beyond their conference titles?
Think about it, Baylor scores 53.3 points per game, while Michigan State averages 29.8. And where the Spartans allow a mere 80 yards-per-game rushing, the Bears give up a generous 135.
Comparing the two is like trying to find similarities between the History and Syfy channels.
That said, surely something more than a trophy connects one conference championship to another, shared traits that are common among teams which rise to the top.
And if there are similarities between the champions, is it possible to utilize this data for a blueprint on how to build a title team?
Well, we've done just that by analyzing the statistical resumes of the champions of the ACC, Big Ten, Big 12, Pac-12 and SEC since 2007.
That's seven years, five power conferences and 40 championship squads: The results are the basic DNA of a modern conference title team.
Be Run Dominant
Though scoring points is critical in any winning season, the common denominator in championships is a solid rushing attack.
This isn't to say that throwing the ball won't get it done—10 of the 40 champions studied had a top five-ranked passing attack—but overall, the rushing game is the key.
To illustrate, 30 of the 40 title teams analyzed—or a whopping 80 percent—finished their championship run with a higher FBS rank in rushing yards than passing yards.
Furthermore, of the 10 teams that had a higher-ranked passing offense than rushing offense, only two made it to the national title game. In both cases—Oklahoma in 2008 and Texas in 2009— the teams went on to lose the BCS championship.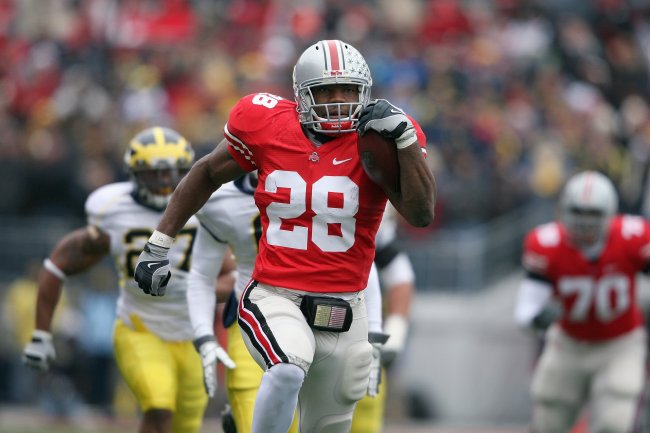 Andy Lyons/Getty Images
For an insider's view, check out what Nick Saban had to say—via Michael Casagrande of AL.com—on ESPN's College GameDay before this season's SEC title game between Missouri and Auburn.
I really do think Missouri has the defense to stop, but the key of the game to me is if Auburn can run the football and dictate the tempo of the game, Missouri is going to have a tough time.
Auburn did run the ball—for 545 yards—and won the game and the SEC title 59-42. Remember, this is a team that ranks No. 1 in rushing offense versus No. 109 in passing offense.
Shut Down the Run
On the other side of the ball, the importance of the run trumps the pass once again.
In this case, 30 of the 40 champions studied held opponents to fewer than 130 rushing yards per game. That's 75 percent of the power-conference champions since 2007.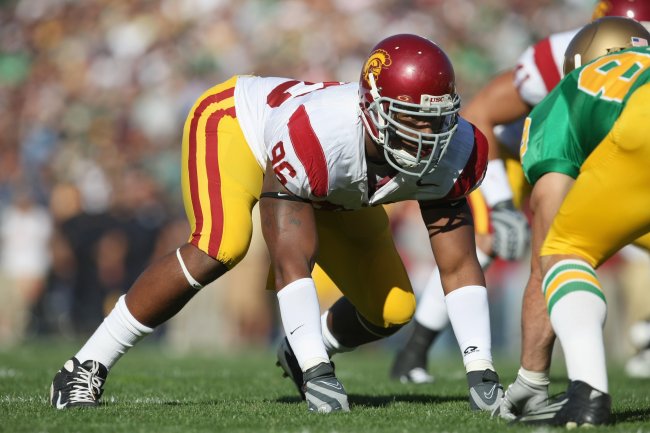 Jonathan Daniel/Getty Images
Only one champion in this time period allowed more than 130 yards per game and ascended to the BCS title game. That team is the 2013 Auburn Tigers, which have given up 164 ground-yards per game this season.
The conference champions with the worst rushing defenses since 2007 are: Oklahoma in 2012 (193 yards per game), Oklahoma State in 2011 (185) and Clemson, also in 2011 (177).
The top three rushing defenses in the study all played for a national title: Texas in 2009 (72 yards per game), Alabama in 2012 (73 yards) and another Alabama team, this time in 2009 (79).
Be on the Plus Side of Turnover Margin
The most overwhelming common trait of recent conference champions is finishing the season with a zero or better turnover margin.
The numbers are staggering: Only five teams have won a league title in a Big 5 conference since 2007 with a negative margin turnover. That's 45 of 50 or a whopping 88 percent.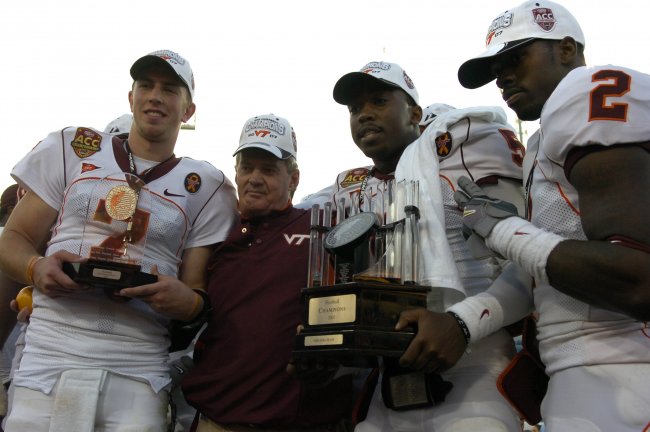 Al Messerschmidt/Getty Images
The five exceptions are: Ohio State in 2007 (-3), Clemson in 2011 (-1), Florida State in 2012 (-5), Oklahoma in 2012 (-4) and Stanford in 2013 (-1).
Of these five, only the 2007 Buckeyes went on to play for a national championship, a game they lost 38-24 to LSU, giving up three turnovers and forcing only one.
The message couldn't be clearer: If you want to win the conference title, your takeaway total must exceed turnovers.
Be Dominant on Third Down
Though it's a big deal to be able to convert third downs on offense—53 percent of the champions studied had a conversion rate of more than 45 percent—it's a much bigger deal to be able to shut down opponents.
Of the 40 champions analyzed, 27—or 68 percent—held opponents to less than 36 percent on third-down conversions.
This number includes all five conference champions in 2013 and every national champion in the last seven years with the exception of Auburn in 2010, which had a 36.96 percent conversion rate.
No conference champion since 2007 has given up more than 42 percent of its opponents' third-down conversion attempts.
The best mark was Texas' 26.5 percent in 2009, and the worst was Oklahoma State's 41.78 in 2011.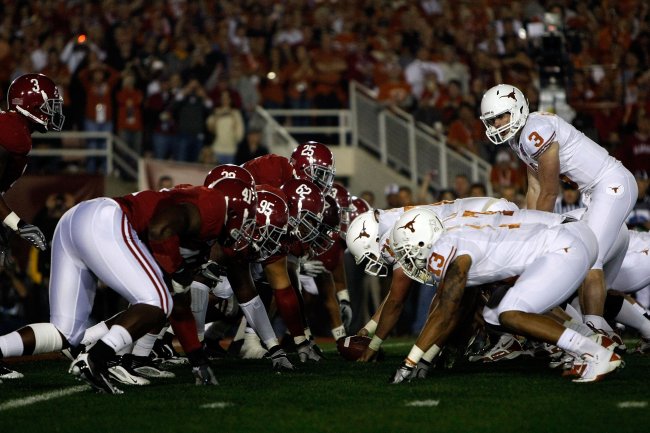 Jeff Gross/Getty Images
The team with the best third-down defense this season? Well, surprise, surprise, that's Michigan State, a team which has allowed opponents to convert third downs only 27.75 percent of the time.
Coming into the Big Ten title game, Ohio State's Urban Meyer knew that the Spartans could be lethal on third down. Here's what he had to say according to Mike Griffith of MLive:
We have to take care of the ball, we have to be in plus-yardage plays. They are a defense built on getting you off schedule, and then they'll blitz your tail off on third down.
How did Meyer and the Buckeyes fare on third down in the conference championship?
Well, Ohio State had converted 49.36 percent of third downs in 2013 (No. 14 in the FBS) but went a woeful 1-of-10 (or 10 percent) against Michigan State and lost the game 34-24.
Have a 940-plus Yard Rusher
The presence of a prolific rusher is second only to a positive turnover margin in the key ingredients to a conference title.
Where 88 percent of title teams had a positive turnover margin, 80 percent had an individual player rush for more than 940 yards.
Though a lot of ink is used to herald the 1,000-yard rusher—a high-water mark for good reason—getting a guy to 900 yards is just as important in making a title run.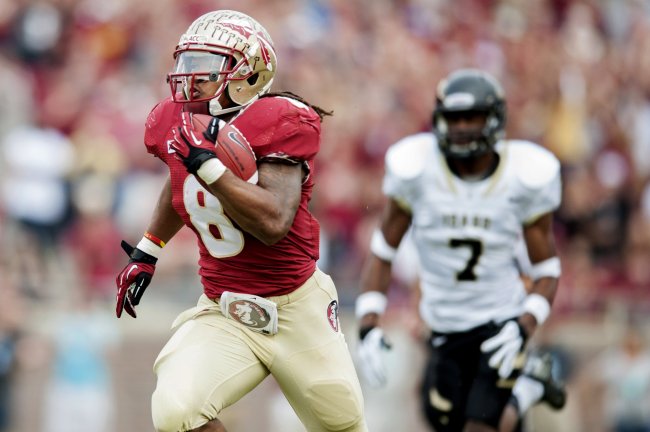 Jeff Gammons/Getty Images
Of the 40 teams studied, 27 (or 68 percent) had a 1,000-yard rusher that season, while 32 (again, 80 percent) enjoyed the services of a 940-yard back.
To illustrate, while ACC champ Florida State didn't have a 1,000-yard rusher this season; it does have Devonta Freeman, who has 943 yards and a shot at a national championship ring.
Even though college football celebrates and rewards the passing game, it's still the old-school running back who brings home the bacon.
Fun Facts
Though not weighty enough to be considered conference championship DNA, here are some interesting results found in the championship analysis.
Penalties Won't Kill You: In a result that seems counterintuitive at best, teams aren't eliminated from the championship equation if they have a poor ranking in penalty yards.
In fact, 21 of the teams analyzed—or 54 percent—ranked No. 60 or worse in penalty yards per game. Beyond that, 16 squads ranked lower than No. 70, meaning a full 40 percent of the conference champions were among the 45 worst teams in the nation in penalty yards.
The reason for this anomaly might be as simple as the cost of an aggressive, physical squad that plays with wild abandon.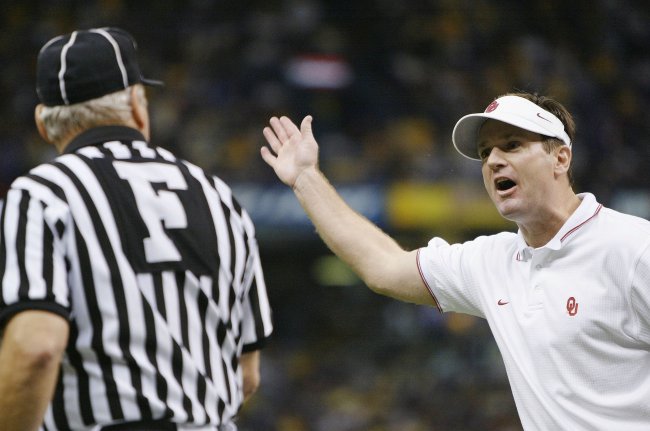 Brian Bahr/Getty Images
Regardless of why, the message is clear: While you don't want to give up yards to needless penalties, especially in specific situations, over a season it won't stand alone to prevent a title run.
To illustrate, in 2007 LSU went 12-2, won the SEC title and the BCS National Championship, while ranking No. 97 in the FBS in penalties.
The Big 12 Doesn't Buy into the Whole Run the Ball Thing: Only one Big 12 champion in the last seven years has had a higher ranking in rushing offense than passing. The exception came in 2007, when the Sooners ranked No. 30 in rushing yards and No. 36 in passing.
The ACC Needs to Score More Points: While 60 percent of the conference champions studied averaged more than 35 points per game, the ACC has only had two teams hit that mark since 2007. Both exceptions were Florida State, which averaged 39.3 points in 2012 and 53 this year.
Statistics courtesy of College Football Statistics and Sports Reference/College Football.