Spanish giants Barcelona cruised past Cartagena at Camp Nou on Tuesday, Dec. 17, defeating the massive underdogs by a score of 3-0 to eliminate them en route to advancing past the fourth round of the Copa del Rey with a 7-1 win on aggregate.
Up next, Barca will square off against Getafe, according to the club's official Twitter account:
Final at the Camp Nou! FC Barcelona move on to the next round thanks to goals from Pedro, Mariano (go), and Neymar. #FCBLive

— FC Barcelona (@FCBarcelona) December 17, 2013
Barça will face off against Getafe in the next round of the Copa del Rey. #FCBLive

— FC Barcelona (@FCBarcelona) December 17, 2013
Barca only needed a mediocre performance to advance to January's Round of 16 after winning the first leg against their Segunda Division B opponent in impressive fashion, 4-1.
Gerardo Martino's squad created a plethora of scoring chances early on but wouldn't take the lead until the 30th minute, when Pedro broke the deadlock with his 11th goal of the season:
GOOAAL!! PEDRO! #FCBLive

— FC Barcelona (@FCBarcelona) December 17, 2013
For Cartagena, Pedro's early strike had to stir up nightmarish flashbacks of his first-leg equalizer on Dec. 6.
Barca would continue to dominate possession throughout the first half and into the second half before 22-year-old Cristian Tello scored in the 68th minute to make it 2-0, effectively putting the match out of reach for the overmatched visitors.
The goal was Tello's second of the week as he scored his first goal of the season in last Wednesday's 6-1 rout of Celtic in Champions League.
After earning the 2-0 lead, Martino quickly turned to his bench and made a double substitution, bringing on Andres Iniesta and Alexis Sanchez in exchange for Cesc Fabregas and Pedro with roughly 15 minutes left to play:
Min 75: Double sub for Barça: Alexis and Iniesta come in for Cesc and Pedro. #FCBLive

— FC Barcelona (@FCBarcelona) December 17, 2013
Jordi Alba would come on for the final 10 minutes of the match, but it was Neymar who put the finishing touches on Barca's rout, heading home the final goal in the 88th minute after Iniesta played a beautiful cross into the box.
The final whistle couldn't come soon enough for Cartagena.
Key Player Grades
Pedro, Barcelona: A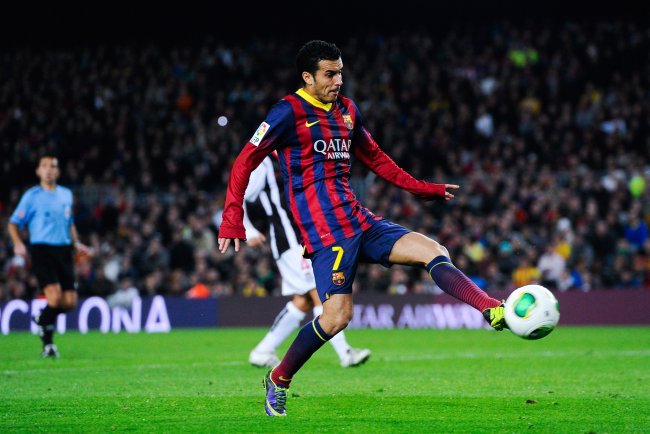 David Ramos/Getty Images
Pedro made the biggest play of the match on Tuesday, giving his side an early lead that allowed them to tighten up defensively and force Cartagena to take more risks moving forward. This resulted in more holes at the back for Barca's attack to exploit.
Neymar, Barcelona: A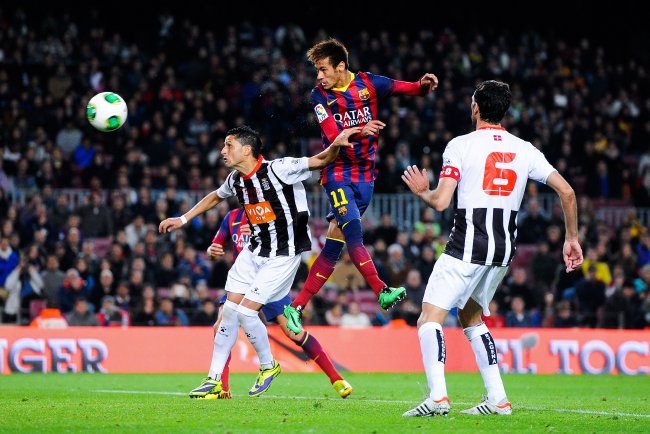 David Ramos/Getty Images
Although Neymar's goal was just icing on the cake for Barcelona, the superstar was effective from start to finish, pressuring Cartagena's defense and opening up opportunities for his fellow attackers. If you're grading the Brazilian's impact, it's hard to give him anything lower than an A.
But the fact that Barca are marching is truly all that matters.
Which of these players impressed the most in Barca's 3-0 win?
Cristian Tello, Barcelona: B+
The talented up-and-coming Tello squandered a golden opportunity to put Barcelona ahead early on, shooting directly at the goalkeeper. But his confidence never wavered and he kept his head in the game long enough to make a difference.
His 68th-minute goal wasn't needed in the end, but it helped Barca inch closer to the result they were looking for in front of their anxious supporters.
What's Next?
Barcelona will have a few days to recover before closing out 2013 against Getafe in La Liga action on Sunday, Dec. 22. Meanwhile, Cartagena will pick up where they left off play in Segunda Division B.
Follow Bleacher Report Featured Columnist Patrick Clarke on Twitter.