Although he may have been on the sidelines for a while, Conor McGregor hasn't been idle.
Taking to Twitter, the Irish fighter wasted no time in giving his opinion on the fighters in the featherweight division.
Granted, McGregor isn't the first fighter to talk himself into the spotlight, but he may be one of the few so openly dismissive of an entire division, especially since he has just two fights under his belt in the UFC.
Aldo-Safe. Mendes-135er. Lamas-Nobody cares. Cub-OLD. TKZ-Open. Edgar-135er. Siver-OLD. Poirier-PeaHead. Guida-Boring. Lentz-Boring. Koch-?.

— Conor McGregor (@TheNotoriousMMA) August 22, 2013
Chael Sonnen used his gift of the gab to promote his first fight with Anderson Silva, and since then he hasn't taken his foot off the gas. Most recently, Sonnen managed to fan the flames of his rivalry with Wanderlei Silva to the point that he earned a coaching position on the next season of The Ultimate Fighter: Brazil, opposite Silva.
But Sonnen had seven Octagon appearances under his belt before he fought "The Spider" for the first time, and he was ranked in the Top 5 of the division prior to UFC 117.
McGregor has two victories in the UFC, but neither opponent was in the Top 10.
And still, he tweeted his opinions of the featherweight division, earning the ire of Diego Sanchez. He wanted to get people to say his name, and he succeeded.
@AdamB_27 @arielhelwani @TheNotoriousMMA I'm gonna whoop his ass in person if I run into him probably at next fight summit for what he said.

— Diego Sanchez UFC (@DiegoSanchezUFC) August 22, 2013
Soon, McGregor will be heading back into the cage to try to capitalize on the spotlight, but who should he fight? Being a UFC fighter means that you have to be ready to fight anyone the promotion throws your way, no matter who you've lobbied to face.
While some opponents are clearly out of his class in terms of what they have earned, there are other fighters out there, on the rise, who could make an exciting matchup with McGregor. These three men would not be sacrificing all that much in terms of ranking if paired against McGregor, and such a bout would certainly land somewhere on the main card of any UFC event.
Khabib Nurmagomedov
Although there is probably no bigger fan of Conor McGregor other than Conor McGregor, a bout with Khabib Nurmagomedov would be a huge test for him; a win could see him catapult himself into the Top 10 at 155, and a loss could be crushing.
It would be the kind of fight that separates the chaff from the wheat, as they say, and he would certainly be coming in as a big underdog. Still, with the claims McGregor has made about the fighters comprising the lighter divisions, it would give him ample opportunity to walk all his talk, and that seems to be exactly what he wants.
It's interesting to think about how McGregor would deal with the dogged takedown attack of Nurmagomedov; could he keep stuffing those shots, time and time again and get the room needed to let his strikes fly? Or would he succumb to the pressure and get pounded out before the end of the final frame?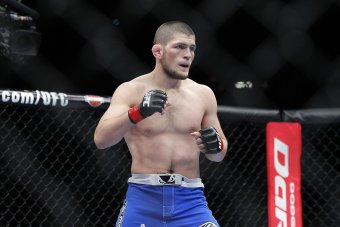 Gary A. Vasquez-USA TODAY Sports
Finally, there is something about both men that speaks to the fact that when the going gets tough, they dig down deep. Both are hard-nosed fighters, and while Nurmagomedov is quickly gaining acclaim as a future title contender, McGregor has managed to finish 13 opponents, winning via decision only once.
A fight like this could raise both of their stocks if both men come out as hard and aggressive as their reputations suggest.
Dustin Poirier
Having been bestowed the title "peahead" by McGregor, Dustin Poirier has gone 2-2 in his last four fights and is just inside most Top 10 rankings at featherweight.
If he were to get a fight with McGregor, he could avenge the slight in person on the stage that matters most: the Octagon.
All the talk aside, Poirier and McGregor make an intriguing matchup; Poirier has six wins via submission on his record and, wrestling aside, would probably own the advantage on the ground.
He also has five wins via KO/TKO, which makes him just dangerous enough in a stand up fight to keep things interesting against the heavy handed McGregor.
With eight fights in the UFC under his belt, Poirier has faced some of the bigger names in the featherweight division, so a bout against McGregor wouldn't make him shrink in the big lights. In Poirier, McGregor would have an opponent with a known name who is dangerous enough to keep the fight competitive without being overwhelming physically; a notable consideration given McGregor's leg injury.
A win over Poirier would put McGregor in the Top 10.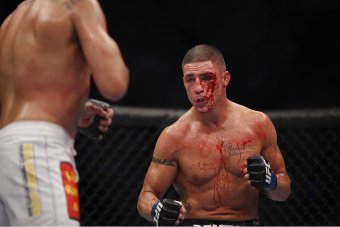 Andrew Richardson-USA TODAY Spor
Diego Sanchez
While neither man is currently ranked in the Top 10 at lightweight or featherweight, a fight with Diego Sanchez is still a very viable option for McGregor; especially as he has fought at lightweight before.
Both men have been engaged in a war of words on Twitter, and the stock of Sanchez is still high given his Fight of the Year candidate bout with Gilbert Melendez. But is McGregor ready for a fighter like Sanchez?
An edge in submissions would have to go to the Greg Jackson fighter, not to mention power and experience. While both fighters are durable, McGregor has yet to be tested in an all-out battle in the trenches; something Sanchez is all too familiar with.
Sanchez has been in bloody battles with Melendez, Martin Kampmann, Clay Guida and others; McGregor has not, but that could be part of his reasoning in calling out Sanchez.
With as many times as Sanchez has engaged in Fight of the Night contests, eventually it catches up to a fighter. If that happens in the cage with McGregor, the Irishman could end up looking very good.
Conversely, coming back from an injury usually brings with it ring rust, and a fight with an angry Sanchez is not the place to try to work the kinks out. It's hard to put a price tag on experience, and Sanchez has been fighting in the UFC since before McGregor had first slipped on a pair of gloves.
So, how much would a win over Sanchez advance McGregor's name? Even though Sanchez isn't a Top 10 man, he's incredibly well known as an action fighter; a win would probably see him make it into the rankings as the man who beat the man who almost beat Melendez.
That may not seem just, but fights like Sanchez-Melendez are worth their weight in gold and extend by way of association an elevation of status.
And if we know one thing about McGregor, it's that he is all about the business of raising his star very high, even if he has to push it uphill.