With the 2013-14 season spiraling out of control, the brightest rays of hope are rooted in two potential acquisitions. When Derrick Rose returns to the Chicago Bulls next season, the team will look markedly different from the one he left.
That doesn't mean it has to be worse, though. Is this the year the Bulls finally make a meaningful trade around the deadline?
Dion Waiters in a Bulls Uniform?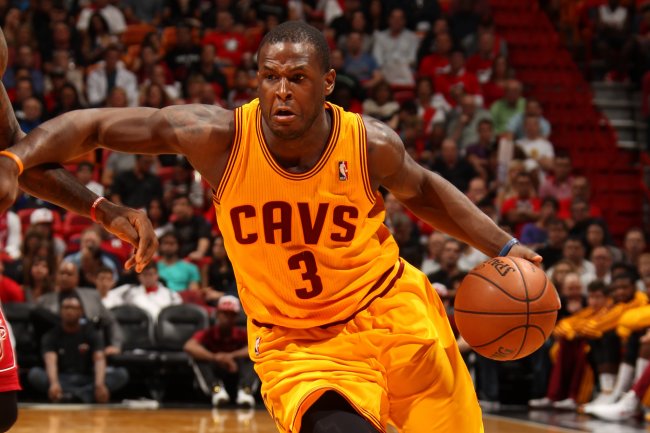 Issac Baldizon/Getty Images
With Luol Deng's impending free agency and the Bulls' reluctance to overpay him again, chances are he's playing his last days in a Bulls uniform. Whether he'll be allowed to walk away for nothing at season's end, or if the Bulls attempt to trade him before the trade deadline remains to be seen.
However, there are rumors swirling that suggest the Bulls are interested in Cleveland Cavaliers shooting guard, Dion Waiters.
Jared Zwerling of Bleacher Report reports that sources say the Bulls and Philadelphia 76ers are interested in acquiring the second-year shooting guard. Is Waiters a better player than Deng? Probably not, but he has a wrinkle to his game that the Bulls desperately need.
Waiters' ability to get his own shot is a skill set that no player currently active on their roster really possesses. Jimmy Butler is the closest to having that quality, but even he can't break down defenders off the dribble. His offense is restricted to spot-up jump shots, or straight-line drives to the basket.
Deng is a better defender and rebounder than Waiters, but Butler's presence makes Deng expendable. Sliding Butler to the small forward position and placing Waiters in at shooting guard would probably vault the Bulls into the third spot in the woeful Eastern Conference.
The team won't be good enough to challenge the Miami Heat and Indiana Pacers, but with Rose back for the 2014-15 season and another group of free agents, the Bulls would be a better team now and in the future.
In case you're wondering, in five games against the Miami Heat, Waiters is averaging 19.6 points per game, per Basketball-Reference.
What About Niko?
Mirotic is tearing it up for Real Madrid. In Euroleague play, Mirotic is scoring 15 points per game on 62.8 percent shooting and he's making an insane 64 percent of his threes. He's only grabbing 5.3 rebounds per game, but that's to be expected from a young stretch-4.
At only 22 years old, he certainly has room to grow.
Per Marc Stein of ESPN.com, the Bulls are serious about their efforts to bring Mirotic to the states next season. Stein writes:
Sources close to the situation later told ESPN.com that the Bulls are indeed doing everything they can on the buyout front to be able to bring Mirotic to the NBA next season after taking him in the first round of the 2011 draft.
Along with Deng, power forward Carlos Boozer—who is an amnesty clause candidate in the offseason—is also on the block, per Stein. With both Deng and Boozer possibly headed out of town, the Bulls could be looking at a much younger and potentially more athletic starting five in the second half of the season and next year.
If Mirotic plays for the Bulls in 2014-15, who starts at power forward?
A core that includes Rose, Waiters, Butler, Mirotic, Joakim Noah, Taj Gibson, Tony Snell, Mike Dunleavy, Jr. and a moderate-to-substantial free agent sounds pretty good. Minus the unknown contract details of Mirotic and a potential free agent, the Bulls payroll would sit at $51.5 million.
To make it work, Chicago would have to take on expiring deals from Cleveland in the potential Waiters' trade. Obviously, Chicago would also need to let those players walk. Any Boozer trade completed this season would have to be done for expiring contracts.
If the Bulls can't swing a deal like that—or something close—it would be better off amnestying Boozer. Chicago would still have to pay him, but his contract wouldn't count against the salary cap and luxury tax.
There are a lot of "ifs" in these scenarios, but the bottom line is, the Bulls aren't as bad off as it may seem.
Follow me for news and musings on the Chicago Bulls and all things hoops related.