Since returning to WWE, Tyson Kidd has too often been the Ferrari sitting untouched in the garage.
After missing nearly a year of action with a severe knee injury, Kidd received no fanfare as he leaped back into the ring. He has since been the victim of missed opportunities and inattention from the WWE creative team.
Kidd tore his ACL, MCL and meniscus. He was left wondering if his career was over and, as he told WWE.com, asking himself, "Is my knee ever going to be 100 percent?"
The high-flying Canadian did make it back.
He toiled in rehab to get himself ready to spring around the ring once more. That journey was rife with the kind of drama that TV writers dream of composing. Rather than milk that story, WWE largely left it alone.
Kidd returned to WWE on Nov. 4 without as much as a sliver of hype.
A slickly produced video package built up Big Show's return to Raw. Mark Henry got the same treatment, made to look like an unstoppable force in his promo video.
WWE made no such video for Kidd. He just appeared after his long absence with the announcers essentially saying, "Hey, that guy's back." Tag teaming with his wife Natalya, he took on Summer Rae and Fandango.
Tyson Kidd's first match after returning from injury.
Fandango and Kidd had butted heads on Total Divas, as the new husband became jealous of the ballroom dancer.
This wasn't the greatest wrestling narrative in industry history, but it was a story. It was a feud that could give both foes motivation and add a layer to the in-ring action. Potentially, it was a current version of Jake Roberts clashing with Rick Rude in 1988 over how "The Ravishing One' had treated his wife.
Fandango and Kidd would face off again on the Nov. 11 edition of Raw. Here, the ballroom dancer got a fluky win over his frustrated foe.
Fandango defeats Tyson Kidd on Raw.
Instead of the animosity between these enemies escalating, instead of the story being given some new twist, WWE abandoned it, for the most part.
Natalya went on to challenge AJ Lee without Kidd in her corner. Fandango battled an assortment of Superstars, including Henry, Daniel Bryan and Dolph Ziggler. Without a climax, Kidd vs. Fandango was no more.
This was a feud that could have reintroduced Kidd back into the WWE world with momentum aplenty. It could have been the story of a man defending his wife's honor, becoming more aggressive and a touch unstable in the process.
Instead, WWE had Kidd lose cleanly on Superstars, a show few fans watch.
The company had another potential rivalry in the works for Kidd but failed to follow up on that one, either. On Nov. 13, Kidd clashed with former tag team partner Justin Gabriel.
Tyson Kidd locks up with Justin Gabriel on Main Event.
It was a match marked with sportsmanship and mutual respect. Gabriel won, but not in decisive fashion. The victory was painted as one man getting the best of another for the briefest of moments.
Gabriel took to Twitter to play up that angle.
I suggest we do a best outta 7 on #WWE MainEvent @KiddWWE Then maybe just maybe we could team up again

— Justin Gabriel (@Justin__Gabriel) November 14, 2013
There would be no best-of-seven series. There would be no chance for one of those wrestlers to turn amicable competition into something more vicious.
Just as it did with Fandango vs. Kidd, WWE let the potential feud with Gabriel shrivel on the vine.
No one was expecting Kidd to come back and get the John Cena treatment, getting catapulted straight to the world title picture. Still, Kidd is more valuable than WWE's resident benchwarmer. He's capable of far more than being on Superstars.
Stories and rivalries help maximize the roster's talents.
Brodus Clay and Tensai are getting the benefit of a narrative as their partnership dissolves. The Miz and Kofi Kingston's feud continues to smolder. Meanwhile, Kidd is being offered nothing.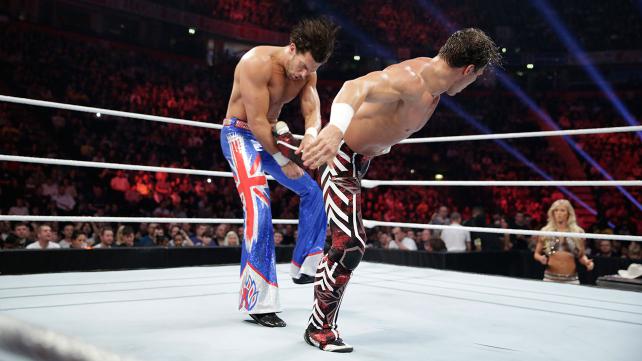 WWE.com
He was not asked to be a part of TLC. He hasn't been on Raw and SmackDown in weeks.
With no tag team partner, no rival, no direction and little time to shine in the ring, Kidd is all but guaranteed to flounder.
With the Royal Rumble nearing, WWE has a great shot of highlighting Kidd's stellar abilities. Should he last for an impressive amount of time in the Rumble match and last until there are just six competitors left, his 2014 will have far more thrust to it than what the end of 2013 had.
Or else, he can compete for Dean Ambrose's United States Championship or join the booming tag team division.
There has to be more WWE can do with Kidd than let him atrophy backstage.