It's hard for a football fan not to get excited when the manager of their club says he's prepared to "spend big" just days before the start of the transfer window.
Like a child dreams of mountain bikes and PlayStations on Christmas Eve, football fans have visions of a £30m midfielder.
Manchester United fans have more cause to dream than most at the moment, given the state of their season. There is always hope that a new arrival can spark a change of fortune. It seemed to work for Arsene Wenger with Mesut Ozil.
Last week, David Moyes claimed United were close to their own "major" signing in the summer. The implication, reported by Sky Sports, was that he was prepared to sanction the same outlay again for the right player.
"The club have the money and they will spend, there's no question about that...

"We were very close to a major, major signing back in the summer.

"It's easy now saying it and we didn't do it but we were really close to a major signing and the club would have definitely shown what they're worth.

"It wasn't for money, that's for sure. The players had chosen other clubs or made their decisions elsewhere.

"The bigger picture is I want players going forward, not just for the next six months. I'm looking to see if I can get someone who will be with us for the next six or seven years."
It suggests Moyes won't panic buy in January, although there will almost certainly be a temptation to plug some of the gaps in his squad.
But if United fans are hoping for a marquee signing in January, they might have to wait a long time. Well, at least until next summer.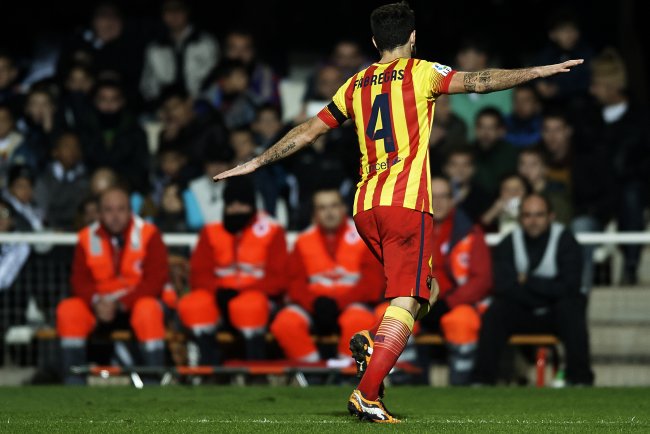 Manuel Queimadelos Alonso/Getty Images
As United manager, Moyes is shopping at the top end of the market, but history suggests very few big deals take place in January while even fewer work out.
After the disappointment of the summer transfer window and the failure of £27.5m signing Marouane Fellaini to settle at Old Trafford, that's the last thing Moyes needs.
United could do with an injection of new blood, especially in midfield. But the time for major surgery is in the summer and not midway through the season.
It won't stop United supporters from dreaming as the countdown to January begins, with images of Cesc Fabregas and Daniele De Rossi dancing in their heads as they sleep on December 31.