Slowly but Surely, Brooklyn Nets Proving It's Not Time to Discount Them Yet
Use your ← → (arrow) keys to browse more stories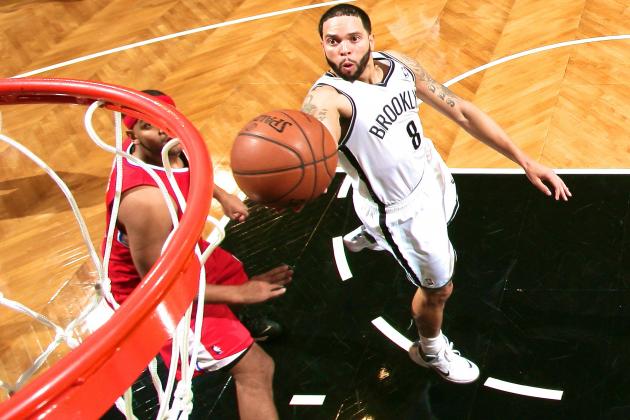 Getty Images

Just a couple of weeks ago, the Brooklyn Nets were on life support.
Sitting at 5-14 and still stinging from an embarrassing 30-point defeat at the hands of the similarly diseased New York Knicks, things were looking grim. Coaches were screaming at one another, marquee players were spending more time on the training table than the hardwood and none of the team's bold offseason moves were paying dividends.
But there have been signs of life lately. Brief flickers of vitality, still faint, are beginning to animate the Nets.
They've won four out of their past five games and have posted a net rating of plus-3.7 points per 100 possessions in the month of December, per NBA.com. Even better, some of the walking wounded have begun to get healthy.
As a result, Brooklyn sits just a single game out of the eighth playoff spot in the beleaguered Eastern Conference. You read that right: one solitary game away from postseason position.
What's happening with the Nets is about more than their incomprehensible proximity to a playoff spot. Viewed broadly, the Nets' current near-respectable status matters more because it shows that in a season where everything has gone wrong, they're still only a whisper away from the one thing they really want: a ticket to the postseason dance.
Far from Perfect
Nathaniel S. Butler/Getty Images
Don't be mistaken; the Nets still have profound flaws. Collectively, they're extremely fragile, and both Paul Pierce and Kevin Garnett seem to have come aboard shortly after absorbing a few of Father Time's haymakers.
Neither Deron Williams nor Brook Lopez has stayed healthy for more than a few games at a time, and Joe Johnson had been playing the 2013-14 season like somebody had replaced his Gatorade with NyQuil—at least until his third-quarter explosion against the Philadelphia 76ers on Dec. 16.
Andrei Kirilenko is still dealing with a bad back. Jason Terry has provided next to nothing. The list goes on.
For all that, the Nets are still right there.
As much as anything, that's an indictment of the East's overall quality. But the Nets can't control the strength of their competition, and they don't have to be world-beaters to get where they want to go. They just have to be better than seven horrible teams in the East.
Brooklyn is constructed to do one thing: make a postseason run. And despite the myriad issues that have held them back this year, the Nets are still in position to do that. We've seen KG and Pierce putter through regular seasons before finding an extra gear in the playoffs before.
Even though both veterans have looked horrendous this season, there's too much evidence of them flipping the proverbial switch to rule out that possibility.
The Imaginary Leadership Crisis
Doomsday prophets like to question whether Jason Kidd's the right guy to lead this team.
Much has been made of his disconnected sideline demeanor, and the organizational dysfunction evident in Lawrence Frank's demotion didn't inspire confidence in the rookie coach's leadership. But once a few more of the roster's cylinders start firing, this team might not need much coaching.
Per a Nets press release, Williams has indicated that Kidd's leadership isn't really an issue:
.@DeronWilliams on @RealJasonKidd: "He's coaching us the same way. We're just healthy now & seeing what we can do." pic.twitter.com/HezMcZYgl7

— Brooklyn Nets (@BrooklynNets) December 17, 2013
Saying that the Nets players can practically run themselves isn't any sort of endorsement of Kidd's fitness as a coach. Quite the opposite, actually.
The point is that this roster probably needs less managing than any other in the league, which is why Kidd's capabilities (or lack thereof) really don't matter as much as many seem to think.
For all the messiness and impropriety of Kidd's recent decisions (reassigning Frank, "Sodagate," etc.), the Nets are still having fun, which indicates he hasn't cast a pall over the locker room.
The veterans on the roster know it's a long season, and after a few early-season grumblings from Garnett, the mood in Brooklyn is noticeably lighter. The fact that the Nets can goof around with a 9-15 record shows that this team has things in perspective.
And in another instance showing the Nets have embraced the big picture, Pierce has willingly sacrificed his own game to do whatever's best for his team.
Per Roderick Boone of Newsday:
Asked Doc about Pierce coming off bench: "Paul is a ball player. He doesn't care. If I had asked Paul to come off last year, he would've."

— Rod Boone (@rodboone) December 13, 2013
Kidd is the one who technically determines rotations, but you can bet that if Pierce wanted to force his way into the starting lineup to preserve his ego, he could. The fact that he has accepted a lesser role indicates that Kidd still has a connection with his players, and that the early-season struggles haven't sent the Nets into a me-first frenzy.
Leadership crisis averted.
The $80 Million Elephant in the Room
It'd be silly to talk about the Nets' overall prospects without touching on their mind-blowing financial situation.
However you slice it, having the league's highest payroll and a projected luxury-tax bill of about $80 million is a bad thing—especially when there's a losing record attached to it.
But owner Mikhail Prokhorov doesn't care. He never has.
Prokhorov is making it rain luxury tax money now and just doesn't give a damn.

— Zach Harper (@talkhoops) June 28, 2013
Brooklyn will continue to operate as though the salary cap didn't exist, so the conversation about its economics is different than it would be for any other team.
It's problematic that the Atlanta Hawks basically get to hold the Nets' first-rounder hostage for the next couple of years, but Brooklyn was never going to be a team that drafted and developed talent over time. The Nets buy their players; they don't worry about things like the value of a lottery pick.
Brooklyn does things its own way. It'd probably be better if the Nets weren't paying through the nose for their current roster, but a dollar to them doesn't mean the same thing as it does to other teams.
It sounds insane to argue that $80 million isn't a big deal, but to the Nets, it really isn't.
Consider the Alternative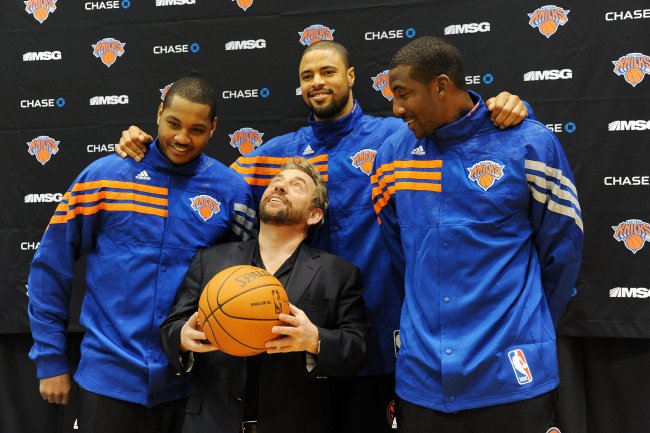 Jennifer Pottheiser/Getty Images
Ultimately, there's real talent on Brooklyn's roster—perhaps more than any outside of Indiana and Miami in the East. And while injuries don't just magically disappear for a team this old, it's hard to imagine the health situation getting any worse.
Eventually, the talent will come together, the players will heal and the Nets will wind up with one of the deepest top-to-bottom rotations in the conference.
And you know what? Even if none of those things happen, the Nets will still be better off than the Knicks. In the New York market, that counts for a lot.
Brooklyn might be bleeding money, fielding an ancient roster and trusting a little too much in a shaky coach. But at least it's not suffering from James Dolan's poisonous ownership.
The Nets face a few speed bumps on their way to the playoffs this year. Meanwhile, the Knicks will continue to drive straight into oncoming traffic as long as Dolan's at the wheel.
So for all their struggles, things could be much, much worse for the Nets.