The stars will dominate coverage of the BCS bowls, but pay attention to some of the unsung guys if you want a sense of how the games will be won.
If you're a diehard college football junkie, you may have heard of some of these players, or you may have just recently boned up on your UCF Knights. Otherwise, you still have a few weeks to get up to speed on some of the best talents you'll see this bowl season.
You know the Jameis Winstons and the AJ McCarrons. Consider this your primer on the other guys who will decide college football's biggest games.
Rose Bowl: WR Ty Montgomery (Stanford) and CB Darqueze Dennard (Michigan State)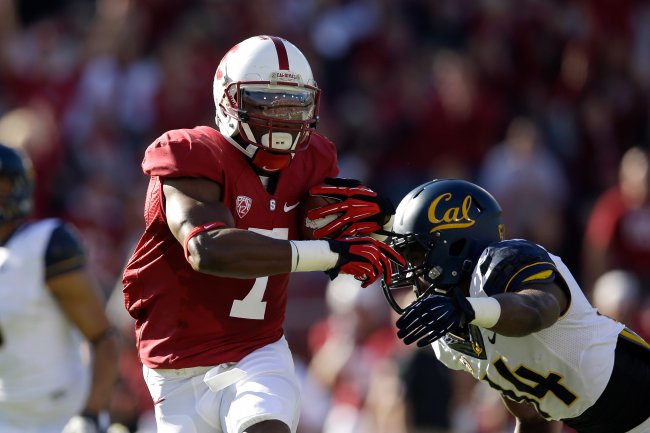 Ezra Shaw/Getty Images
If you're interested in an old school, smashmouth football game, you've come to the right place. But for those of you pining for something other than three yards and a cloud of dust in Pasadena, the matchup on the outside should be essential to the outcome.
David Shaw has brought Stanford far away from the halcyon days of Jim Harbaugh with his run-heavy offense; Tyler Gaffney isn't the only one scoring for the Cardinal. Ty Montgomery has put together a very efficient season at the wide receiver position.
The 6'2" sophomore turned 58 catches into 937 yards and 10 touchdowns and ran for two more scores this season. If he can get through the Spartan defense and give Stanford some offensive balance, that will tip the Rose Bowl in favor of the Pac-12 champs.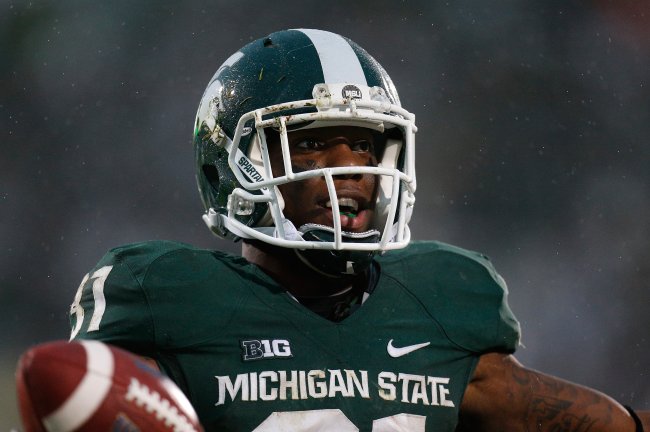 Gregory Shamus/Getty Images
Montgomery will see a lot of Darqueze Dennard on New Year's Day, but then again, so will everyone on the Stanford offense.
The 2013 Thorpe Award winner, Dennard has made an impact on more than just pass defense. He does lead Michigan State with four interceptions and eight pass deflections, but he is also fourth on the team with 56 tackles, including 2.5 for loss.
Dennard will have hands full against Montgomery, who is three inches taller, but if he can shut down the receiver, Stanford's offense will become one-dimensional.
Fiesta Bowl: RB Lache Seastrunk (Baylor) and RB Storm Johnson (UCF)
Any Baylor game is going to turn into a pass-happy affair, so it will be interesting to see if UCF can keep the running game relevant in the Fiesta Bowl.
The American Conference champs would prefer to keep the game as low-scoring as possible, so they'll have to pound the ball with Storm Johnson to control the clock.
With 1,015 yards rushing, another 261 receiving and 14 total touchdowns, he's the focal point of the Knight offense. The more he gets the ball, the better, and he has more of a chance to rip off a big play.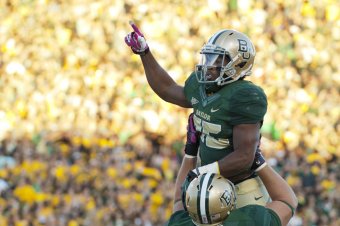 Cooper Neill/Getty Images
In that regard, Lache Seastrunk can match him in home run scoring ability. The Baylor back put up 1,055 rushing yards and 11 scores, but he was not asked to carry as heavy a workload as Johnson; Seastrunk's greater yardage total came on 52 fewer rushes.
If UCF can force Baylor to the ground game, don't fret. There will still be plenty of chances to see highlight-reel plays.
Sugar Bowl: RB Kenyan Drake (Alabama) and QB Blake Bell (Oklahoma)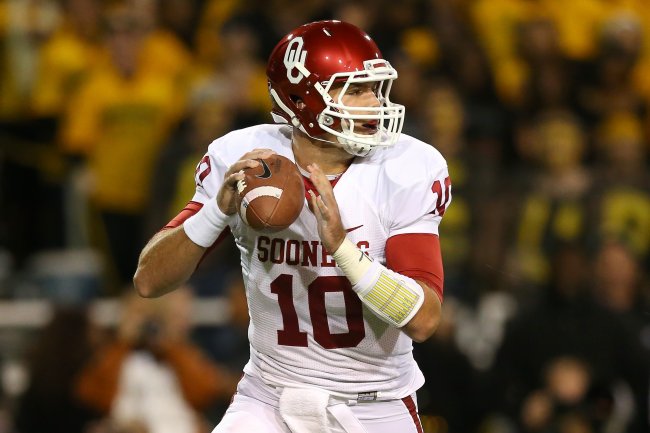 Ronald Martinez/Getty Images
Only Blake Bell can be considered an X-factor among the BCS quarterbacks, but that's hardly a compliment; no one really expects Oklahoma's QB to do anything.
Bell has been the most effective passer for the Sooners this season, but the Crimson Tide aren't going to roll over for his 1,648 yards and 12 touchdowns. In fact, not everyone is sure Bell should be the guy under center in New Orleans, even though backup Trevor Knight has just 471 yards and five scores to his name.
Who should start for OU in the Sugar Bowl? retweet for Trevor Knight Favorite for Blake Bell

— SportsTalk 1400 (@Sportstalk1400) December 17, 2013
Meanwhile, Alabama has weapons everywhere, but look in particular for Kenyan Drake as the score runs up.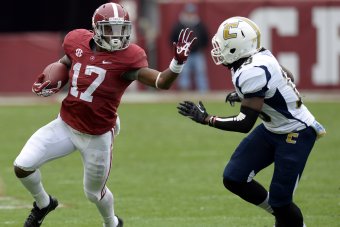 John David Mercer-USA TODAY Spor
T.J. Yeldon is obviously the go-to guy in Alabama's backfield, but Drake's explosiveness will be worth watching for. He has averaged 8.0 yards and scored 10 touchdowns on 104 touches. After Yeldon wears down the Sooner front, Drake should gash them for some more big gains in the Superdome.
Orange Bowl: DE Vic Beasley (Clemson) and LB Ryan Shazier (Ohio State)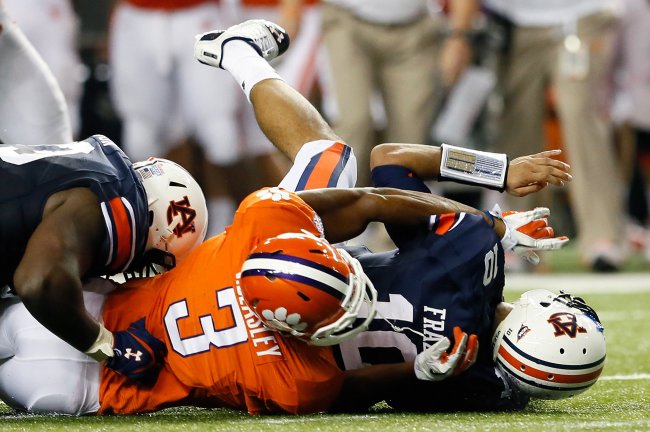 Kevin C. Cox/Getty Images
Both Clemson and Ohio State feature dual-threat quarterbacks who are more than happy keeping the ball themselves, so it will be key to watch the guys tasked with containing them.
Fortunately for Clemson, Vic Beasley is a one-man wrecking crew in the opposing backfield. No, really; of his 36 tackles in 2013, 27 were solo, 19.0 were for a loss and 12.0 were sacks.
He's also built specifically to hunt down ball-carriers in pursuit. At 6'3", 225 pounds, the junior isn't going to power through anyone, but if he gets around the edge, Braxton Miller is in trouble.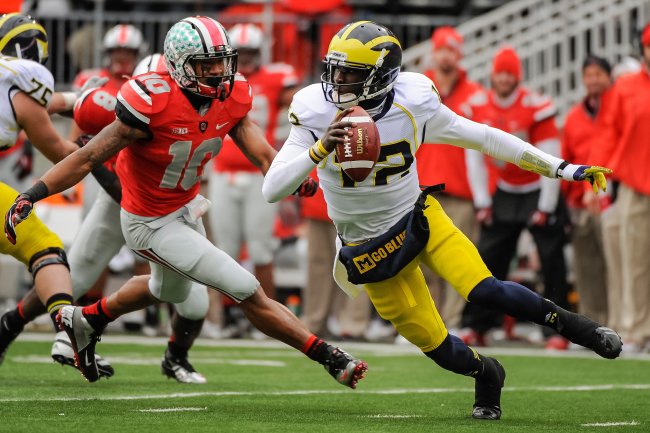 Jamie Sabau/Getty Images
On the other side, expect to see Ryan Shazier around Tajh Boyd pretty often.
Congrats to LB Ryan Shazier, a 1st-team @AP_Top25 All-American. Hyde & Mewhort earn 3rd-team honors. More to come at http://t.co/8CPp1M7EpV

— Ohio State Buckeyes (@OhioStAthletics) December 17, 2013
Shazier was the lone Buckeye to earn first-team All-American honors from the Associated Press, but Ohio State's defense doesn't need much more than him. He leads the team in tackles with 123 and tackles for loss with 22.0, tacking on 7.0 sacks and four forced fumbles for good measure.
Like Beasley, Shazier is also a lightweight. Now's not the time to worry if a 222-pound linebacker can make it at the next level, though. Just enjoy him darting past blockers and taking down Tigers behind the line.
BCS National Championship Game: RB Tre Mason (Auburn) and LB Telvin Smith (Florida State)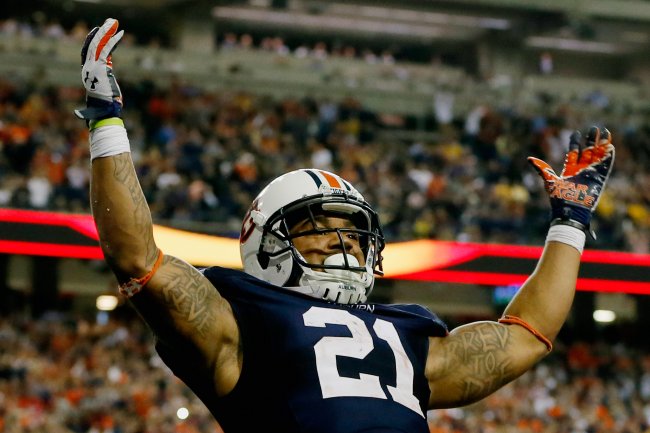 Kevin C. Cox/Getty Images
Tre Mason was far and away the most overlooked Heisman finalist in this year's field.
Results 1. Winston (2,205), 2. AJ McCarron (704), 3. Jordan Lynch (558), 4. Andre Williams (470), 5. Johnny Manziel (421), 6. Tre Mason (404

— Andy Staples (@Andy_Staples) December 15, 2013
That's not an argument about whether he deserved sixth in the voting. Regardless, he was the second-most hyped running back invited to New York behind Andre Williams, and he'll continue to be the second-most hyped player on his own team as long as Nick Marshall keeps doing things like this:
In the national championship, Mason deserves his honest due. The more he has the ball in his hands, the less Jameis Winston will. But it's about more than clock control for the Tigers; they're giving the ball to one of the best offensive weapons in the country.
On defense, it will be up to Telvin Smith and company to keep Auburn from matching Winston's scoring.
While a Heisman-winning freshman has quarterbacked the Seminole offense, Smith has been unsung as the senior in the middle of the defense. Weighing just 215 pounds, he has worked as much with his experience and savvy as with his athletic ability to lead his team with 61 tackles and three interceptions, recording three sacks as well.
Smith only has about 10 pounds on Mason, but he'll be tasked with tracking down and tackling the Auburn back. If he can do it, he won't be so unsung when he's holding the crystal football.