It is not easy being a Premier League manager. A run of bad form is all it takes for a well-respected manager to be out of a job overnight.
So far this season Paolo Di Canio, Ian Holloway, Martin Jol, Steve Clarke and Andre Villas-Boas have all been relieved of their duties as manager. With Aston Villa having dropped their last two matches in convincing fashion manager Paul Lambert finds himself in a similar position to some of the names above.
According to The Mirror, Lambert himself was shocked to see Clarke, his counterpart from across the West Midlands, relieved of his duties.
Everyone knows you have to try to win more games than you lose, but he was only in the job for 18 months or something like that. I was surprised by it, probably like everyone else. I never saw that one coming.
Clarke's firing came after he led West Bromwich Albion to their fourth consecutive defeat despite helping the club overachieve last season by guiding them to their highest ever finish in the league. His time at the club, performance last year and recent run of form is not too dissimilar from Lambert's resume at Villa Park.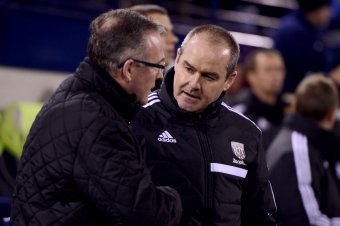 Michael Regan/Getty Images
However, the Villa fans must remain patient with their manager and avoid pressuring club owner Randy Lerner from making the Scotsman the next Premier League manager to be sacked.
Villa had been in good form prior to losing their two matches. While dropping back-to-back games is discouraging, Villa were playing well before the Fulham defeat and had two wins and two draws in their previous four outings.
There are even positives to focus on from Villa's defeats. Lambert admitted to his selection errors in the Fulham match as he dropped Andreas Weimann and Leandro Bacuna for Marc Albrighton and Matthew Lowton.
In turn, Albrighton responded with an impressive performance on his first start of the season and has provided the manager with another tactical option.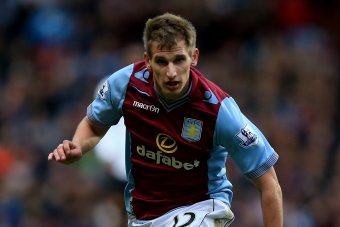 Richard Heathcote/Getty Images
Although his alterations failed to result in a win for Villa, Lambert was willing to acknowledge where his team had failed against Fulham and adapted accordingly rather than let his ego damage the team.
Furthermore, Lambert has helped Villa to a more enviable and sustainable position than when he first arrived at the club months ago.
When Lambert first took over as manager he inherited a team with a slew of overpaid, veteran players whose poor performances had left the club at the bottom of the table at the end of the 2011-12 season.
During his tenure as manager Lambert has undone the majority of this damage and put the club in a much better position going forward. He has shrunk the wage bill and exiled the underperforming players, replacing them with younger talent acquired for small transfer fees.
Although not all of Lambert's transfers have been successful his policy of signing high-upside players for less money has allowed him to acquire promising talents such as Christian Benteke, Matthew Lowton, Ashley Westwood and Jores Okore.
Many of these players have proven that they are capable of being valuable players, regardless of their reputation before they came to Aston Villa, and they continue to learn and improve.
This strategy is overwhelmingly superior to the transfer policies of Lambert's predecessors who spent many millions on transfers and paid high wages to players who offered very little to the club.
In addition, despite losing their last two games, Villa are an improved side from last season, a testament to the players' development and Lambert's abilities as a manager.
Villa are currently four points better off and six places higher than they were at this stage last season. Lambert's team is noticeably improving despite injuries having severely damaged the strength of the team.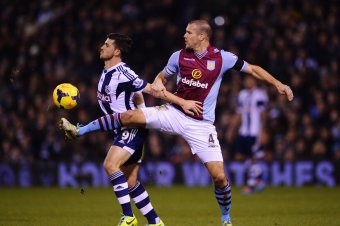 Michael Regan/Getty Images
For example, captain Ron Vlaar was absent for both of the team's recent defeats. Okore, the club's marquee signing of the summer, was originally ruled out for the year after making just his second start for the club, although reports today suggest that he may return before the season's end.
These are just a few of the injuries that have greatly hindered Villa's season so far, injuries that have left Lambert unable to consistently select his best team.
Finally, changing managers mid-season has consequences. Forcing the players to adapt to the ideas and tactics of a new manager in the midst of the season is challenging and risky. If Lerner was to sack Lambert then he would put his young team and new manager in an extremely difficult position.
There are areas that Lambert needs to improve upon. His home record is dismal. Lambert's team has lacked central creativity and they continue to struggle to defend their left flank.
While Lambert has hardly been perfect in his time in Birmingham, as these long-term weaknesses demonstrate, these problems won't instantly be solved by appointing a new manager.
Remaining patient with Lambert will yield the best long-term results for Villa fans. He is the right man to guide Aston Villa at present and a pair of defeats should not change that fact.