The 2013-14 NBA season has already seen a handful of trades occur, which means plenty more could be on the horizon ahead of February's deadline.
With more than a quarter of the season in the rearview, the power structure across the league is starting to become clear, and it could force a number of teams to attempt to alter their fortunes, for better or worse.
There are always plenty of reasons to pull the trigger on a deal, whether these clubs are looking to offload talent and start focusing on the loaded 2014 draft class, add a few pieces to right the ship or stockpile weapons for a championship run.
Let's take a look at some of the latest trade buzz around the league in Wednesday's rumor roundup.
Michael Kidd-Gilchrist Set to Be on the Block Soon?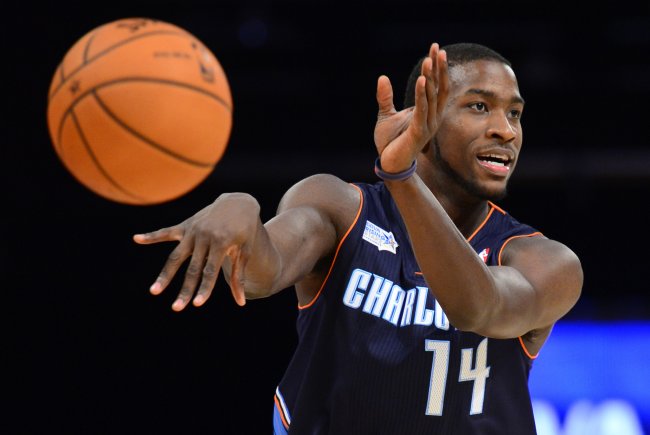 Bob Donnan-USA TODAY Sports
The Charlotte Bobcats are attempting to make the playoffs this season, which would amount to their first postseason run since 2010 and just the second in the dismal history of this franchise.
If they are truly going to switch to win-now mode, the 'Cats would be wise to acquire some veteran pieces in exchange for some of their young assets. One of those is a former No. 2 overall pick, Michael Kidd-Gilchrist.
According to ESPN's Chad Ford (behind Insider pay wall), the Bobcats brass is reportedly fishing for deals to make the roster better in the short-term and may dangle MKG when he returns from a fractured left hand.
MKG is only in his second season out of Kentucky, but the swingman didn't make any major improvements over his middling rookie campaign before going down with the injury in early December.
Should the Bobcats flip MKG?
He was averaging just 9.1 points, 5.3 rebounds, 0.7 assists and 0.7 blocks per contest, which amounts to regression in many areas.
It is far too early to slap the bust label on this young man, but perhaps a change of scenery would do him, and the Bobcats, some good.
At 10-14, Charlotte is definitely in contention for a playoff spot in an immensely weak Eastern Conference, but it may not be wise to jettison potential rotation players that are just 20 years old in order to become first-round fodder for a true contender.
It'll be interesting to see if anything comes from this puzzling rumor.
Evan Turner, Other 76ers Reportedly Being Shopped
The Philadelphia 76ers' hot start is over, and this team has revealed itself to be what many thought it was in the offseason—a real contender for the top spot in the 2014 draft lottery.
Now that the illusions of making an improbable playoff run have been cast aside, the Sixers can concentrate on stockpiling picks, young talent and other assets for the future.
One way to get those is to trade the few productive pieces on their roster, which include Evan Turner, Spencer Hawes and Thaddeus Young.
Ford noted that all three of these players are reportedly being "heavily shopped" with the intention to get worse as the 2013-14 campaign drags on.
Turner is having a breakout season, putting up career highs with 19.3 points, 6.5 rebounds and 1.0 steals per game, while also contributing 4.0 assists per night. He's living up to his billing as the No. 2 pick in the 2010 draft, just in time to get a potential new contract this summer as a restricted free agent.
Young and Hawes are also having productive years and should draw a number of suitors due to the relative lack of available talent at their respective power forward and center positions.
Don't be surprised whatsoever if Philly finds a way to dump all three before the deadline passes. This team is serious about tanking and intent on rebuilding via the 2014 draft and beyond.